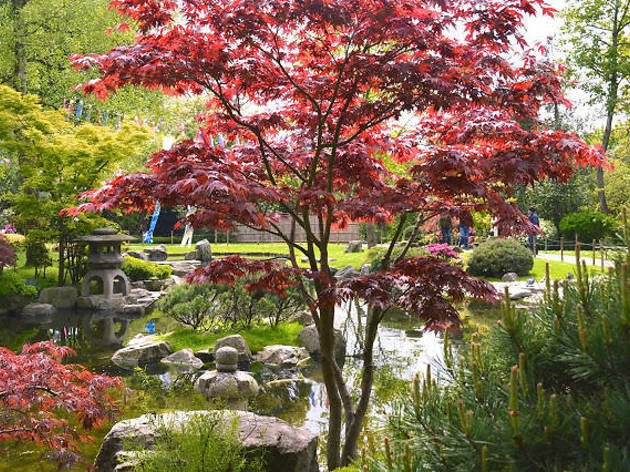 Going to the new Design Museum? Take a detour to these eight places in Kensington
Posted: Friday November 25 2016, 5:05pm
The Design Museum has gone all west London on us, with a brand new home on High Street Kensington. With three times as much space as its previous Shad Thames location, the museum's not only in a swanky neighbourhood but it's within walking distance of some great local spots. Here are eight places worth visiting the next time you're in the area.
Stop off for some afternoon tea at this quaint little tea room, serving up arguably some of the best scones in London. 12 Wrights Lane, W8 6TA
Head straight to this quintessential British pub for a cheeky pint and a game of Scrabble if you're feeling like a rest after a long morning or afternoon strolling around the museum. 1 Allen St, W8 6UX
The beauty of Holland Park is right around the corner, so a visit to the stunning Japanese gardens section - the Kyoto Garden - should definitely be on your list. There's beautiful manicured sections, a waterfall and even a couple of peacocks thrown in. Ilchester Place, W8 6LU
Fancy a little treat after your cultured morning? Pop into The Ivy Brasserie on High Street Kensington for a spot of delicious all-day dining. The truffle arancini balls are highly recommended. 98 Kensington High Street, W8 4SG
If all the work inside the museum has left you feeling inspired, why not stock up on all of the gear in the nearby Cass Art shop? This large artist supplies store is filled with everything from paints, tools, papers and gifts. 220 Kensington High Street, W8 7RG
Take a walk up the picturesque Holland Walk and you'll arrive at Daunt Books on Holland Park Avenue. Daunt has an impressive array of books for all subjects and the design section features a gorgeous collection of hardback books, begging to be on your coffee table. 112-114 Holland Park Avenue, W11 4UA
Stop off for a coffee or a healthy bite at this lovely little spot on Kensington Church Street where gluten-free products are served in cosy surroundings. 45 Kensington Church Street, W8 4BA
This tiny sushi restaurant that prides itself on the motto of cooking 'Without Soy Sauce' focuses solely on fresh daily produce. Stop off for a healthy lunch or an early dinner after your culture tour. 1A Argyll Road, W8 7DB

Find out more about the new Design Museum.
Share the story