Twenty years on from possibly the most memorable Brits moment ever, Joe Stone runs that dress up the flagpole and salutes peak Halliwell...
In the internet age, the word 'iconic' risks being rendered meaningless through overuse. On Twitter it is used to describe everything from Carly Rae Jepsen leaning on a fence to Kim Woodburn bollocking Phillip Schofield on 'This Morning'. By this measure, Geri Halliwell's career boasts no shortage of iconic moments. Highlights include releasing a B-side testifying to the joys of G-A-Y Late and performing 'Wannabe' at her own wedding.
But it is her appearance at the 1997 Brit Awards that feels most deserving of the description.
Twenty years ago this week, Ginger Spice marched down the runway in a Union Jack dress so short that her outfit was 20 percent knicker. It ended up being one of the most enduring images of a whole decade. Arriving a month ahead of Liam Gallagher and Patsy Kensit's appearance on the cover of Vanity Fair beneath a Union Jack bedspread, Geri's dress signalled the moment that Cool Britannia reached critical mass. It perfectly captured the zeitgeist, when London was the most exciting city on the planet, New Labour meant optimism was in the air, and the word 'Brexit' was a mere glint in Nigel Farage's eye.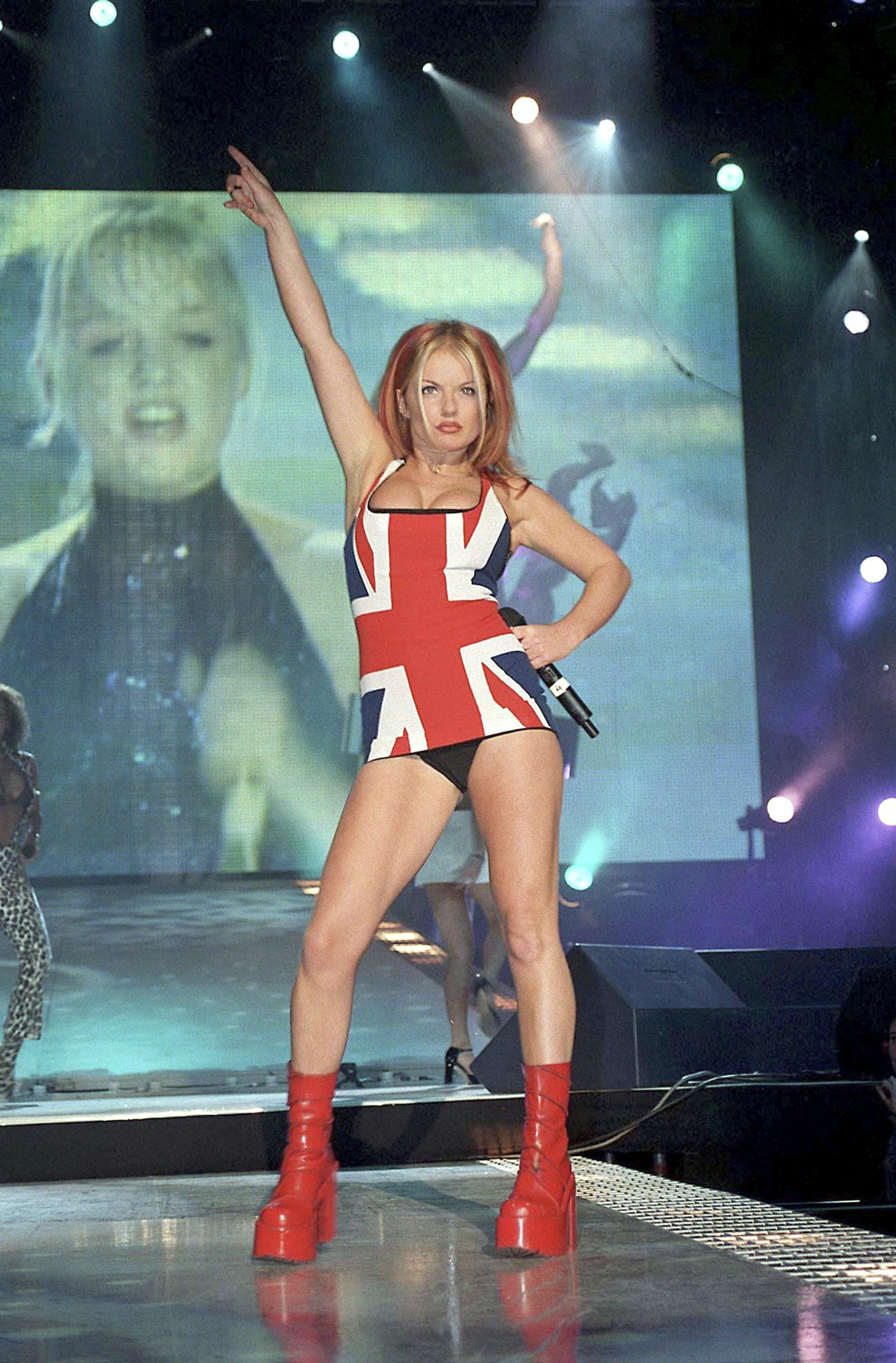 Richard Young/REX/Shutterstock
As well as being a perfect emblem of the era, the dress was also quintessentially Halliwell: bold, brash and scene-stealing. Crucially, it meant that Geri, not the Spice Girls, owned the next day's front pages, with Mel B recalling, 'That was the first time I realised how brilliant Geri was. She had a real sense of what would catch on in the press... but she never really shared her cleverness with the rest of us.' Three years later Geri used the Brits to upstage her former bandmates again, when she emerged from a giant vagina to perform solo single 'Bag It Up'. The result? Nobody was talking about the Spice Girls winning that year's Outstanding Contribution award.
Like both Geri and Britain itself, the dress's diminutive size belies its cultural influence. Originally a plain Gucci dress, Geri asked her sister to stitch a Union Jack tea towel on to it. It went on to become the most expensive piece of pop-star clothing ever sold at auction, and beat both Marilyn Monroe's white halterneck and Diana's wedding dress in a poll to find the ten most iconic dresses of the past 50 years. Never afraid to labour her point, Geri resurrected the look for the Return of the Spice Girls tour in 2007, and again for the group's Olympics Closing performance in 2012.
Will anything at this year's Brit Awards top its legacy? Your move, Little Mix.
The Brit Awards are on Wed Feb 22. Here's everything you need to know.