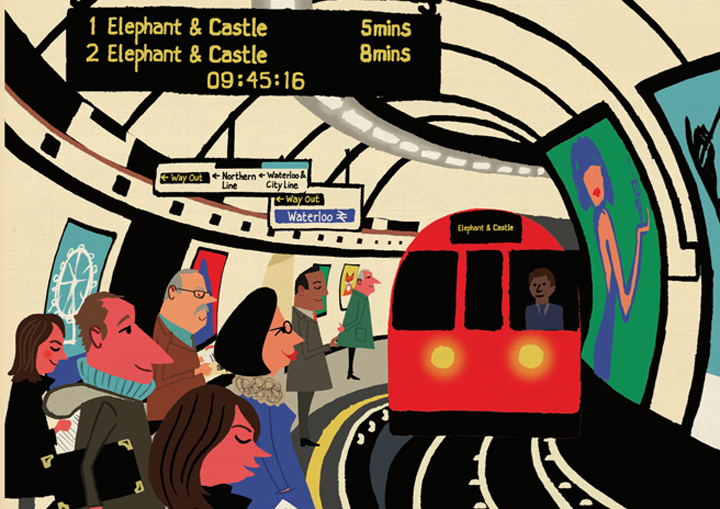 You know that we live for London here at Time Out. But when we see that love expressed in a stylish book full of London-centric illustrations, it brings out the urbanist geek in us.
'L is for London' takes us through the city, one letter of the alphabet at a time. Paul Thurlby describes his style as 'retro-modern', and the graphic midcentury-modern influence jumps out from bold pictures of contemporary metropolitan icons. He arrived at illustration via stints in advertising and T-shirt design, and bookshelves across the land are the better for it.
Here's a taste of his capital ABCs, spelling out – of course – Time Out.
T: 'According to legend, a wealthy American bought the old London Bridge thinking it was Tower Bridge.'
I: 'Ice skating has become a festive tradition in London at Christmas time.'
M: 'Millennium Bridge is nicknamed the "wobbly bridge" after it swayed from side to side on its opening day.'
E: 'The 32 capsules on the London Eye represent the 32 London boroughs.'
O: 'The Olympic Park was built for the 2012 Olympic and Paralympic Games.'
U: 'The Underground is the oldest underground railway in the world.'
T: 'There is now a glass walkway which offers a view of London life 42 metres above the river Thames.'
Buy it for a hip child you know or keep it as a talking point to flick through on your coffee table. Just keep your actual coffee well away from it.
'L is for London' by Paul Thurlby is out today, Thursday October 8. Find out more at www.paulthurlby.com.