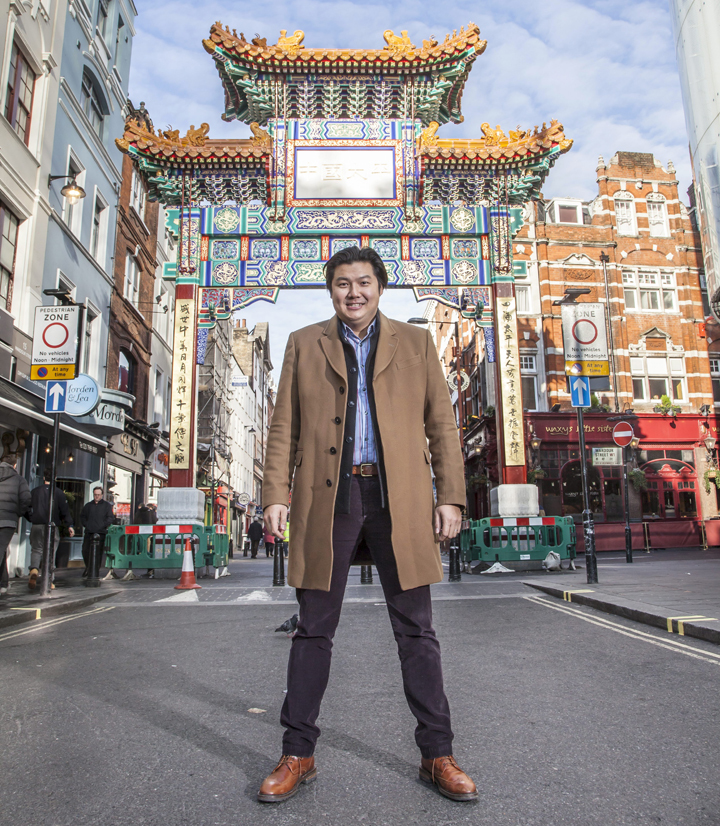 Rob Greig
A huge tourist magnet and the genuine focal point of London's Chinese community, the bustling streets between Leicester Square and Shaftesbury Avenue make up one of the city's most enthralling neighbourhoods. But with spiralling West End rents, how long can it survive? Alexi Duggins hears from the people who live and work here.
Geoff Leong: Restaurant owner and cultural ambassador (pictured above)
'Me and Chinatown go back to 1986 when my family first moved to London from Hong Kong. I was ten years old and we'd come here to eat, to celebrate, for my family to show me my culture. For years my family ran restaurants in London – minimalist, fine-dining ones in places like Hampstead and Mayfair. But in 1997, they opened their first Chinatown restaurant and now I look after them; I have opened places like Leong's Legends, Dumplings' Legend and Manchurian Legends. That's the way with Chinatown: a lot of the original generation who moved here are now retiring and my generation is starting to take over.
'I do a lot of cultural work as well, where I try to engage Chinese and Western cultures. I got DJ Yoda to launch an album at my restaurant with a big street party outside. I've had Mark Hix contribute a dish to my menu. I do an annual art exhibition in an underground car park. I was the one who convinced Rob Da Bank to theme the backstage bar at Bestival as Chinese. The last time I went, he even had a painted frontage of the roast ducks from my restaurant Dumplings' Legend! There's so much more understanding between our cultures now: it's great. Though I do still see tourists posing by landmarks for photos, pulling their faces into slitty eyes, and I think: Hmm, how can I tell them that is not very polite?
'The one thing that worries me about Chinatown is its future. With a lot of the old generation retiring, we need people to come over to replace them. Especially some of the chefs; you need highly skilled cooks. But there's a real crackdown on immigration that makes it hard for people to move here. How are we going to maintain Chinatown's quality? Gerrard Street alone contributes £40 million a year in rates. That's income the government can't afford to lose. They need to start thinking about how it's going to work. We're a community, but we're also an important source of tourism to them.'
Phoebe Wong: Manager, London Chinese Community Centre, Leicester Court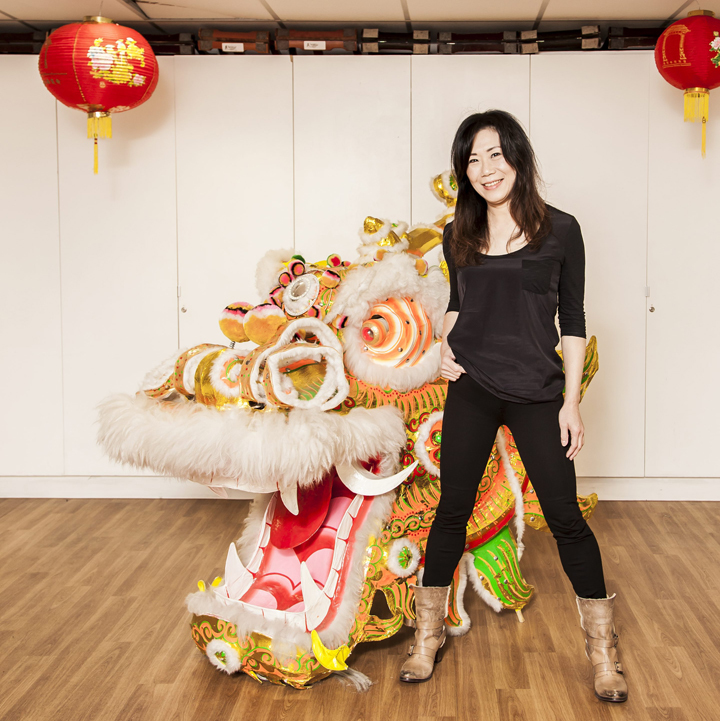 Rob Greig
'Being Chinese in London, you can't avoid Chinatown. We are often homesick, so Chinatown is very important to us. Every time you visit, it gives you a warm feeling. And our centre tries to help people feel like they're part of a family.
'We get people coming in and asking us to translate letters for them. We act as interpreters when they go to their GP or hospital. We help newly arrived immigrants apply for housing or look over rental contracts for them. We also do a weekly lunch club for the elderly. Once their children have left home, they can get very lonely and the language barrier can stop them asking for help. Time and again we see them lapse into depression. So we get them in here to have lunch once a week. They can be very naughty, though. The older they get, the more they act like children; pushing into the queue for lunch etc. And they do not like being told to behave!
'We run a homework club for young Chinese people who have recently immigrated to the UK but can't speak English – otherwise they struggle to fit in or keep up in school. As well as teaching them the language, we teach them the culture. We show them Western films like James Bond or do activities with them they wouldn't have done in China. Things like bowling: that integrates them into mainstream society.
'If you're not Chinese, you probably think Chinatown is all about the food. But there's so much more to it than that. There's the community. The spirit. The people. Us all coming together to help each other. What we do at this centre, there's nothing more satisfying. When you know you've helped someone let go of a problem and you can see the smile on their face? That's just so, so rewarding.'
Danny Yeung: Owner, Kowloon bakery, Gerrard Street
Rob Grieg
'I first came over here in 1975. Like most people in those days, I came from Hong Kong, as jobs were hard to find there. I tried lots of things at first. I was even the first Chinese person to sell souvenirs on Carnaby Street! Eventually I started working at Kowloon, which was owned by my uncle back then. At that time we were the only Cantonese bakery in Chinatown. We did very well. Eventually, the area filled up with Chinese businesses, but at first Chinatown was very mixed. There were Italian businesses, some Indian ones. A lot of gambling dens too. And brothels. Well, the signs used to say "models".
'I don't know how much longer we can go on, though. The rents have got higher and higher until they're almost killing our profits. We used to deal with individual landlords. Now it's a consortium: they're all owned by a hedge fund – a PLC. They don't care about us. They just say: "It's market forces. If you don't pay it, somebody else will." We're having to pay £600 a square foot for rent and business rates. Even for a small place, that's about £36,000 a month. You know how many buns you have to sell before you break even? That's a lot of dough!
'I don't know if I'm just becoming pessimistic. Maybe it's my age. I'm getting old, so I'm not as competitive as I was. But these are the facts. At some point I won't be able to make a profit. Then I'll have to sell the business. It'd be a shame if one day family-run Chinese businesses couldn't afford to stay in Chinatown any more. But unless the government steps in, how can we compete with the big boys?'
Dr Ke Xin Li: Senior doctor, Everwell Chinese Medicine, Shaftesbury Avenue
Rob Grieg
'Sometimes when I'm in Chinatown, I forget I live in London. So many people speak Chinese, and with the food and all the culture, I feel like I still live in China. I was pretty well known over there, actually. I used to appear in newspapers a lot, offering advice for people on how to treat muscular and skeletal problems. That was 20 years ago now. I was a lot younger then!
'The customers in my clinic come from all over the world. I've got Italian and Spanish patients – ones from Germany, America, Australia… I'd say that 60 percent of my customers are Western. Even I'm surprised at how many I get, but I think more and more Western people are starting to understand that Chinese medicine isn't so much about taking herbs as it is using things like acupuncture and some massage. In fact, I'm fully qualified in Western medicine: I have a degree as an orthopaedic doctor and know when to use Chinese medicine and when people's conditions need me to refer them to the NHS.
'I'm always telling my friends in China where I work. I'm so proud. Over there, many, many people know about London's Chinatown. It is one of the biggest in the world, after all. They always want me to tell them what's happening here. Whenever anything changes, I send them photos. For them, the fact that this place exists… well, I don't know how to say it. But it means a lot to them. Us Londoners are proud of Chinatown. But it isn't just us. In China they're very proud of this place. People in China love it too.'
Lucy Mitchell: Marketing director, See Woo supermarket, Lisle Street
Rob Grieg
'My father founded this supermarket 40 years ago. It started in a lock-up in Bermondsey, initially to supply his restaurant, because he'd found there was a real lack of authentic Chinese supplies in London. Then he started distributing to other restaurants, and then an opportunity to have a shopfront in Chinatown came about and it grew from there.
'The biggest change is just how many Western foodies we get in here now. When I was a little girl, I remember coming to Chinatown with my dad for occasions like Chinese New Year. He'd sit me at the window in the flat above the shop (he never let me downstairs because it was way too hectic) and while I was waiting for the dragons, I'd stare at the faces of the people – every one of them would be Chinese. Nowadays, we get a lot of non-Chinese people looking for exotic ingredients. If you're a real foodie, you'll get stuff here you won't find anywhere else: lotus roots, amazing fresh vegetables. Even the major supermarkets come to us now, asking us to help them stock authentic Chinese ingredients. Let me put it like this: the last two customers I sold to this morning weren't Chinese. One wanted fish sauce. The other wanted lime leaves. Ten years ago? Wouldn't have happened. It's lovely to see the world opening its eyes to cooking authentic Chinese cuisine.'
Chow down at the best restaurants in Chinatown
Or find out where to celebrate Chinese New Year in London
Portraits: Rob Greig