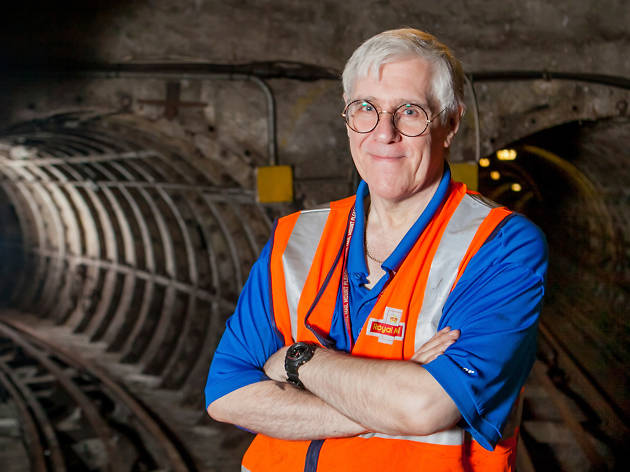 'My office is 6½ miles long': what it was like to work on London's underground Mail Rail
Posted: Monday July 24 2017, 4:46pm
For 43 years Ray Middlesworth has worked for the Post Office, including 30 on its secretive underground railway. Now he's retiring, just in time to see the Mail Rail reborn…
'I joined the Post Office as an apprentice in 1974, then worked on the mail processing equipment as an engineer. When that job ended, someone approached me and said, 'Would you be interested in joining Mail Rail?' That was in '87. I came down and I've been here ever since.
I was a station officer at Mount Pleasant, one of the stations where the postmen would load and unload the mail on the trains that ran under London. They'd only call on us if something went wrong. If there was a problem – a train had stopped short, or it hadn't gone to the right part of the platform – I'd get a phone call. I'd have about five minutes to clear the fault, otherwise the trains would back up and bring the whole thing to a halt – and the consequences of the operation stopping were huge.
We were down there in shifts 24 hours a day, either running trains or doing maintenance. At the weekend we'd take the maintenance locomotive out with rails and tools, and repair the track. There was always something going on down here, even at bank holidays and Christmas.
'T

hey always used to say the railwaymen were different from everyone else'

Most of the equipment was original: the track circuits and things. An engineer from the '30s would have recognised what we were doing in 2000. Once they'd got it right, they didn't change it. In all our operations we lost two men: one to a railway accident and one to a fall. For a railway that ran from 1927 to 2003 that's a very good safety record. We only had one crash. No one got hurt, but it was a lot of mess for the engineers to clean up – and a few letters were late that day.

The thing about the railway is once it gets hold of you, it absorbs you. When I worked upstairs, they always used to say, 'The railwaymen are different from everyone else: they've got a little club.' And when I joined it, I understood what they meant. You get an affiliation to the railway – you feel like you belong. We used to get sons working down here after their fathers, and we were all taught by someone who was taught by someone who was here when it started. One guy who retired in 1998 had been there since the '40s – he was three months shy of 50 years' service. I've only done 43 years, so I'm still a new boy.

On Saturday May 31, 2003, I turned the power off at Mount Pleasant for the last time. I wrote in the log book, 'End of service' – and that was the end of the Mail Rail. It was a privilege to be there, but also very sad. I knew it was a little bit of history.
'I spent so much time down here that it's like my living room

'

When they closed the railway they needed a crew to maintain the tunnels, so I stayed on. It would've been such a shame if it had just passed into history and been forgotten, but the railway's taken a totally unexpected turn: it's become an educational public attraction as part of the new Postal Museum. My grandchildren are already lining up for a ride.

I'm retiring on August 4 – I'll be 60 then, so I'll be hanging my boots up and handing over to someone younger. I'll miss coming down here, because it's become like a second home. It's a strange, dirty place, but I spent so much time down here that it's like my living room. I always joke that my office is six-and-a-half miles long. But I think I've done my time on the railway. I did my shift.'

Find out more and book your very own ride on the Mail Rail.

Share the story