Chocolate Week, which runs until this Sunday October 18, is one made-up celebration we have no problem supporting. To mark the occasion we challenged three master chocolatiers to create a confectionery tribute to London. The resulting sweet feats will be on display at The Chocolate Show, where you can also meet the makers (this weekend, Friday October 16-Sunday October 18).
Boris Johnson's head
by Aneesh Popat, The Chocolatier
'I chose Boris because he's been so fun for London – he knows the public humour and plays with that – and chocolate is fun too. The sculpture is completely hand-done. It started off with my mum's face, because all human faces have the same proportions. Then I got lots of 360-degree shots of Boris to work from. At one point he started to look like David Cameron, so we had to begin again. You blitz the chocolate in a blender to get a clay texture and keep adding and sculpting it. I put too much on his cheeks and he looked 70 to 80 years old, then as it was pared back he started to look younger; it was really interesting. His head is quite big, when you start to look at it closely.'
The Shard
by Barry Johnson of Rococo Chocolates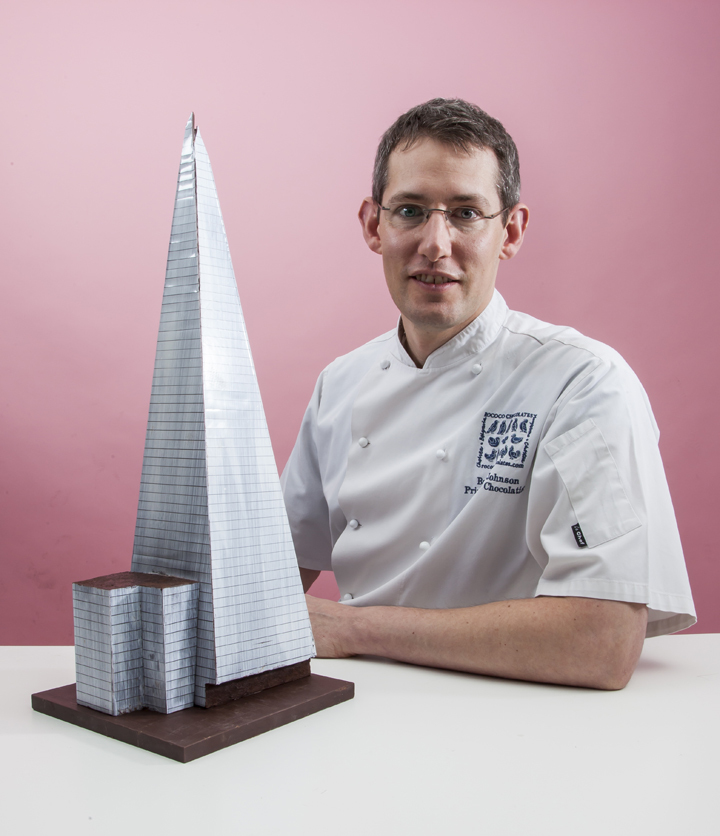 Rob Greig
'We can see the London skyline from our West Norwood workshop and the Shard stands tall on the horizon – it's a London icon of the twenty-first century. I recreated it from architectural plans to 1:500 scale and used 7kg of dark chocolate. The most nerve-racking moment with any chocolate showpiece is moving it – by nature they are extremely fragile. The Shard was safely strapped into the passenger seat of our van to make its trip for the photo shoot.'
'My London'
by Paul A Young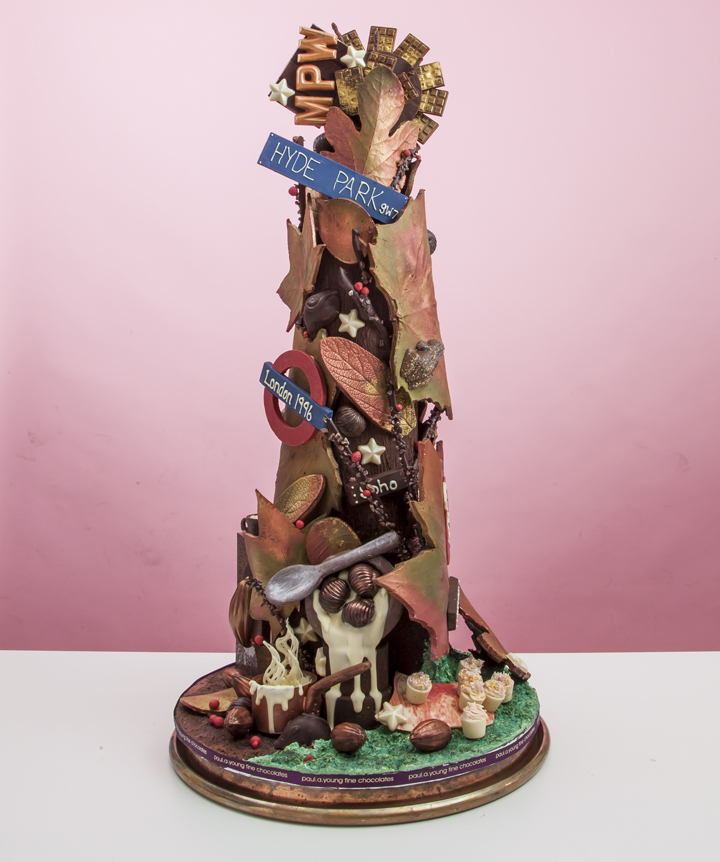 Rob Greig
'My inspiration was drawn from my arrival in London in October 1996 when I started working for Marco Pierre White: his initials MPW are at the top, surrounded by an art deco-inspired motif to convey the glamour of the city. The cupcake craze and the coffee trend are here too. My life was mainly taken up by cooking amazing food and travelling on the tube.
'Hyde Park was my solace, where I went to recuperate. Lots of kids and families come to the Chocolate Show so I wanted to give a magical impression of the park. There are lots of things here to discover: mice, frogs, snails – there were a lot of snails at Marco Pierre White's!
'It's created using so many techniques – moulding, carving, piping, sculpting – and all by hand. It's made of hundreds of separate pieces. I've got a repair kit here just in case!'
Meet Paul A Young at a Time Out exclusive chocolate tasting at The View from The Shard
Find out more about The Chocolate Show.
Or take a look at our list of 24 corner-shop chocolate bars ranked in order of excellence.