Venue: Barsmith, FarringdonSamantha Baines
You are engaged: hurrah! Now comes the spreadsheets, lists and organisational nightmare that's part and parcel of planning a wedding (it will be worth it in the end!). First things first - it's time to celebrate the end of singledom with all of your loved ones. Here are six top tips to make sure you celebrate in style:
1. Pick a great venue
You can end up shelling out loads on an engagement party venue but this is money you could be saving for the big day. In London, there are lots of brilliant bars and pubs that will give you a free space/room in exchange for their bar takings - some bars will stipulate a minimum spend but let's face it, there will be drinking, LOTS of drinking. Barsmith is in Farringdon and has areas that you can book for your party for free. They even do drinks packages so you pay in advance and they stock up a huge drinks fridge in your party area. It's basically like having a party at your house with a bigger fridge, more atmosphere and much less mess.
Top tip: If you are inviting older family members it is worth thinking about having somewhere for them to sit as well as gauging how loud the music in the venue is.
Cakes by Lady Berry CupcakesSamantha Baines
2. Let them eat cake
Weddings are all about cake so why would an engagement party be any different? In addition, cake is a brilliant way to soak up all that champagne that's flowing. These gorgeous wedding themed cupcakes - complete with engagement rings for your mates - are from London based Lady Berry Cupcakes and are delicious as well as stylish.
Top tip: Lady Berry Cupcakes also do cupcake decorating workshops for birthdays or hen dos - hint, hint, bridesmaids!
Samantha Baines
3. Get all the help you can
You have so much to organise for your special day so you should rope in help from your loved ones. Buy a notebook - or use one lying around at home - and leave it out with some snazzy coloured pencils so that guests at your engagement party can tell you what songs they would love to hear at your wedding. After vetoing a couple from your 'fun' uncle. you have a ready made playlist for your band/DJ. That's one less thing to worry about and you have other people to blame at the reception if your mother-in-law gets grumpy because of all the 'modern' stuff.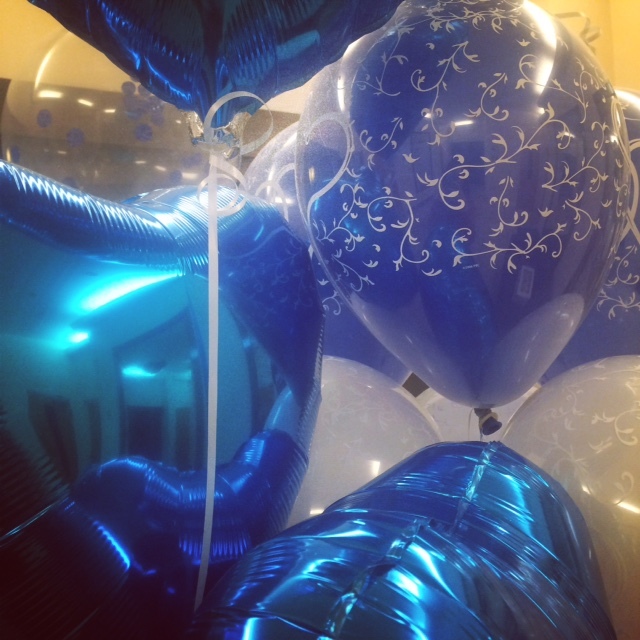 Balloons by London Balloon LadySamantha Baines
4. Decorations
Worried that your room in a pub looks too much like ... well a room in a pub? Make any venue your own with tailored decorations. Balloons give a real party atmosphere and have more impact than table top decorations might. These stunning balloons are from the London-based London Balloon Lady and can be designed with your party theme in mind. The combination of balloons, cupcakes on cake stands as a table top decoration as well as some table confetti creates a real party atmosphere and won't break the bank as much as lots of smaller decorations might.
Top Tip: It's worth noting the balloons last for several days. If you were hosting a family gathering one day and a party for your friends the next, you could use them for both.
Samantha Baines
5. Have plenty of DIY Fun
All the engagement excitement won't be burnt off just by dancing so it's a good idea to provide some activities for your guests. A quiz with questions about your relationship/holiday stories and anecdotes for your guests is a fun way to bring everyone together - and it's easy to make on a computer so you can print them out before the party. If you have a pin board and some luggage tags you can also create a Mr and Mrs board and ask your guests to give you wedding/marriage advice - some craft stamping at home will decorate the board. This is not only fun for the party but can be reused for the wedding as a way for your guests to write messages to you for your new wedded life together.
Samantha Baines
6. Let go
You have organised it all, got everyone there, the room looks brilliant and the party is in full swing so don't forget to have fun yourself. At some point you have to stop trying to keep everyone happy and enjoy the party. Here's to the big day!
If you've still got loads more to plan, have a look at wedding party venues for hire in London.