The Fourth of July might be all about celebrating America's independence from Great Britain, but we're not holding that against the Yanks. Here are ten of the best places to celebrate all things U-S-A on July 4 in London.
New American-style hot dog joint CanDogs is opening its doors on July 4 and to celebrate, they're giving away of 500 free hot dogs in their opening week. Toppings include caramelised onions, pickles, grilled peppers, bacon, cheese and chilli. Hot dawg. 235b Old Street, EC1V 9HE.
Proving that there's pretty much nothing that you can't put on a pizza, Mayfair Pizza Co has created the ultimate all-American meal with their new mac 'n' cheese pizzas. Yep, it's a cheesey carb-lovers dream and we reckon the folks across the pond would definitely approve. 4 Lancashire Court, New Bond St, W1S 1EY.
Basically, people are just putting mac 'n' cheese in everything for July 4, and why the heck not? Grilled cheese café Melt Room will be serving up mac 'n' cheese melts - a sourdough toastie filled with macaroni, cheese and bacon. 26 Noel St, London W1F 8GY.
Beer Hive London 4th of July Party
If there's one thing Americans love more than mac 'n' cheese, it's beer. Get boozy at London's first co-operative brewery, where current residents Clarkshaws Brewery will be pulling pints of their specially brewed July 4 beers, Smoked Chili Hell Yeah and COWGIRL IPA. Arch 283, Belinda Road, SW9 7DT.
If you fancy sipping on a totally different kind of beer, head to Soho-based Top Dog where they're giving away free root beer floats when you buy any hot dog. 48 Frith St, W1D 4SF.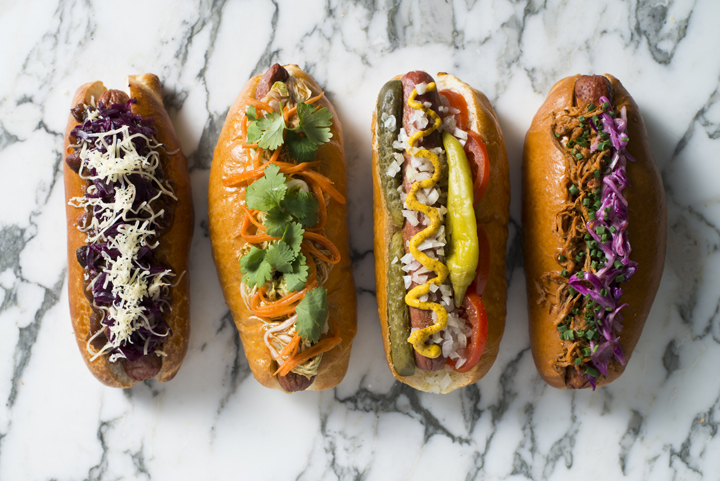 Feast on some good old-fashioned stateside surf and turf at the Big Easy, where they're serving up the slightly dubious sounding 'cloof burger', made up of hoof and claw. But don't worry, you won't actually be forced to eat cow's hooves - it's actually a tasty combo of beef burger and lobster meat. Team it with a Stars & Stripes Slushie, which is a triple whammy of strawberry daiquiri, piña colada and blue liqueur Curaçao. At both the Covent Garden and King's Road branches.
The Hope pub in Peckham is going all out to mourn the day we lost our American chums back in 1776. From 2pm, they'll have beer pong, bourbon, hot dogs, boozy ice cream, drinks in red solo cups and 'dad rock and hip hop' tunes. The Hope, 3 Melon Rd, SE15 5QW.
Balthazar weekend brunch party
Forget the fact that this place is usually a French bistro, it's turning into the American dream on July 4. Start off with a bloody mary pitcher, or go the whole hog and order a 12-litre bottle of the stuff. Once you've knocked back a couple of those, grab a hot dog with a French twist - an 8" Toulouse sausage, Scotch beef brisket braised in barbecue sauce, melted Comté cheese and crispy shallots. If you're after something sweet, they've got stars and stripes cookies and red, white and blue macarons. If you haven't got time to sit around and brunch all day, they've also got a pop-up stall selling 'le sandwich American', which is stuffed with a burger patty, fries, spicy cocktail sauce, melted cheddar and salad. 4-6 Russell St, WC2B 5HZ.
Got a rogue $1 bill floating around your wallet? You can finally put it to good use at Dirty Bones on July 4, where you can trade in a $1 bill for a free cocktail. They're also whipping up an all-American burger made with Monterey Jack and craft beer cheese and Coca-Cola onion rings. God bless America. 20 Kensington Church St, Kensington, W8 4EP.

Strongroom Bar presents: American Beer Festival
Celebrate Independence Day like the yanks would want you to - chugging lots of American beer, chowing down on Texas barbecue and, most importantly, hopping onto the bucking bronco and trying your damned hardest not to fall off within the first second. Strongroom Bar & Kitchen, 120-124 Curtain Rd, EC2A 3SQ.
Find more places to celebrate our pals across the pond here.