We all know that 2016 has been quite a crappy year, but it wasn't all bad. Here are our favourite bars and pubs of the year – work your way through the list and have a stiff drink (or five) to forget about the madness of 2016.

Tokyo tipples in the basement of Jason Atherton's Sosharu restaurant, where a cheeky neon sign advises: 'drink sake, stay soba'.
Top tip: The final element of the Champagne Papi comes from a vending machine.

A wildly fun boozer with American football and Buckfast cocktails. Yeah, really. They make a mean frozen banana daiquiri too.
Top tip: First line your stomach upstairs in the wicked Bad Sports Taqueria.

Twenty taps dispensing craft beer to Camberwell with a line-up so interesting, many drinkers stay standing browsing the bar for most of their trip.
Top tip: If you do fancy settling in for a session, grab from a stellar board game collection.

Poké, vinyl and short 'pousse-café' cocktails make Behind This Wall as trendy as you'd expect for a basement bar on Mare Street.
Top tip: They make a pretty mean Manhattan here.

The horseshoe bar fits the name of this cosy pub. There are plenty of tempting ales poured here and some super snug sofas to enjoy it all from.
Top tip: Order the fiery 'nduja-topped calabrese pizza from the pub's 'Sourdough Saloon'.

The team behind Worship Street Whistling Shop opened this basement bar dedicated to whisky, with over 250 drams to sample.
Top tip: The 'Table Whisky' is an ever-evolving house blend that matures in the trunk of an 185-year-old oak tree. Casual.

Another wicked bar from the CTC gang, with the same amount of great-tasting, fun and affordable tipples.
Top tip: The Handy Nightcap uses a frozen golf ball instead of ice – genius.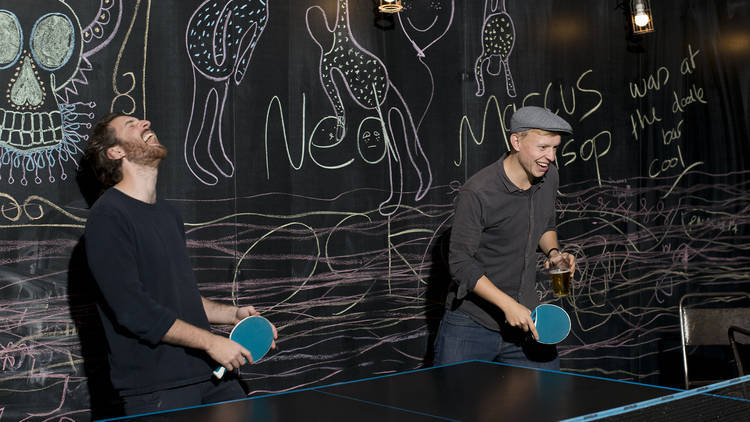 Punters at Doodle Bar have the power to scribble up the walls with chalk or get busy with a spot of ping pong. Whatever they choose, it's always entertaining.
Top tip: Delve into street-food wonders from a rotating line-up of vans parked out front.

Ancient boozer that gave the area its name, saved from developers and given some TLC and tasty beers by the Antic pub group.
Top tip: Sample hip local brews from the likes of Orbit and Fourpure.

Shrub cocktails in pharmaceutical surroundings at this Herne Hill bar, which doubles as a café by day serving up all sorts of hangover cures.
Top tip: Order the bramble, which comes with a syringe of Chambord on the side.

The most inventive cocktails to arrive in the capital this year, served in flamboyant glassware by flapper girl waitresses.
Top tip: Have a side of buzz button with your Electric Earl cocktail, a flower that zings on the tongue.

Town House Kensington Hotel had a revamp this year, earning itself a deeply sophis watering hole in the process – ideal for brooding nightcaps.
Top tip: Have a sazerac as good as you'll find anywhere in London.

Wildly welcoming Newington Green spot with a gastropubby menu offering slightly Mediterranean eats.
Top tip: Come early on Sunday if you want to be in with a chance of scoffing one of their top-notch roasts.

It's living room chic and Pat Butcher on a pedestal as Little Nan's Bar returns triumphantly to Deptford, complete with cocktails in china cups.
Top tip: Be sure to take a trip to the toilets…

A spin-off from popular Euston Tap, bringing big-hitting craft beers from around the world to a cool little railway arch.
Top tip: Come for after-work beers when there's a definite buzz – way better than catching a train.