If there's a crew that knows a thing or two about cycling, it's this bunch. Currently ranked the third best women's elite team in the world, the Wiggle High5 Women's Professional Cycling team just took part in this year's Prudential RideLondon Classique, a 5.5km route in central London. But when they're not whizzing around Buckingham Palace or Trafalgar Square for a glorious prize, here's where they like to simply cruise around town.
Richmond Park
'If I'm looking for a short scenic ride in one of the London parks, then there's nowhere better than Richmond Park. Not only is it beautiful as you play a game of deer-spotting, but the variety of short hills and long stretches mean that I can practise everything in one ride. Take the 7.5-mile Tamsin Trail and you can do a full circuit of the picturesque park. Little to no traffic makes it a stress-free cycle. It is also the perfect alternative for getting between the big south London towns.' - Dani King (GB) 2012 Olympic champion
Charing Cross – west London – central London (Buckingham Palace)
'It sounds strange but I really enjoy the hustle and bustle of an inner-city ride. As someone who's used to the cramped, intense nature of professional cycling I don't mind the significant traffic and intensity of London. However I do love to see some nice scenery too. One of my favourite routes takes me through both Hyde Park and some of the nicest west London spots, before returning to central London.
'I start my journey by Charing Cross and ride up to Piccadilly Circus past Green Park and then turn right towards Hyde Park continuing all the way to Marble Arch and then left onto Bayswater Road. About halfway along this stretch you turn right and into the park, all the way down into Kensington. During this lovely windy section you'll take in the Serpentine and the Long Water as well as the Princess Diana Memorial.
'Once you're out of the park it's a long slog down High Street Kensington all the way to Hammersmith for a glimpse of the Thames before you head back to the city via Fulham and the King's Road. This stretch is a great opportunity for celebrity-spotting and house envy and it will escalate as you head past Sloane Square and towards Buckingham Palace for the closing stages of the ride. It's hard not to get excited as you gear up for that iconic cruise up The Mall, but make sure you stay focused in the busy junction surrounding the Victoria Memorial. Once I'm through the junction it's time for a glorious sprint to Admiralty Arch. This is without doubt my favourite part.' - Lucy Garner (GB)
Hampton Court Palace to Putney Bridge
'As someone who loves London for its iconic scenery, I'm a big fan of either starting or ending my rides at a famous venue. One particular route I love goes between Hampton Court and Putney. After you've visited the palace and found your way out of the garden maze, I follow the cycle path along the Thames around Hampton Court Park all the way to Kingston Bridge. It's such a pretty village that has plenty of cafés to stop off for re-hydration before continuing on into Richmond Park. You'll need to have saved some energy to climb the steep hill into the park as once you are at the top you will be faced with miles of stunning trails to explore before stopping at Putney Bridge.' - Amy Roberts (GB)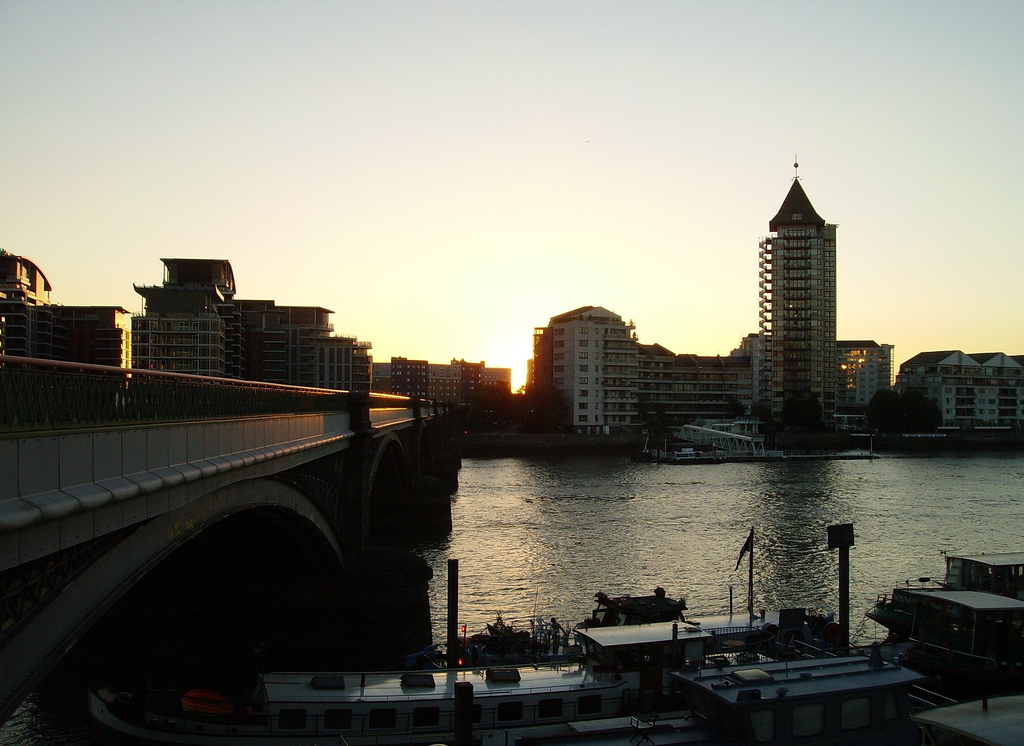 Chelsea Harbour to Blackfriars
'It's not a particularly long ride, but when I'm in the mood for combining sightseeing with riding, I love to see how far I can go along North Bank while ticking off my list of the famous monuments I see on both sides of the river. It doesn't really matter where you start from, but I usually begin my journey at Chelsea Harbour and go virtually all the way alongside the river until I get to Blackfriars. During that time you'll get to see some of the most famous buildings in London.
'Beginning your ride by cruising along Chelsea Embankment, you'll be treated to some of the most beautiful bridges in the city as well as getting a glimpse of the fabulous Battersea Park. It's then a relaxed ride past the Churchill Gardens and into Pimlico before you head towards Milbank and the hustle and bustle of Westminster. This is arguably the busiest and most difficult part of the journey but once you've cooperated your way past Big Ben and The Houses of Parliament it's straight out sightseeing along the river all the way to Blackfriars as you see London Eye, Somerset House, Whitehall Gardens, The Temple Gardens and Oxo Towers among others.' - Anna Christian (GB)
Wiggle, the world's largest online cycle and tri-sports retailer, are proud sponsors of the Wiggle High5 team. For more information head to www.wiggle.co.uk