Jennifer Aniston has come face to face with Rachel from 'Friends' – and things weren't that friendly. Confused? We're not surprised.
Aniston, who played beloved 'Friends' character Rachel Green in the long-running sitcom, popped by 'Saturday Night Live' at the weekend to confront Vanessa Bayer, who is often seen doing an impression of the character, '90s wig and all, on the comedy show.
The actress made a surprise appearance in the 'Weekend Update' segment, where Bayer was in full swing as Rachel.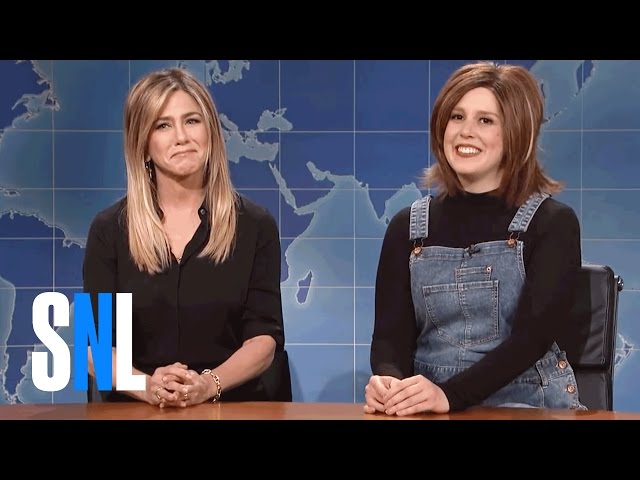 'Vanessa, what are you doing?' asks a stern Aniston.
'Listen, honey, I know you love "Friends" and we had such a great time making our movie together, but you gotta really try to stop texting me every day.' '"Friends" was like, five million and five years ago, so I think we've just gotta move on,' she added, before going on to critique Bayer's impression: 'I do not sound like that! That's wrong. I don't do that!'
What? Oh? What? Oh wow. No. What?
Aniston and Bayer appear alongside each other in new movie 'Office Christmas Party'.
More entertainment news:
✚ Tom Cruise is dead in first trailer for 'The Mummy'
✚ In pictures: a first look at 'The Great Christmas Bake Off' and the eight returning bakers
✚ 14 Christmas TV specials we're really excited about