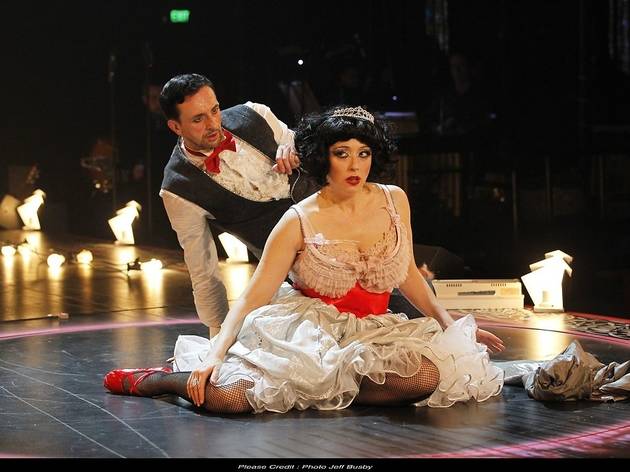 'Welcome to your future!' Meow Meow purrs during her festive South Bank spectacular – a loose updating of Hans Christian Andersen's melancholic fairy tale – and she might be on to something. One of the world's outstanding cabaret artists, she is a past master at the cocktail of talent, charisma, humour and constructive audience engagement that marks the form at its best, and is seeing its popularity rise year by year.
'Meow Meow's Little Match Girl' was developed in the performer's native Australia, at Melbourne's Malthouse, and uses Andersen's tale of wintry starvation, delirious wish fulfilment and luminous rapture as the line on which to hang music by Cole Porter and Noel Coward, Serge Gainsbourg and Laurie Anderson, Wagner and Purcell, as well as much original material. Whatever language she sings in – there are a handful to choose from – Meow Meow's voice is a rare pleasure, rich in musicality, always present and expressive, turning on a dime from stomping razzle-dazzle to heartbreaking vulnerability. And the show benefits tremendously from Lance Horne's superb musical direction, the work of composer Ian Grandage and the scratchy violin of Emma Smith.
The scale of the Southbank Centre's Queen Elizabeth Hall mitigates against the eye-contact intimacy of cabaret at its best but Marion Potts's production uses the room's grandeur to great effect, from its deployment of chandeliers and mirrorballs to Meow's roving perambulations through the auditorium. As befits the subject matter, the lighting design, by Paul Jackson, is consistently ingenious, from operatic effects to single matches – or our heroine's harvesting of audience members' mobile phones for use as light sources ('Is that an actual torch? Oh, it's an app!').
Still, this is primarily a Meow Meow showcase. Audiences who have seen her solo shows (or her work in 'The Umbrellas of Cherbourg') will know roughly what to expect: a sequinned time-bomb; an artistic kamikaze in high heels; live performance as a lurch for the lifeboat. The dexterity at slipping between registers that Meow Meow brings to her singing is also key to her humour, which is now bawdy, now self-deprecating, now sly as a stiletto between the ribs. This sense of slippage is also what allows her regular corralling of audience members for logistical support to triumph (and indeed to underpin this show's dramatic structure, understated as it is): rather than humiliating the public, she asks them to mitigate her own humiliation, to offer up their energy to keep afloat a show that appears to be perennially teetering on the brink of implosion.
'Appears' is the key word, of course, for Meow Meow's is a truly Brechtian form of performance about performance, expressed in the way the mechanics of the show are made visible and the hyper-expressive manner she deploys, whether simpering in faux ingratiation, barking orders at recalcitrant helpers or recoiling from an unsolicited touch with the leeriness of a caged beast. Like Brecht, she wants her audience to be mindful of social injustice too; a shame, then, that this show's treatment of child poverty and homelessness feels like its least successful aspect; the subjects are explicitly raised but the work never quite satisfies as a cohesive engagement with the realities of structural inequality.
But of course one is not to take with a straight face Meow Meow's opening insistence that 'we're gonna break the cycle of child hunger and poverty in one 73-minute extravaganza', and such critical reservations hardly intrude upon enjoyment of an evening overflowing with talent, charisma, laughter and light. Follow this 'Match Girl' – your future awaits…
Rating Breakdown
5 star:

1

4 star:

0

3 star:

0

2 star:

0

1 star:

3