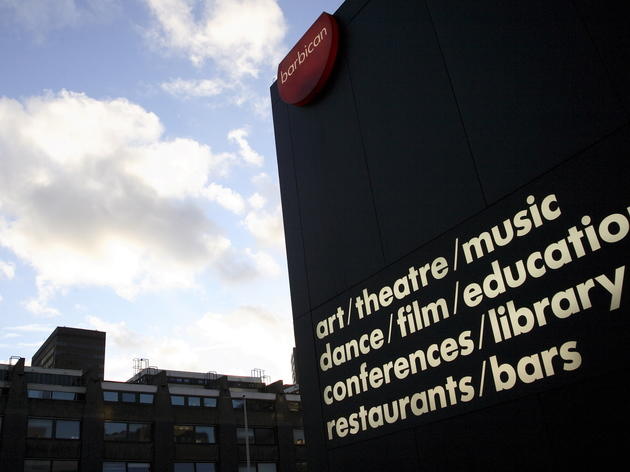 1/7
Tove K Breitstein / Time Out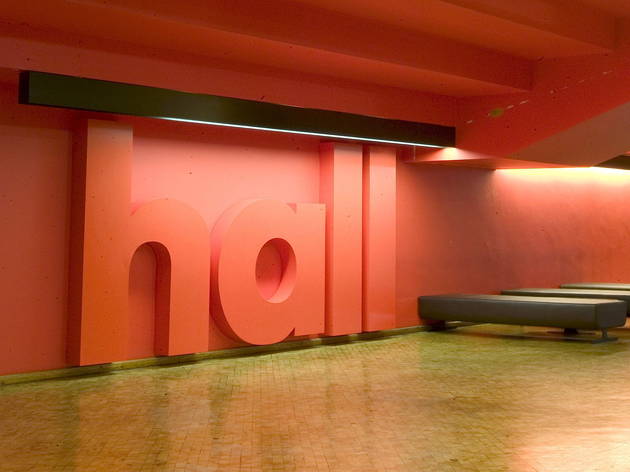 2/7
Rob Greig / Time Out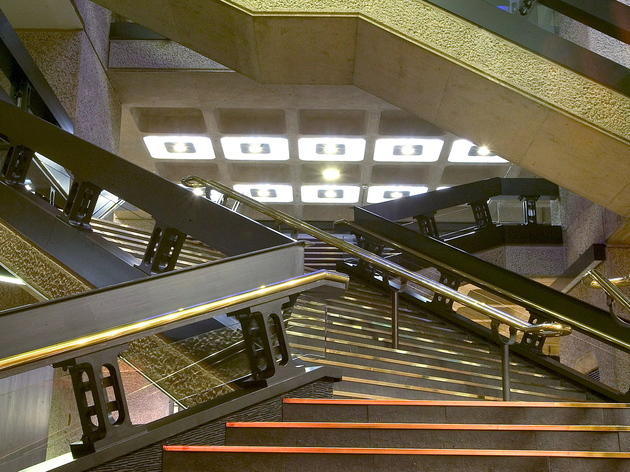 3/7
Rob Greig / Time Out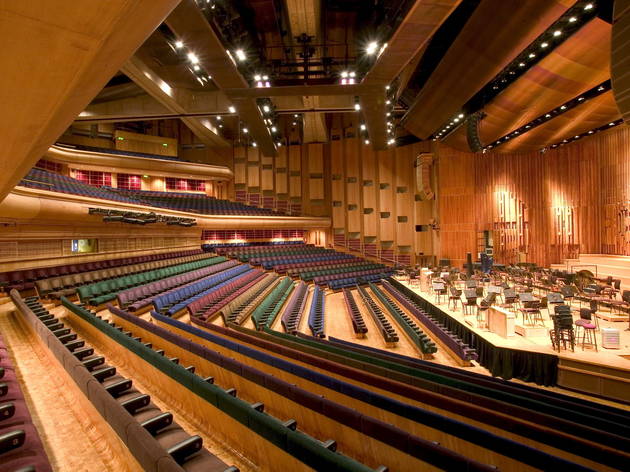 4/7
Rob Greig / Time Out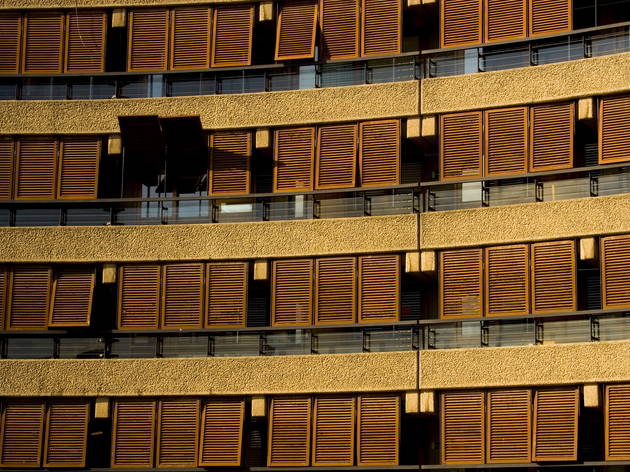 5/7
Nigel Tradewell / Time Out
6/7
Tove K Breitstein / Time Out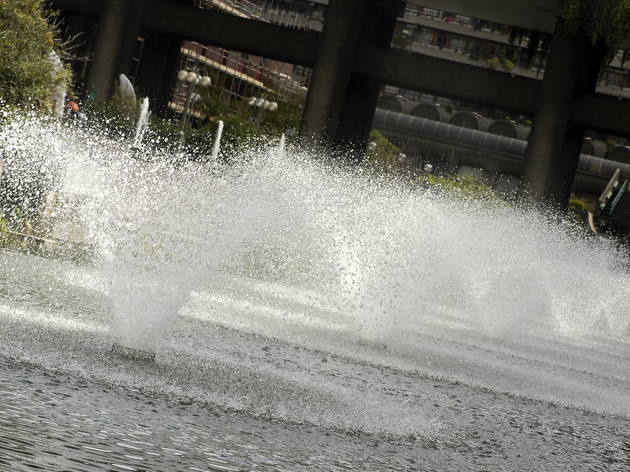 7/7
Andrew Brackenbury / Time Out
The UK's leading international arts centre
The Barbican Centre, a vast concrete estate of 2,000 flats and a leading arts complex, is a prime example of brutalist architecture, softened a little by time and rectangular ponds of friendly resident ducks. The lakeside terrace and adjoining café are good spots to take a rest from visiting the art gallery, cinema, theatre, concert hall or library within the complex. The art gallery on the third floor stages exhibitions on design, architecture and pop culture, while on the ground floor, the Curve is a free exhibition space for specially commissioned works and contemporary art. At the core of the music roster, performing 90 concerts a year, is the London Symphony Orchestra (LSO). The annual BITE season (Barbican International Theatre Events) continues to cherry-pick exciting and eclectic theatre companies from around the globe. The Barbican regularly attracts and nurtures experimental dance, and the Pit Theatre is a perfectly intimate space.
Find out more about the past, present and future of the Barbican with our complete guide to the Barbican Centre.
Venue name:
Barbican Centre
Contact:
Address:
Beech Street
Barbican
London
EC2Y 8AE

Transport:
Tube: Barbican; Rail/Tube: Moorgate
Price:
Prices vary
Do you own this business?
This is the first feature from writer-director Kogonada, a Korean filmmaker who made his name with a series of online videos about filmmakers he loves, from Wes Anderson and Robert Bresson to Richard Linklater and Ingmar Bergman. You can feel Kogo...

Read more

A stellar injustice: Hollywood has made a movie about a faked Mars landing—1977's deliriously silly 'Capricorn One'—but has never given the historic first moon landing its due. That's not so hard to explain. While inspiring on a global scale, the ...

Read more

Her polka-dot covered paintings and sculptures have placed Japan's Yayoi Kusama among the world's most popular living artists, but she's had one heck of a struggle to get there. That's the key takeaway from this conventional but illuminating biogr...

Read more

Calling the new A Star Is Born a "valentine" from its star, Lady Gaga, to her fans sounds a bit coy and delicate, so let's call it what it really is: a hot French kiss (with full-on tongue), filled with passion, tears and a staggering amount of ch...

Read more
Modern Couples: Art, Intimacy and the Avant-garde review

Think modern love is complicated? Wait until you see this exhibition. Here's half a century's worth of explosive couples, transgressive throuples, affairs, gaslighting fuckboys and, mercifully, some great art to contend with. 'Modern Couples' wants to...

Mixed media

Until Sunday January 27 2019

Francis Upritchard: Wetwang Slack review

It's like every museum in London has been chucked into the Barbican's Curve gallery. Vases from the V&A, reliefs from the British Museum, hats from the Fashion and Textile Museum, figures from the Tate, artefacts from the Museum of London. But there's...

Until Sunday January 6 2019

Macbeth

The National Theatre's recent dud of a 'Macbeth' has set the stage for a more robust 2018 production of the Scottish play. And the RSC has gladly obliged with this imposing-looking production from Polly Findlay, starring Christopher Eccleston in his RSC...

Shakespeare

Until Friday January 18 2019

RSC: Romeo and Juliet

After using hundreds of amdram performers in her 2016 take on 'A Midsummer Night's Dream', the RSC's deputy artistic director Erica Whyman has lent the same community-focused approach to her take on Shakespeare's love story. 'Romeo and Juliet' got warm...

Shakespeare

Friday November 2 2018 - Saturday January 19 2019

RSC: The Merry Wives of Windsor

Shakespeare's silliest comedy was apparently written at the behest of old queen Bess, who was so taken with the character of Falstaff that she wanted a whole play about him. 'The Merry Wives of Windsor' hasn't historically delighted its audiences, thanks...

Shakespeare

Friday December 7 2018 - Saturday January 5 2019

The Damned

Super-director Ivo van Hove hooks up with French titans Comédie-Française to present this toweringly gloomy stage adaptation of Luchino Visconti 1969 film 'The Damned'. Concerning a prominent family of German industrialists who reluctantly but willingly...

Drama

Wednesday June 19 2019 - Tuesday June 25 2019
Average User Rating
4.3 / 5
Rating Breakdown
5 star:

14

4 star:

22

3 star:

1

2 star:

1

1 star:

0
The barbican is fabulous - one of those establishments that embraces all art forms, making them accessible to everyone. I've seen Waiting For Godot here, the ballet, Winton Marsalis.. I think your soul is made richer just standing next to that beautiful concrete slab by osmosis!
Love this building. Plenty of exhibitions plus concerts and cinemas. Many places to have food so you can spend all day there. Nice terrace to have lunch in a sunny day
The Barbican is always worth a visit if you are in the area, regardless of what's on. It's a beautiful complex which has so much to see, both inside and outside. I always wonder who lives around the Barbican as I understand the apartments / flats that surround it are housing designers / artists / locals which adds to its community feel.

This brutalism monster might seem scary on the first visit but the more you see it the more you love it! Ageing has definitely made it more special and in combination with the new activities it hosts, it's one of the most important cultural centres London is offering. Any kind of art exhibition can be found here from time to time, as well as theatre, music and cinema shows. And all of them always carefully selected and with special prices for young and older people. Even if you're not interested in anything that's on, visiting is still an experience itself -as it feels like a journey to the past- and you can always enjoy sitting at the ground floor cafeteria by the ponds or even next to them when it's sunny!
I would love to do a gig here as this is London's answer to Carnegie hall on 7th Avenue. It is however sad to read the comments from the dissatisfied bride below. So anyone getting married in London should have a look at recommended venues: www.youtube.com/watch?v=DIB4nvvLkNk Notwitstanding, the Barbican does other things very well and is worth a visit.
I love going to shows, the art gallery and cinema here. Really cool 60s building.
I had a lovely wedding, the location was spectacular and I had a fantastic day as did all my guests. It ended rather abruptly though with the music being turned off at 11 on the dot. I can hardly complain, but I do have some serious complaints regarding the service. The food at the wedding was a much lower quality than what I was served at my tasting. The appetiser, which had been lovely at the tasting, held no resemblance to what I was served at my wedding and the creme brulée instead of being luscious and creamy as it had been at the tasting, was a stiff gelatine. After the wedding the staff didn't pack up my crockery hire correctly which made me lose my deposit and they were completely unremorseful about it, ignoring my emails and not helpful at all. The cherry on top of the cake, 2 months after the wedding, after we had settle all accounts the wedding planner started bothering us for another 600 pounds. We had spent the budget, the invoices had all been settled and he was haggling us for more money. Quite unprofessional.
So looking forward to Blaze...thanks to the Big B!