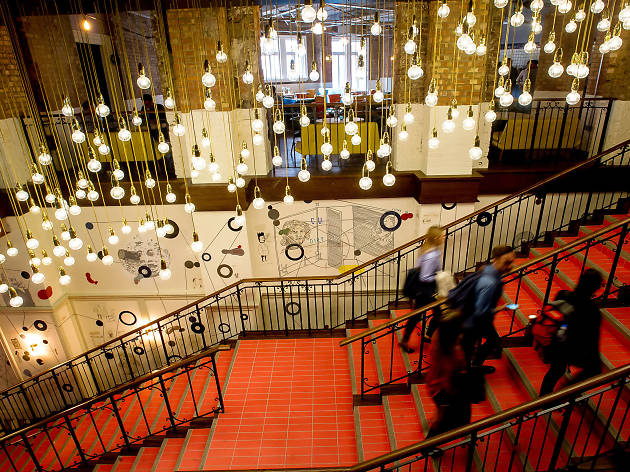 1/3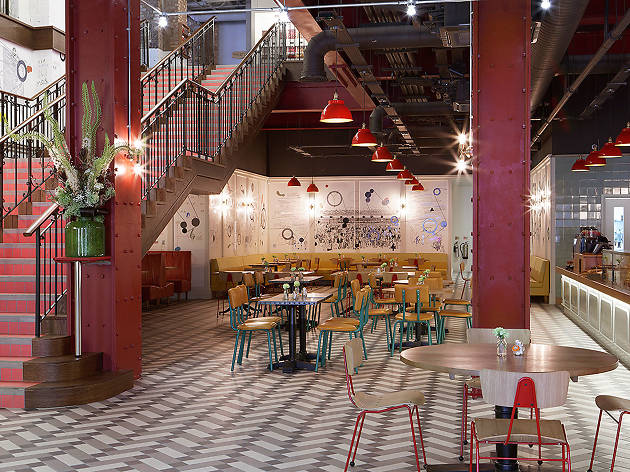 2/3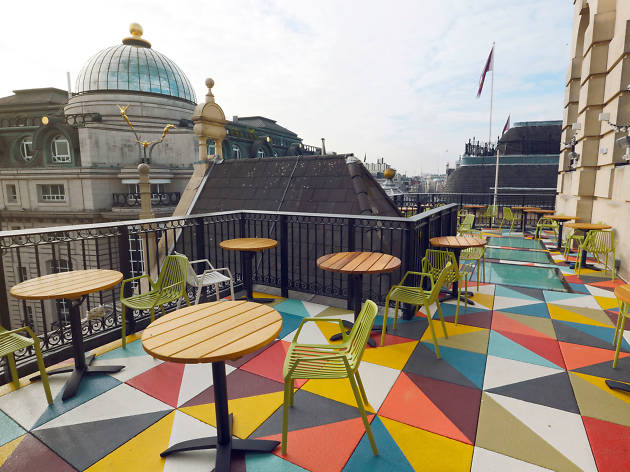 3/3
The Picturehouse's latest branch, opened in the summer of 2015, sits on the site of the old Cineworld in Piccadilly's Trocadero centre, which has had a stunning revamp. Distancing itself from the old maze that was former cinema entrance, Picturehouse have walled this up and made a clear entrance on the corner of Shaftesbury Avenue and Great Windmill Street.
Inside visitors are met with a grand staircase paired with a film themed mural by US artists Patrick Vale and Paul Davis. There's also a ground floor café. Up a level you'll find the box office and the bar, before heading to one of the seven screens. Still in the same theatres the original screens were, these rooms have been overhauled with larger screens and comfy seats with more leg room.
Another climb up a level will take you to the gallery space and a members-only bar with a roof terrace that looks out over the busy streets of central London.
More
Less
Picturehouse Central says
London's most stylish new cinema, inside the Trocadero. Seven screens playing a mix of quality mainstream, indie, foreign language and documentaries. Plus a ground floor cafe, first floor bar-restaurant and a newly opened members' bar across two floors with a roof terrace revealing stunning views.
More
Less
Venue name:
Picturehouse Central
Contact:
Address:
The Trocadero
Shaftesbury Avenue
Piccadilly
London
W1D 7DH

Cross street:
Great Windmill St
Transport:
Tube: Piccadilly Circus
Do you own this business?
Sporting a black eye-patch and a mutinous sneer, anti-hero Snake Plissken (Russell) prepares to invade the Manhattan of 1997, sealed off as a self-regulating maximum security prison following a 400% rise in the crime rate, and ruled over by a blac...

Read more

It's like a Pavlovian reaction. I know it's coming but I can do nothing about it. The strings swell for the introduction to 'Over the Rainbow' and already I'm wavering. Judy Garland gets a few lines into the song and I'm emotional wreckage. Ever...

Read more

After such imposing movies as 'Hunger', 'Shame' and '12 Years a Slave' – those titles are punishing enough – you'd be forgiven for assuming British director Steve McQueen had a mean streak, if not toward his audiences, then his actors. Now comes '...

Read more

A stellar injustice: Hollywood has made a movie about a faked Mars landing—1977's deliriously silly 'Capricorn One'—but has never given the historic first moon landing its due. That's not so hard to explain. While inspiring on a global scale, the ...

Read more

The first 'Fantastic Beasts' movie had a lot of heavy lifting to do. It needed to establish a world connected to the Harry Potter universe, but also one that was self-contained. It had to introduce several busloads of new characters and kick off a...

Read more

'We're comfortable,' says Nick Young (Henry Golding, mega-confident in his movie debut). A handsome Oxford-educated college professor, he's been asked about his background by his girlfriend, Rachel (Constance Wu), in this endlessly entertaining ...

Read more

Calling the new A Star Is Born a "valentine" from its star, Lady Gaga, to her fans sounds a bit coy and delicate, so let's call it what it really is: a hot French kiss (with full-on tongue), filled with passion, tears and a staggering amount of ch...

Read more

As an actor, Paul Dano is always up for the odd, the disconcerting, the complicated. Reassuringly, his first film as writer-director follows suit. 'Wildlife' is a finely detailed, darkly humorous, powder keg of a character study. With co-writer Z...

Read more

The best horror movies, just as major as the more reputable stuff, work on a primal level, beyond plot or words. They grab at your bowels. Dario Argento's 1977 stunner 'Suspiria', an explosion of color, gore and vaulting stylistic ambition, is und...

Read more
Average User Rating
4.5 / 5
Rating Breakdown
5 star:

44

4 star:

14

3 star:

4

2 star:

1

1 star:

1
A gem of a cinema. Just a few minutes from the tourist trap of Leicester Square, you'll find Picturehouse Central. Reasonably priced, with a wide selection of movies. The bar inside is great in it's own right too. This has definitely become my cinema of choice.

So glad they renovated this space, the theatres are huge and comfortable. Also a nice place to just and have a cup of tea when the weather is awful outside.
It might be a cinema, but this is one of my favourite hangouts in the area - great cafe!
I had to share this photo - and see others have done the same.
There are some places in London where just looking out gives you a sense of occasion.
The corner table on the Club Level here is just one such place.
Picturehouse Central is a great venue to see a film - its equally a good spot just to hang out.
Very civil and just metres from Piccadilly Circus.
The coolest cinema for miles around, and considering it's a stone's throw from the PCC, the ICA, the Curzon, and a couple of cinemas with the best screens in the city (OLS and Empire) that's saying something.
Christ.
Am actually quite shocked to read these reviews on here. Is it the same place? Do people only care about decor?
Second attempt to come here last night (first attempt they had whored it all out to a corporate at last minute with no notice. Fun if you've travelled an hour to visit).
After a 40 min queue for tickets an same again for snacks. Got upstairs to be told restaurant closed (corporate do, of course) so had to stand around (no seats) for a while- no real time to go anywhere else as too busy to get down escalator and leave
Film: pretty good but sound was too quiet and so could hear everyone talking and eating. Seats lean back: result... However, when doing so they jerk the whole row meaning other people are involuntarily moving you the whole way through. Also- it's freezing! Air con in late Oct? Why?
Dinner after: food cold and took ages. Also the worst of the Mayfair art set and upper class hipsters (Dalstons a bit common now) jostling for space, clattering into poor couples trying to get some respite and generally braying bollocks
Whole thing such a shame I could cry
Great fresh and innovative new venue in the West End
By far the BEST cinema in the West End!!!
Like the theme tune from Toys R Us but take out "Toys R Us" for Picturehouse and "Toys" for films.
The best place to see a movie north of the river. Hot dogs in the bar to die for.
Best cinema in Central London!