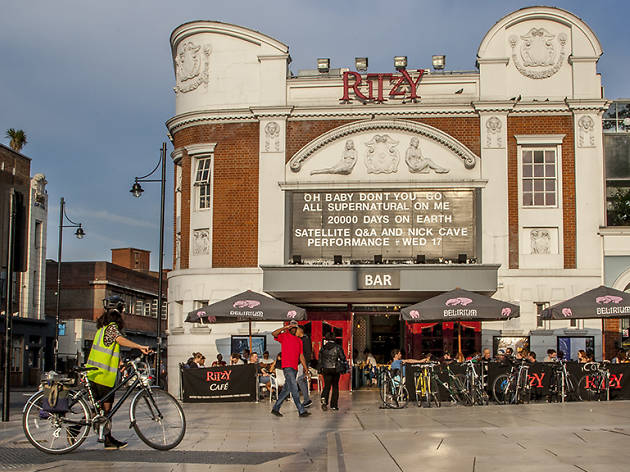 The Ritzy is a Brixton institution, much loved for its friendly staff and anti-multiplex atmosphere. One of south London's oldest picture palaces (it originally opened in 1911), today the Ritzy has still got a little of that grandeur. Its five screens are all comfortable and reasonably sized, while the programme strikes the perfect balance between major blockbusters and independent films, plus late-night shows and classics. There are also two bars, one offering a view across Windrush Square and serving slap-up café food, the other tucked upstairs inside the cinema and playing host to an array of club nights and stand-up shows.
Venue name:
Ritzy Cinema Brixton
Contact:
Address:
Brixton Oval
Coldharbour Lane
London
SW2 1JG

Transport:
Tube: Brixton
Do you own this business?
Besson's first American movie begins promisingly with a stylish action sequence, but goes off the rails. Hitman Leon (Reno) lives in isolation in his starkly appointed New York apartment, but when a neighbouring family is massacred by corrupt cop ...

Read more

Polish-born Pawlikowski has already filtered his daring background in documentaries (for which he chewed the breeze with an extreme Russian nationalist and hung out with a crazed Serbian warlord) into two exceptional features, both made and set ...

Read more

An evolution of the tech-heavy Hollywood blockbuster, the 'Planet of the Apes' franchise is a Darwinian dream come true. These movies have captured a soulfulness that's different from anything else out there. 'Apes' wrangler, director and co-writ...

Read more

It seems third time's the opposite of lucky with animated franchises. Like 'Toy Story' and 'Ice Age' before it, the 'Despicable' series has made the short trip from lovably madcap to tedious in three films (not counting the actually-kind-of-terrif...

Read more

If you've seen 'Kidulthood' and 'Ill Manors', and the thought of another dose of gritty gangland realism is about as appealing as licking the tube floor, think again. In her impressive debut, Sally El Hosaini rifles through the coming-of-age film ...

Read more

Music sounds better when you're on the road. In 'Baby Driver', 'Shaun of the Dead' director Edgar Wright takes the car-chase action film – loaded with tyre squeals – and weds it to a cracking jukebox playlist. The result is the most supercharged p...

Read more

You might already know how the evacuation of Dunkirk in May 1940 turned out: how over 300,000 mainly British troops escaped from the beach and harbour of a northern French port while being bombarded by the Nazis. But the power of Christopher Nolan...

Read more

Before seeing 'Wonder Woman', I got a sinking feeling. It's been more than a decade since a woman headlining a superhero film saved the world. I had visions of middle-aged male studio execs huddled together in a conference room Googling feminism a...

Read more
You may be interested in:
Average User Rating
4.7 / 5
Rating Breakdown
5 star:

21

4 star:

10

3 star:

0

2 star:

0

1 star:

0
Covers everything from live music to indy films and food & drink. Cutest little hang out, any day or evening of the year.
The Big Scream!!! Life saver when on MAT leave!!! Great spot to sit and people watch too.
A hub for great cinema, workshops, gigs and other events plus a lovely place to hang out at any time of day in the two cafes!
I've watched some of the best films here that haven't been on general release - but even if you're not catching a flick, it's an awesome hangout.
I like the Ritzy Cinema a lot, just wish they'd pay staff, London Living Wage. Come on, do it.
Love it, great atmosphere for serious film viewing, should just pay their staff fairly.
Drink beer and watch films. Maybe meet Quintin
Having lived in Brixton for over 20 years, I've seen many changes, but I still rate The Ritzy, the staff, the films and it's the first cultural icon in Brixton aside from the old music venues.
The Ritzy is recognised by most as a true institution for a good reason and who am I to disagree with facts!
Their selection of films is always on point (the most recent films + some amazing classics), there are a veriety of other offerings that go just beyond cinema (broadcasts of opera. ballet, theare) and on-stage acts also (comedy nights, music, etc.), the food and drink on offer is great and the staff is lovely. I've always enjoyed coming here (I love the small, cozy rooms instead of the giant ampitheatre type places).
Recently, I also watched "The Graduate" in their pop-up cinema in Pop Brixton.
I was quite excited (pop-up + cinema + classic film = amazing) but I have to say the experience fell behind my expectations. The space, whilst quite interesting is not designed for comfort (chairs are not great to sit in for 2 hours), there is a cold draft and the provided blankets were not enough to keep me warm and comfortable (well... it is in a place built with containers) and due to some technical deficulties, there were a couple of occasions where the image was lost throughout the screening.
All in all, I still am madly in love with the Ritzy (my yearbook dedication would read: "never change Ritzy!") but the pop-up felt a bit gimmicky and unecessary (when the lovely Ritzy is only 2 blocks away).
The Ritzy - 5 stars
Pop Ritzy - 3 stars :(
Favourite cinema in London bar none.
Good flicks, nice bar, friendly staff.
It is a great place. Part of Brixton for over 100 years
A real gem of a place! The perfect way to spend a cozy Sunday afternoon in Brixton – great films, comfy seats and a yummy selection of cinema treats & drinks… What more could you ask for? Easily one of the best cinemas in London.
My FAVOURITE cinema in London. Great mix of programming, lovely events and a a great view on that top balcony!