The very word 'Infernos' is enough to turn the stomach, to call to mind the aniseed burn of a jagerbomb, the sharp tang of vomit slapping pavement, the prickle of sweat crawling down your forehead . The club on Clapham High Street has been the messiest night out that 12 pounds can guarantee inside the M25 for years now, rammed with everyone from students to pissed estate agents, the lost, the drunk, the confused and people who used to be on the Apprentice. Even Margot Robbie is a fan, which makes sense because Australia is one of the most well-represented nations in the cultural melting pot of chaos known as Infernos.
This year, the club turns 20, marking two decades of lighting redder than Satan's colon, the most sinister carpets in London and all the cheese hits a person could eat. In its time, Infernos has hit the big screen as the setting for the infamous club scene from the 'Inbetweeners Movie', played host to recording sessions by the Sex Pistols and I'm sure that whoever opened the venue as a cinema theatre in the early 1900s would be scandalized to their very core by the debauchery the place has seen since then. Here follows the deranged story of Infernos: the hacks, the pitfalls, the good, bad and ugly as told by the people who love and hate it most: London's clubbers.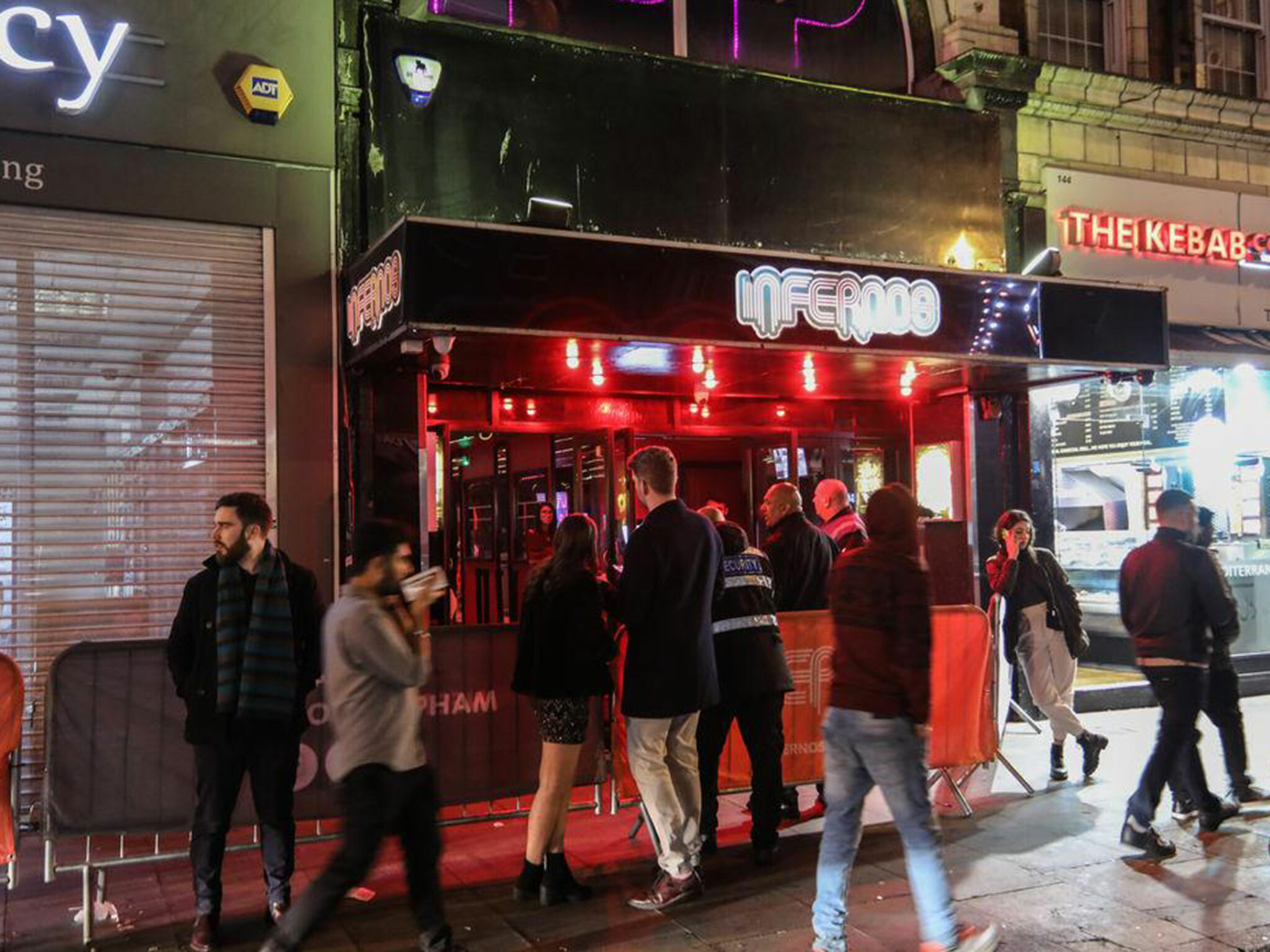 The inevitability of Infernos
Nobody really makes a clear-minded decision to visit Infernos. Instead, the club is a siren that calls to people after three to seven drinks, promising delight and delivering destruction. After a certain point in the night, if you are within a mile's radius of Infernos, you are in the danger zone.
Steve and Johnny, in the Infernos queue
Steve: Don't go! Don't go here! I have been so many times before, it's brash, just don't go, it's the worst place to go. I'm only here because it's his birthday.
Time Out: Why did he want to go?
Steve: That's a great question, a question for the times. For Time Out, even. Johnny, why are you here?
Johnny: Mate!
Steve: Are we actually doing this?
Johnny: [incoherent shouting]
Angela, in the Infernos queue
We live in Clapham, we've got to go so we can say we've been and then never go again.
Anna, in the Infernos smoking area
This is my first time, it's good, it's good. I've been told you've not had a night out in London until you've been to Infernos. I'm from Croydon. Croydooooooon.
Ellie and Izzy, in the Infernos queue
Ellie: We're here for Izzy's birthday. There were no other options, because everywhere else is cringey or full of old people or creepy men. This is like, a nice in-between place.
Izzy: I have no idea why I'm here.
Bad behaviour
There is something about Infernos - maybe it's the reputation for horseplay, maybe it's the faint aroma of something like cat food in the air - that sends people feral. It is London's premier establishment for being a nuisance.
Nick Evans
I remember being chucked out on my birthday. I was dancing on the stage on my own (brief uses of the pole, of course) having the whole of the main dancefloor sing Taylor Swift '22' at me after getting so drunk I ended up telling someone who I'd known for precisely three days that I loved them. Eventually I couldn't stand and was dragged out by the strap of my dungarees by the bouncers.
Anonymous
What I remember most was the overzealous security. I once slipped on a spilt drink on the dancefloor, and a couple of minutes later I got grabbed by the shoulder, marched into the security office and then kicked out for "throwing drinks around and splashing around in the spillage". I spent the next couple of hours sulking in McDonald's.
Jo Hoare
My friend reported his housemate missing but he was in fact passed out between the fruit machines.
The stench of nostalgia
Why is it that punters, most of whom who freely admit that Infernos is revolting, come back time and again? For a lot of people, when they think about it (which, again, people don't often do,) the appeal of Infernos is that it reminds them of their younger days. Grubby, deranged days, from a time before they had accrued life's terrible responsibilities and regrets.
Georgia Sherry, Infernos smoking area
What I've decided is - I'm 24 - is that Infernos is closest thing to uni you can get. You go there, you're probably gonna see some people you know, you're gonna have a good time, and the vibe is so grotty and disgusting that it feels close to uni. I think everyone thinks three years at uni is too short: so, Infernos, that's the answer.
Lucy, Infernos smoking area
However trashy it is, you always have a good time, perhaps it's a representation of your university nights out.
Hattie, Infernos smoking area
I've been a couple of times – you know Snobs in Birmingham? It's very similar to the top floor there. For us it brings back a lot of memories of being eighteen, with your whole life ahead of you.
Grubby sex
Like anywhere that serves alcohol late into the night, Infernos is also a reliable spot to secure a messy hook-up. The club has its own neon-signed "kissing corner", but you can find strangers with their tongues down each other's throats more or less anywhere in the establishment.
Tristan, Infernos smoking area
There's always a lot of good party people here, there is, there is, really! No one's here to fucking take the piss, everyone is here for a good time. I think a lot of people are here to pull. I'm here to have a good time, but if I pull, that's a good vibe. [Looking around] You know what, it's a place with a lot of good looking people. Lots of good looking girls here. And yeah…. that's a good vibe.
Anonymous
I once had a threesome with two guys I met at Infernos, literally the last people left on the dance floor at closing. They took me back to one of their parents' huge flat in Fulham who were never there as they were tax exiles in the Caymans. It was extremely useful as I had a friend's birthday brunch the next day in Wimbledon and didn't want to trek all the way back to North London. Charmingly, for months afterwards they'd send me texts off one phone but signed from both of them.
Anonymous
I have a friend who swore they were there for a balloon drop one night and the balloons were filled with mint-flavoured condoms.
The tunes
Or perhaps it's the lawlessness of the music, party anthems from the noughties transitioning seamlessly into eighties TV theme show remixes via top 40 tracks. You're 30 years old, you think 100 gecs refers to car engine capacity, and what you want to hear is some of the worst music committed to .wav that you somehow know all the words to.
Ellie Lees
Because there is no signal in there, a friend developed a calling card when she'd get separated from our group - she'd go to the DJ and ask them to play the club remix of Let It Go from Frozen so we'd know to go and collect her from the front.
Anonymous
In the era I used to go - early 00's - when they played the Baywatch theme, which they did more than once a night, men would lay on the floor whilst other men 'surfed' them.
Ryan Barnett
In February 2015 I went there for a cousin's birthday. It was the same day I found out I'd lost my job at a horrible recruitment firm, and when they played Uptown Funk for the 5th time I decided I had to leave.
Darren, the Infernos smoking area, in the manner of someone at a job interview
I'm Darren, and I've come to Infernos because it's so shit that it's actually really good. My mates are moving back to Australia so we had to come back to the HQ, back to Infernos, where it all started. Every song takes me back 15 years.
Anonymous, the Infernos 'Kissing Corner'
They're playing a dance remix of Country Roads aren't they? What the fuck. I love that.
Unleashing chaos
When it comes down to it, the real appeal of Infernos, and the reason it will survive right up until the apocalypse (and perhaps beyond it,) is that the longer you spend inside its four walls the closer the percentage chance of something insane happening to you gets to 100.
Alice Elliott
So Infernos is the subject of deep, almost mythical folklore among my friend group. It's a popular haunt for army lads on leave from Sandhurst for the weekend. Perhaps the greatest story was of my pal (let's call him "Hugh") who after a big night at 'fernies drove to Chepstow and upended his car in the estuary thinking he had spotted the world's first marine badger.
Indira Birnie
I got dragged along to an early evening hot yoga class there in 2010/2011 and it was as awful as one can imagine. I think it was in an upstairs room, which was (of course) carpeted. Luckily we had yoga mats rather than having to touch the horrible floor ourselves. Definite lingering aroma of BO.
Anonymous, Infernos smoking area
Lost my Air Forces last time I was here. Just the one shoe though.
Gracie and Louise, Infernos ground floor women's toilets
Time Out: Why are you guys here?
Louise: Because of the music, and it's the only place open past a certain time, there's a certain vibe to the place. The sticky carpets, the music, the people. There's a seediness, and when it gets to the certain point in the night when you've been drinking a lot, you look at eachother in the eyes, and you say…
Both: Infernos.
Grace: And we laugh and we say, yes! [screaming]
Louise: Any other day of the week, your Mondays, your Tuesdays, your Wednesdays, you would never catch me in that place, but past a certain point on a Saturday or a Friday? Yes sir. YES sir.
Immy, Infernos ground floor dance floor
I'm Imogen as well! Wait I'm trying to look for my…[Immy wanders away, and then wanders back] We work in Battersea Power Station so…. where is my phone?! Wait, you're Imogen! Same! I just love Infernos. [Immy wanders away again]
Rachel Hodgson, Infernos regular in 2008
I don't know who smashed the fishtank, but we were held prisoner in the upstairs bar while they cleaned the dead fish off the stairs. We were so confused as to what was going on, because of multiple jagerbombs obviously, and the lovely female bouncer with a very heavy Eastern European accent kept saying: 'You no go down. The fishes are there. They are dead. Deeeeeead.'
Anonymous
A friend once saw a man feeding MDMA to the fish in the fish tanks like salt bae.
Issy
I used to go a LOT when I was in my twenties and there was a stripper pole in some random bar halfway up the stairs. So obviously the first time I saw it, I swung myself around it and then, because I was shitfaced, I decided to do a 'sexy' handstand against the pole. It wasn't sexy, but I did manage to kick my friend's flatmate in the face, hard. The staff were very much like 'yeah, bloke whose face is gushing with blood, standard, fine, whatever'.
Anonymous
Once I ordered a warm tequila at one of the bars for my friend, to then remove all the napkins out the bar caddy, throw up into it, then place the napkins back on top.
Victoria Moffat
I met my husband at Infernos in 2002. I had my wisdom teeth removed that day, and our eyes met across the sticky, smoky dance floor. I couldn't find my friends, so I danced with him - an Aussie stranger. Bar-staff stole my handbag which he gallantly managed to get back from them. They claimed they had no idea where it was - mystery etc etc my husband leaned over the bar and grabbed it from underneath. We now own a cattle station in Queensland and have two girls. Thank you Infernos!
Check out this month's best gigs, happening across London
Sign up to our genuinely excellent newsletter. It's full of stuff about clubs and dancing