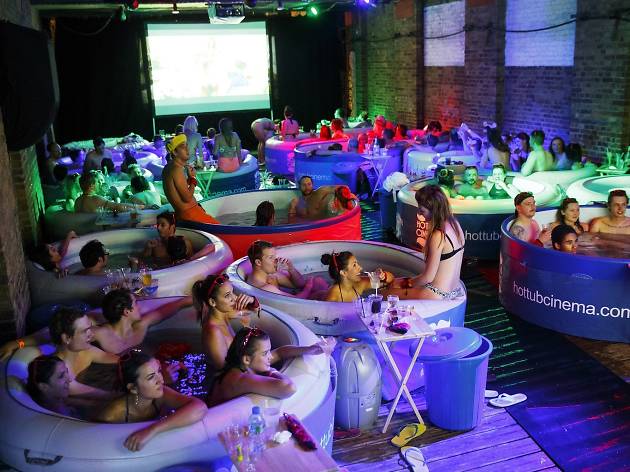 Kick back in a hot tub, quaff a few drinks and watch cult and classic films, with a party and music afterwards.
New programme announced: Tub Tropicana Tour
The trouble with regular cinemas is that you just can't get all slippery and wet while you're watching the film without eyebrows being raised and security guards being called. Solving this problem in style is Hot Tub Cinema, the runaway success of a project that screens cult movies while punters kick back in hot tubs, quaffing drinks and generally feeling just like the rap superstar they've always dreamed of being.
After various stormingly successful sessions, HTC is back for more, this time with a seriously tropical theme. Dig out that spandex, perm your hair, go wild with the eye shadow and pretend you're lounging in a hot tub with George Michael and... the other one. The drinks aren't free, but there are some cracking '80s films to be enjoyed, plus a bit of a party post-screening, featuring all kinds of classic dancefloor jams.
Below is the full list of films. Tickets are on sale now from the Hot Tub Cinema website.
Thu Sep 17 – Pitch Perfect

Fri Sep 18 – Borat
Sat Sep 19 – Bridesmaids

Mon Sep 21 – Back to the Future

Tue Sep 22 – The Lion King

Wed Sep 23 – Dirty Dancing

Thu Sep 24 – Superbad

Fri Sep 25 – Free Willy

Sat Sep 26 – Hairspray

Sun Sep 27 – Spiceworld – The Movie

Rating Breakdown
5 star:

4

4 star:

0

3 star:

0

2 star:

0

1 star:

0