Heads up! We're working hard to be accurate – but these are unusual times, so please always check before heading out.
In pictures: 35 years of Gaz's Rockin' Blues
Club night founder Gaz Mayall talks us through incredible pictures that trace the rich rock 'n' roll history of his weekly ska and blues institution
At a time when central London nightlife is being dealt hefty blows, one Soho lynchpin stands – or rather skanks – stronger than ever. Gaz's Rockin' Blues is celebrating 35 years of providing Londoners with the finest ska, punk, reggae and rhythm 'n' blues every Thursday.
Run by Gaz Mayall, son of legendary blues musician John Mayall, the night began in 1980 at Gossips on Dean Street, moving to nearby St Moritz where it continues today, with live bands and DJs.
As well as helping musical scenes like ska and psychobilly (a punky version of rockabilly) to spread around the UK, Gaz's Rockin' Blues has attracted countless famous faces from music and the arts, who passed through its doors as performers, punters and even staff. How many club nights can count Tracey Emin as a former cloakroom attendant? Ahead of the thirty-fifth anniversary party at west London club Mode, we dug into the legacy and asked Gaz to talk us through rare archive pictures from the club's history.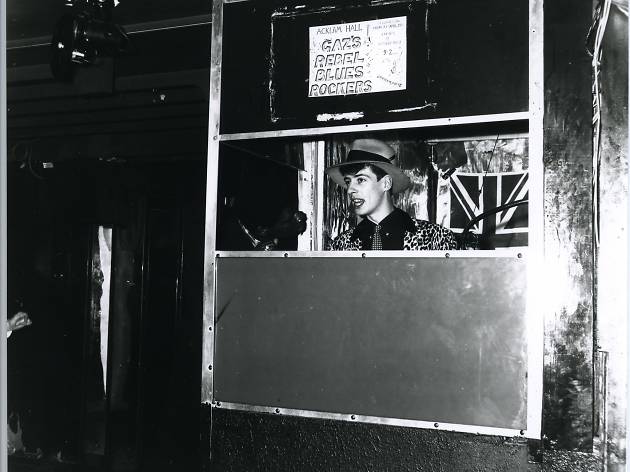 Phoenix J Bay
Gaz in the DJ booth at Gossips, 1982
'That DJ booth was smack-bang on the dancefloor. When I first opened the club, the booth looked and felt like the inside of an oven – it was pretty hot down there. One Thursday I decided to decorate it with something that wouldn't take more than a few minutes, so I just grabbed that Union Jack tea towel and put it up.'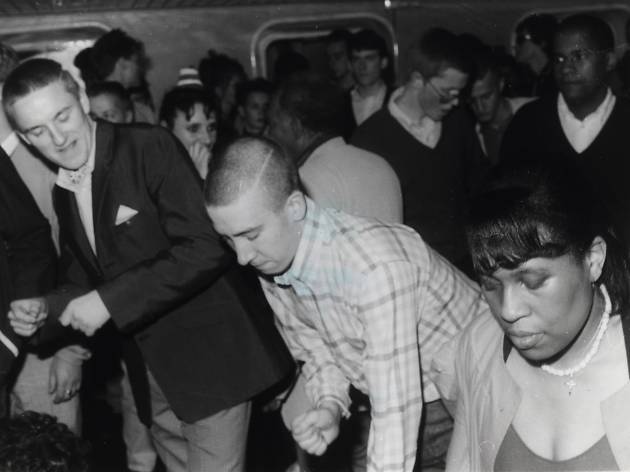 Phoenix J Bay
Gaz's Rockin' Cruise to Amsterdam, 1986
'A few of us got together and hired a ferry for an exclusive party. We ended up doing a few places, but that photo shows the first one, to Amsterdam. We parted all the way there and back. The boat had two main rooms, one with loads of bands – including [ska band] the Forest Hillbillies and club DJs – and in the other room was Duke Fin's soundsystem. Duke was the first guy to bring a soundsystem over from Jamaica to England, in 1955. When I first met Prince Buster, he said to me "You don't know music until you know Duke Fin", so I went round to Duke's house and chatted to him, and we've been best friends ever since. When we did the cruise, Duke brought the Jamaican crowd and I brought the skinheads and rock 'n' rollers. It was a mad mix and it really worked well. The party went on all night. The only person who got searched at customs was my brother Jason, which was hilarious – he got the torch-up-the-bum treatment!'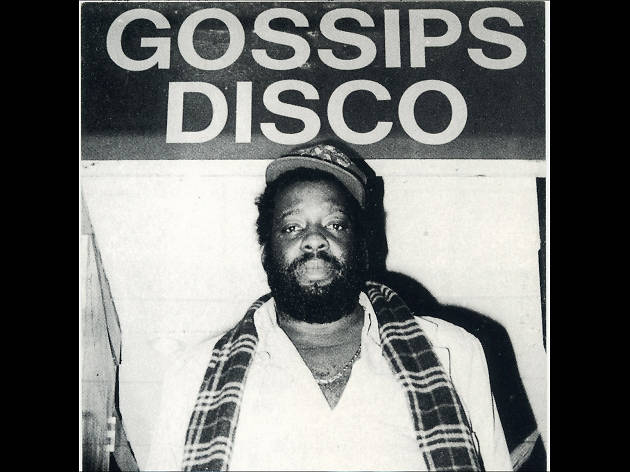 Phoenix J Bay
Bigga outside Gossips club
'That's Bigga, the bouncer, outside the first club. He was actually a really sweet guy, but he controlled that door. If he didn't want you to get in, all he had to do was stand there – there was no way you could get past him. He was so strict about drugs in the club, and when Lee 'Scratch' Perry played, there was a huge cloud of marijuana smoke around him. Bigga walked up and saw Scratch with a huge spliff – he just shook his head, rolled his eyes and walked off.'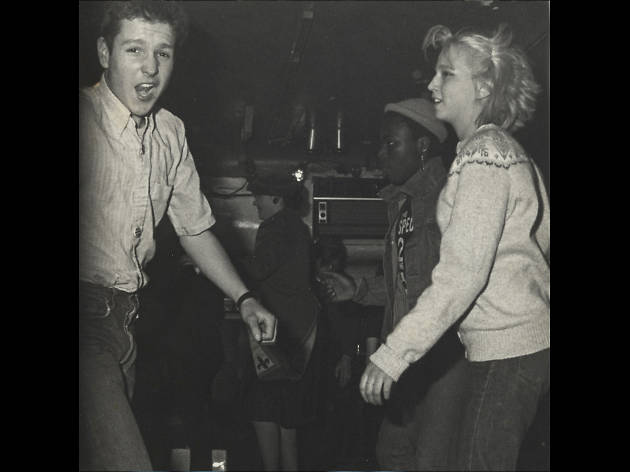 Nick Palliser
'You might get somebody doing a bit of swing dance [at Gaz's Rockin' Blues], but generally it's just people doing their own thing and larking around, just feeling the music and going along with it. Like in that photo – they're just freestyling. That picture would have been taken early on in the evening, probably about 10.30pm, because by later on that dancefloor would have been absolutely chocka.'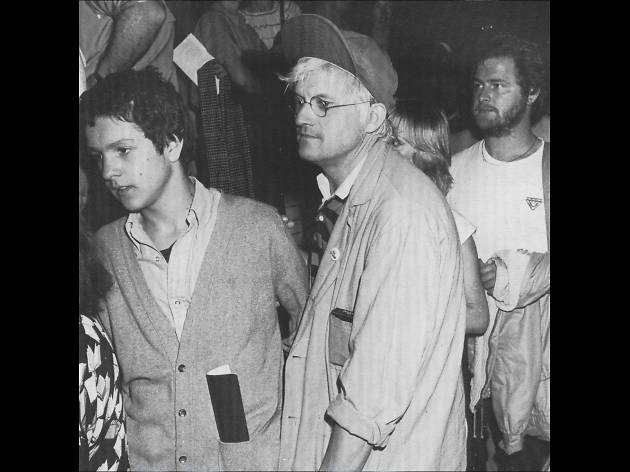 Nick Palliser
'David brought a lot of people together at the club. The last time he was there was a memorial for Byron – the young lad in the photo – who died in 1982. Byron was one of original crew from the Ken[sington] Market days when I had a shop there; where I met a lot of people who ended up filling the club. We've had a lot of artists down at Gaz's Rockin' Blues over the years, like Lucian Freud. And Damien Hirst was also there many times, until he stopped drinking.'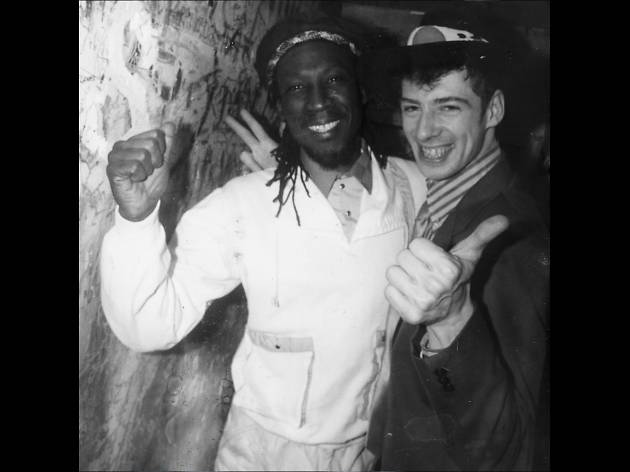 Phoenix J Bay
Gaz and Alton Ellis, 1987
'That tiny corridor with all the graffiti was the 'dressing room'. It was just about wide enough to fit the two of us in. [Rocksteady legend] Alton Ellis was a fantastic singer, one of the all time greats. Whenever he saw me, he'd always say: ''This man is the only man who gives me more money to play than the agreed price!'' I always thought that if the musicians are happy, then everybody's happy. I can't pay bands much for playing at the club, but if it's packed and I'm making money, why shouldn't they make more too?'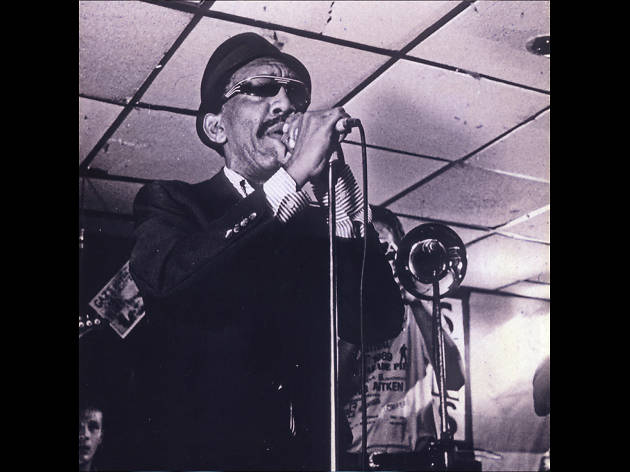 Nick Palliser
'You can see one of the tiles above Laurel's head is broken from somebody jumping up and down upstairs, and behind him one of the flyers is lopsided due to the heat. Laurel moved to England in the '60s and was one of pioneers of mod ska. He was a lovely guy, people adored him. The last time he played at my club, this young girl shouted: ''Laurel, Laurel – I love you!'' And Laurel just said: ''You can't love me, I'm 70!''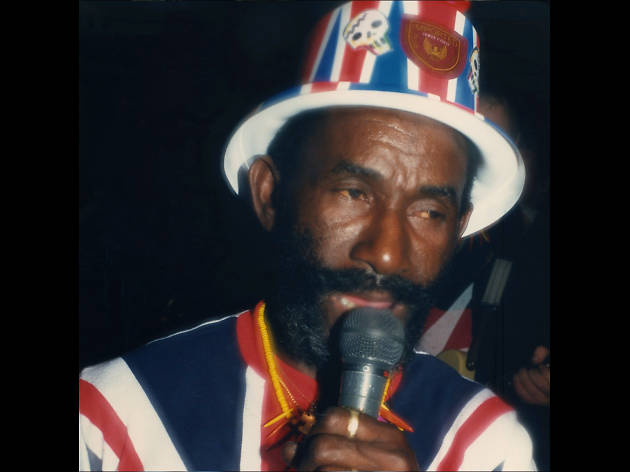 Gilbert
'He turned up at soundcheck really early and went over to a wall which everyone had covered in graffiti over the years. He got a torch and was eyeing up everything on the wall, then he got his pen out and started scribbling over different sections of it. He wrote things like "I kill the devil dead". There was a mirror at the end of the corridor where you could fix your make-up or whatever, and he turned it into a shrine, with bits of broken glass and half a pair of scissors dangling off it. It was quite something. And then he changed into that mad Union Jack outfit. I was like ''Fucking hell! Where did he get that hat?'' I think it says Westham on it. I've never seen anything like his performance that night. He was on stage with a big fat spliff in his mouth in that outfit, ranting. We all thought it was wonderful.'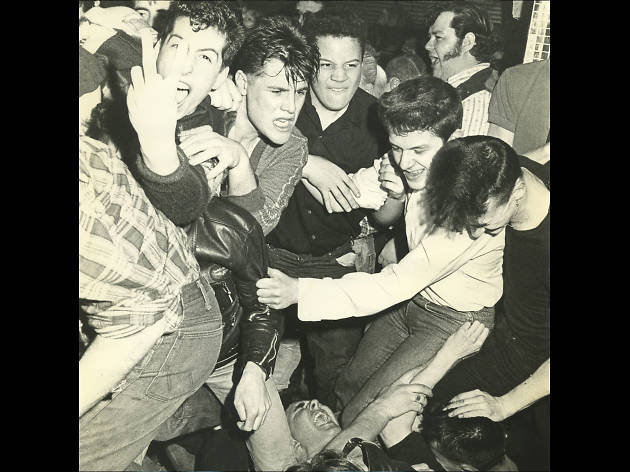 Nick Palliser
'There was nothing else like The Meteors. It was such a high when they played, they were so radical and exciting and fun to watch. They fused punk with rockabilly and had a hardcore crew of about a dozen, absolutely fanatical fans who wouldn't miss a single gig. That hub was the start of the whole psychobilly scene. The guy on the floor in that photo, who looks like he's having his head kicked in, is Paul Fenwick from the band, but actually everyone's just jumping around and having a laugh – there was no violence whatsoever. The band used that photo as the cover of their first single.'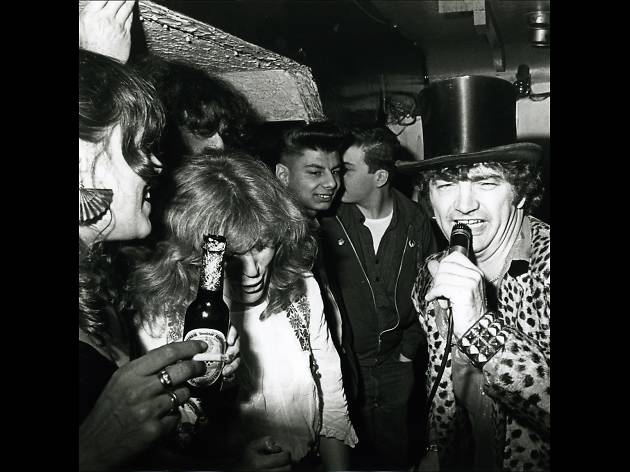 Phoenix J Bay
Screaming Lord Sutch, 1981
'Nick Callard, who was the manager of The Meteors, had bumped into Screaming Lord Sutch and told him that he should be doing gigs. So, Nick said to me that he thought we could get him down the club. I said ''Fantastic, let's get him!''. He turned up on the night and brought this fire pit with him, and actually lit it on stage. So after he built a bloody fire, he did a song about Mary Kelly, one of Jack the Ripper's victims, and started chasing after a friend of his. He made it look like he'd chopped her head off and held up a stage-prop head by the hair, with a sword in his other hand. Another guy, dressed as a nineteenth-century policeman, ran after him through the crowd, and then Sutch turned around and started chasing him with the sword. It was a crazy night.'