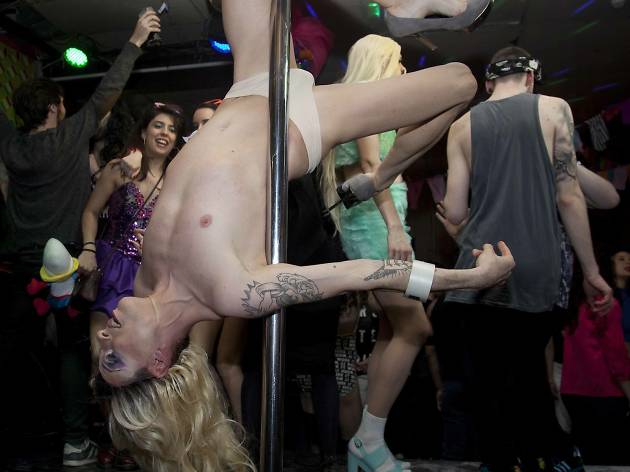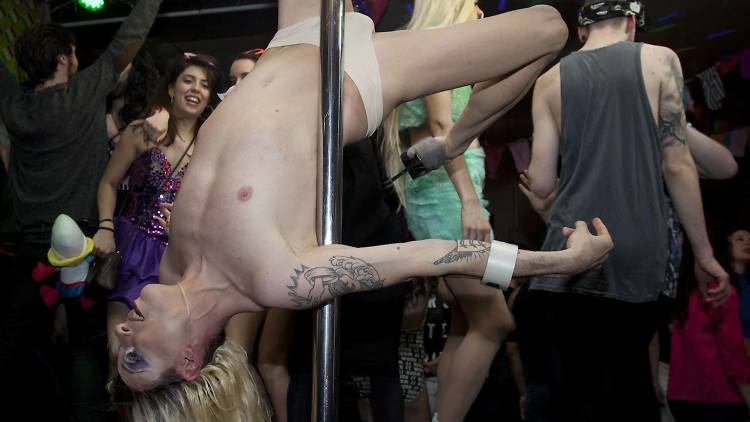 Time Out says
Sink The Pink's weekly night of disco tunes and filthy fun set in a strip club
Those restless polysexual party animals Sink The Pink helm this weekly (every Friday and Saturday) disco bash at strip club-cum-club space Metropolis, where you can roam around three floors of filthy fun for only a fiver. If you've never been before, prepare for pure Vegas decor, a dancing pole running through two floors, a wet room and top London DJs (including Horse Meat Disco's Severino and The 2 Bears' Raf Daddy) on rotation, playing deliciously dirty disco, house and party bangers until 5am. Savage stuff indeed.
Details
Rating Breakdown
5 star:

1

4 star:

1

3 star:

0

2 star:

1

1 star:

1
BODY SHAMING
Me and my boyfriend went there last night for halloween. While paying the 10£ for the entrance the desk guy (someone in a costume or drag) made a very RUDE and MEAN comment out of the blue about my boyfriend's weight, straight to his face and for no reasons.
My boyfriend, who has been bullied all his teen life for his weight, was put in a bad mood for the whole night.
Is this really what the gay club scene life has become? A bunch of "sassy camp queen" being mean and bully to all the other types of gays?
As we are not welcome, we will not be back.
One of my favourite nights out in London
ogle reviews
5 ★
4 ★
3 ★
2 ★
1 ★
4.0
24 reviews
Joe Clarke
Joe Clarke
in the last week
I came here for a night out with friends for the salvage club night. Had a great evening..
I hung my jacket up in the cloakroom paid the price and the girl gave me a ticket... around 4ish I went to collect my jacket to be told it wasn't on the hanger and they couldn't find it??
They were rude and dismissive and I was told to wait until the end incase it turned up. It didn't!! The jacket was a moschino bomber jacket worth £375! It completely ruined my night and I was totally gutted. Mike the manger of the club promised to call me over the next few days amd check the cctv. After i called relentlessly for days and numurous emails Mike the manger said they were going through there insurance to pay for the jacket and had me email them a copy of the receipt and was told to stop calling them.
After 3 weeks I still didn't hear anything from them so called them again. The girl on the phone knew who I was and why I was calling, she told me she was getting the manger.. I was left on hold for 15 minutes!! I could hear them laughing and talking in the back ground so I hung up and haven't heard a thing from them since.
The girls working behind the cloak room blatantly stole it and know one seemed to care as it's obviously something that happens often. What untrustworthy dodgy thieves
I wouldn't recommend going here at all and definitely don't hang your jackets up if you want them back!!
The advertisement should specify Saturday party is for gay people only. As two straight couples, we were told it was a private party and asked to leave the queue unless we had our names on the guestlist. After chatting to a few other people in the queue, it was clear it was an open event and anyone (gay) could enter. We are gay friendly and wouldn't mind joining a gay party as it was all about experiencing a new place. But we felt really offended by the staff not giving us a choice. Instead, we spent lots of dosh on entries to various venues we didn't enjoy and the night turned to be a disappointment. Shame, we could have enjoyed the Savage party and we had lots of cash to spend inside.