Barry Humphries's Farewell Tour – Eat, Pray, Laugh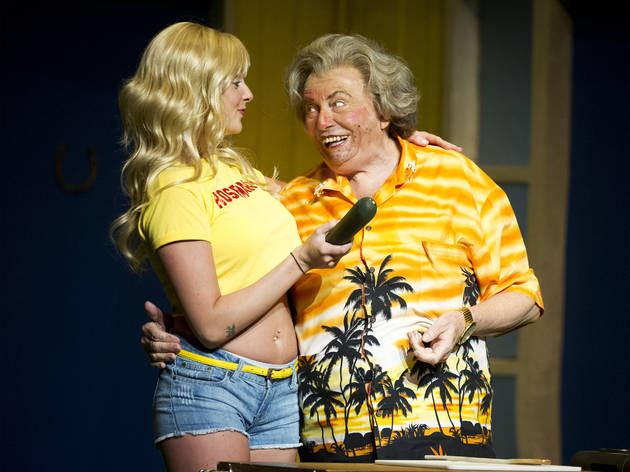 1/3
© Alastair Muir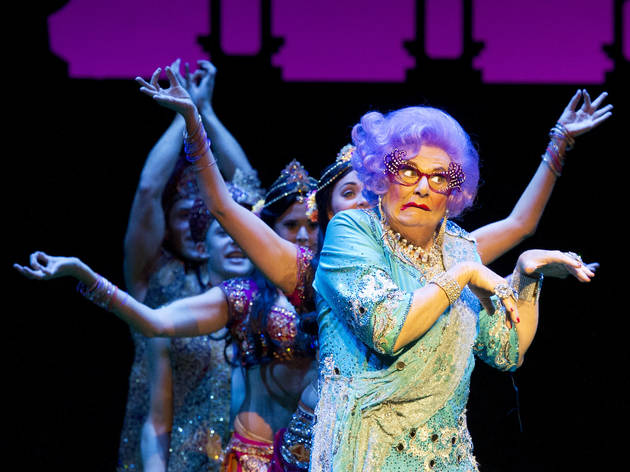 2/3
© Alastair Muir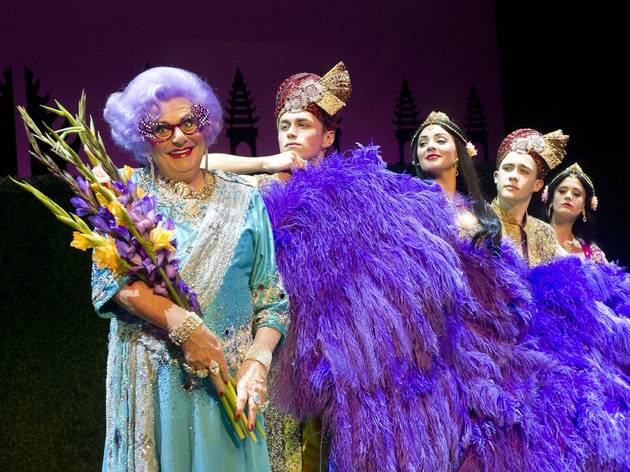 3/3
© Alastair Muir
You can take the Dame out of the panto, but you can't take the panto out of the Dame… Two years ago, Dame Edna Everage – the purple-bouffanted character creation of Barry Humphries – was starring in 'Dick Whittington' at the New Wimbledon Theatre. This Christmas, she's upgraded to the London Palladium, but 'Eat, Pray, Laugh' is panto-esque in its own right, albeit aimed at a more mature audience.
Of course, this is Humphries's winning formula, and why change it now? After nearly 60 years in show business, the 79-year-old Melbourne-born satirist is calling it quits, bidding farewell to his beloved character creations in this two-and-a-half-hour onslaught of groan-worthy gags, audience participation and ultra-camp glitziness.
The first half is dominated by the boorish, chaotic and unapologetically un-PC Sir Les Patterson. The former cultural attaché now fancies himself as a celebrity chef, but you wouldn't want to taste his culinary creations… Or be within 10 feet of the man. Those in the front few rows are in the 'splash zone', failing to dodge Patterson's drool and spittle flying towards them.
Following gusts of flatulence jokes and OTT xenophobia, Les's ordained, morally dubious brother Gerald makes a (thankfully brief) appearance, before the ghost of OAP Sandy Stone comments on his own passing.
The laughs pick up in the second half, which is wisely given over entirely to Dame Edna. Humphries's biting wit is on fine form as the scathing self-obsessive berates audience members's dress sense and the cheapo 'paupers' in the gods. 'I don't pick on people, I empower them,' she says, with a curling-lip, before the most cringe-inducing (but funniest) section in which she plays inappropriate matchmaker.
But every character in 'Eat, Pray, Laugh' overstays its welcome – even Edna – and the slow pace and predictable gags become quite frustrating ('I'd be up at the crack of dawn,' says Sir Les, and we all know what punchline's approaching).
Of course, for fans of Humphries – who's impressively agile as he approaches his eightieth birthday – none of this matters. It's a final chance for them to catch the legendary comedian. But is this really the end of Edna? We have a feeling Humphries won't be able to resist dusting off the wig every now and then.
By Ben Williams
Rating Breakdown
5 star:

0

4 star:

2

3 star:

0

2 star:

0

1 star:

1
we saw the show in Southampton and it was bloody funny still cant stop laughing les Patterson was so funny we will never forget and dame edna was edna we are privileged to have been in the audience for the best time we have ever had thank you barry lv
Bought tickets that should have given total view of the stage but in actuality we could only visualise three-quarters of the stage and considering that, all action taking place stage right was out of view (barbecue). However Lez Patterson piece was excellent . However the first half was spoiled by the section on the ghost of Stone piece as this was incongruous for the type of show we expected to see and was not funny at all. Everyone we spoke to agreed that this character spoilt the evening's entertainment. The second half, given over to Dame Edna was fantastic, clever and witty as only Barry can do. Overall I thoroughly enjoyed it.
I went to see this show and was absolutely disgusted by Barry Humphies behaviour, spitting into the audience in my opinion was vile and then the dribble into his burger mix was having me heaving. I cannot understand that this was supposed to be funny. Outside of that, nothing he said was funny. I am finding it hard to believe that he was allowed to do this show in such a pallatial theatre. It was overall lower that toilet humour. I did not need to go the theatre to hear him farting away and then listen to what was supposed to be him in the toilet with diarrhea, I did not stay to see the second half of this show. I had lost interest within the first fifteen minutes, however, stuck it out until the end of the first half, it was painful. I just saw an old man who should have given this up some 10 years ago.