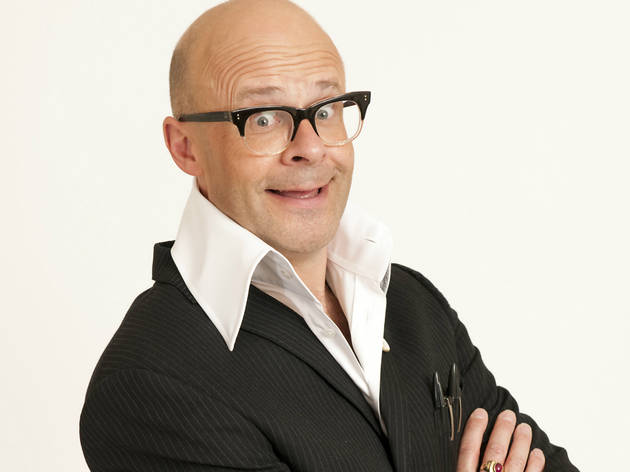 'By the way, this isn't a dream,' Hill assures the audience while pulling a belt out of a baguette with his teeth. This is standard play for the veteran comic, who's been widely known for his mystifying gags since he burst on to the comedy scene two decades ago. Yet we're struggling to believe this is the real-life large-collared loon, when he's been a permanent figure on our televisions for so many years. After all, he hasn't toured his wacky stand-up since 2005's 'Hooves'. Now that he's finished hosting 'TV Burp', however, the 48-year-old has returned to the stage in fine form and 'Sausage Time' may just be Hill's defining work.
With classic characters, erratic behaviour and even silent sketch that harks back to his mid-'90s show 'Fruit Fancies', 'Sausage Time' is like a live best-of. Former house bands The Caterers and The Harrys provide an onstage soundtrack. Gary, Harry's puppet-son, tries his hand (both little and large) at stand-up and Amanda Lamb (she's not a sham!) arrives to deliver a one-liner. And that doesn't even scratch the surface on the amount of funnies the Surrey-born madman crams into two surreal hours. Honestly, only at a Harry Hill gig is being barged by an inflatable sausage and a grubby mattress a real risk.
Nevertheless, amidst the chaos created by Hill sporadically blowing on a trombone or skipping about with his tongue out, there's a certain charm to his act. Having been in our lives since the BBC put him on air in 1993, it would be difficult not to adore his baffling sense of humour that almost has you thinking 'is this really happening?' Of course, before you can finish the thought Hill is throwing bread at your head, leaving you in no doubt that this is the real thing. Comedy at its best.
Rating Breakdown
5 star:

0

4 star:

0

3 star:

0

2 star:

0

1 star:

1
AWFUL, unoriginal and unfunny. I can not understand how on earth timeout has reviewed this show as 5 stars! I love comedy and enjoy lots of different types of show, and essentially am very easily pleased, (and I actually find him quite funny on the TV). But this is the WORST SHOW I HAVE EVER BEEN TO. He told no jokes, there was no theme, it wasn't surreal or zany or off-the-wall-genius, it was just simply, very very bad. If you like seeing a sweaty Harry Hill, jumping up and down on an old mattress for 45 minutes, whilst panting and making fart noises, then go and waste your money on the ridiculous ticket price. The second half may have been awesome however, but we left at the first interval. We would have left sooner, but were on the front row and didn't want to distract the seemingly crack-fuelled Harry from his one and only joke of jumping around like a desperate children's entertainer.