Heads up! We're working hard to be accurate – but these are unusual times, so please always check before heading out.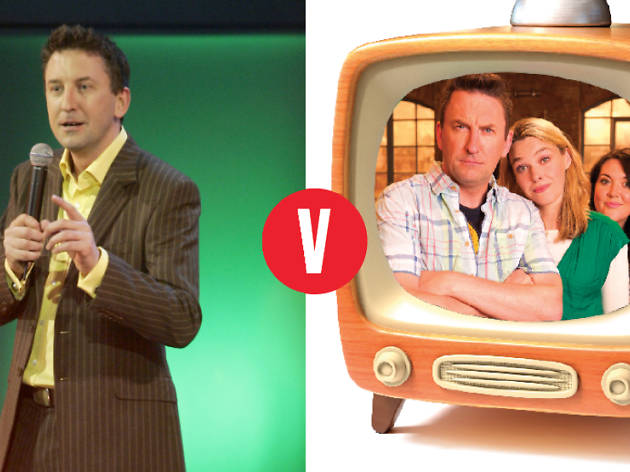 Lee Mack: stand-up or sit down?
The Lancashire joke maestro begins an eight-show stint in London this weekend and his silly sitcom 'Not Going Out' returns to BBC One. So, should you see him in the flesh or on the box? Time Out weighs up whether or not to leave the house
Comfort and convenience
Going out If you're lucky enough to live in W6, the Hammersmith Apollo is just a short walk down the river, under the flyover or past the Wetherspoon's. For the rest of us, it's a helluva awkward spot to get to. Comfort-wise, though, the Apollo had a huge refurb a year ago and the new swanky green seats are kind on the bum cheeks.

Not going out What's more convenient than staying in and watching TV? The furthest you'll have to travel is from your bed to the sofa. Or, better still, catch it on iPlayer on your laptop and you won't even have to surface from beneath your duvet. Now that'scomfort.

Winner Not going out. There's a reason they invented pizza delivery.


Bragging rights
Going out There are but a handful of tickets left for Mack's London run. No doubt some of your friends will have failed to nab seats, or weren't even aware he was in town. So what better way to one-up them than by slipping in some gentle boasting: 'Oh, you know who I saw at the weekend? That Lee Mack. Yeah, the funny one.'

Not going out There hasn't been a big TV 'water-cooler moment' since (spoiler alert) JR got shot or (spoiler alert) Ross and Rachel got back together. You'll receive no coolness points by casually mentioning that you watched episode one of 'Not Going Out' – it'll just look like you had nowhere better to be on a Friday night.

Winner Going out. Staying in is only cool if you're having a house party or blitzing through 'House of Cards'.


Cost
Going out Tickets to Mack's London gigs are £27.50 a pop. Plus booking fees. Plus a couple of drinks. And a babysitter. You're easily looking at upwards of £100. Ouch.

Not going out At home, if you buy in a dozen beers and a bottle of champagne, and ordered a Domino's family meal deal, you'd still not get close to spending £100. Well, unless you count the TV licence fee.

Winner Not going out. It's cheap as chips. Literally.


Spectacle
Going out Stand-up isn't the most spectacular of art forms. Nevertheless, big tour shows, like 'Lee Mack – Hit the Road Mack', make an effort to glitz things up as much as possible with blaring music and dizzying lighting cues. Confetti cannons are strictly for arenas only, though, so don't get too excited.

Not going out Red Stripe and an early night? No spectacle there.

Winner Going out, clearly.


Atmosphere
Going out There's a reason 28,000 Londoners have spent their hard-earned cash on Lee Mack tickets rather than buying a reduced-price DVD. Comedy is meant to be shared with others, and the joyful feeling of laughing among like-minded fans is pretty special.

Not going out The fast-paced gags in 'Not Going Out' are sure to induce chuckles on the sofa. But even if you're laughing along with the studio audience, it doesn't beat being there in the room.

Winner Going out. Stand-up is still a live experience and no amount of 'Live at the Apollo' reruns will change that.

'Lee Mack – Hit the Road Mack' is at the Eventim Apollo Hammersmith, Oct 18, Oct 19 and Oct 21-Oct 25. Series seven of 'Not Going Out' starts Fri Oct 17, BBC One.