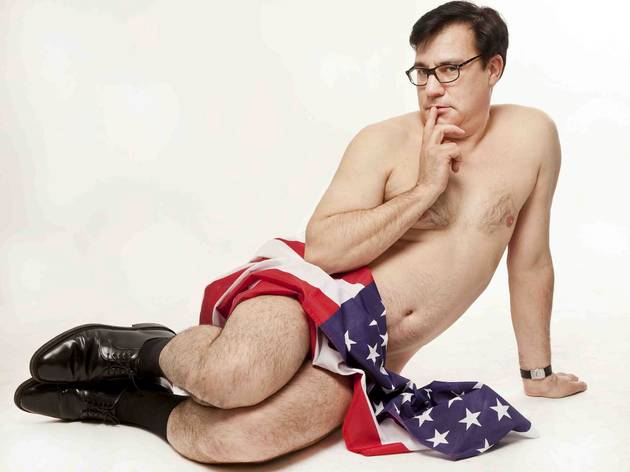 Controversial New York stand-up comic Lewis Schaffer has been doing his 'Free Until Famous' show for four years now (despite claiming 18 on his website), but either he's hit the big time or just needs a bit a dosh, because this Leicester Square Theatre run of shows are a tenner a pop. For your money, Schaffer will school the audience on his idea of England, which may be ignorant and ramshackle, but it'll no doubt be a little bit brilliant.
Average User Rating
3.7 / 5
Rating Breakdown
5 star:

2

4 star:

0

3 star:

0

2 star:

0

1 star:

1
I decided to attend the show in Hertford at the last minute. I suppose I thought that a 2 hour free show would be worth seeing, but what's that saying about a free lunch? Exactly, there's no such thing and that analogy also spreads to good comedy it seems.
The first half of his routine was so so, ok at best.
There were a lot of low level anti Semitic jokes that some of the audience were at first bemused by before becoming mildly amused.
The nub of it was that "The Jews" are so bad with money that they even "bought" a country without first checking that it wasn't already occupied, and the fact that it was effectively "sold" to them by the British means that Britain is a Nation of dodgy Estate Agents".
Ok, it raised a few laughs and as far as anti Semitism it was on the mild side, but rather than build on that with some better material he then started to attempt to interact with various members of the audience suggesting that some were gay, some were shall we say, not all that attractive whilst he made attempts to gain laughs at comic hits an various female members of the audience.
I lost count of how many times after a mediocre joke just about gained a mild titter he justified it by explaining that it was his "best joke". He also on the odd occasion put the mike down and spoke directly to members of the audience without using it!
Odd or just unprofessional.
In spite of this, I decided to stay for the second half - But quite a few others didn't.
The second half started with him standing at the back of the stage, seemingly attempting to hide partially obscured by a wall and the half light, before he again took centre stage.
Any hope of the show coming alive was soon dispelled however as his tack soon changed to him in a round about way expressing his doubts about his sexuality and that of several members of the audience, at one point he announced that "this was the serious part of the show" to which a member of the audience asked when the funny part was going to start.
His response was to ask for a hug from various members of the audience including the guy who had shouted it out in the first place, before going back to his "I think I'm gay" routine and at this point, as he held a male member of the audiences hand telling him how good it made him feel, I and several others took our leave.
Lewis Schaffer I fear will never be famous for his comedy as he has nowhere near enough good material to fill out anything but a short spot in a club and not enough wit or talent to rise above that level.
In my view, if he had charged for Friday night's show, then far from being "free" I'd have wanted him to be incarcerated.
Avoid at all costs!!!!

I don't often write reviews or comments, but I loved this. American humor collides with Britain, in a car crash called Lewis Schaffer.A unique show - combining everything you like about US comedy with a touch of something local. Just go.
Saw Lewis Schaffer today at Leicester sq with my husband we both thought he was great, being jewish we loved his quirkey jewish jokes, the 2 gay couples were laughing at his gay jokes. This guy is very warm and lots of audience participation, didn't want it to end a very intimate atmosphere, would recommend him to friends and family. who would enjoy his very funny rude humour.