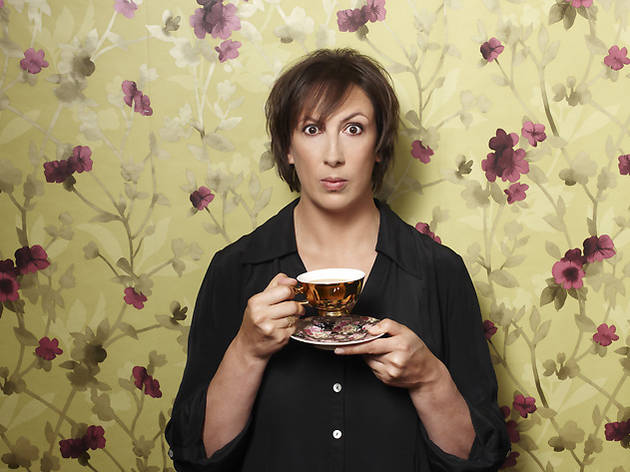 The creator of mega-popular slapstick sitcom 'Miranda' returns to the stand-up stage, for the first time in five years. Hart isn't messing about, she's going straight in with an arena tour, and says to expect the show to include 'galloping' and 'attempts at song and dance'. Such fun!
Read our review of 'Miranda Hart – My, What I Call, Live Show'
Rating Breakdown
5 star:

1

4 star:

0

3 star:

0

2 star:

0

1 star:

0
Mums, Dads, children, sharp-shoed city slickers, OAPs, and yooouths (yes, even the odd male teenager) bobbing up and down in their seats, and singing Gloria Gaynor's 'I will survive' into the heady rafters of the O2? Really? Not cool.
But who cares about cool, when you're having a party with Miranda? And only with Miranda can SUCH FUN materialise.
Out of the door went the nervous, throat-clearing, English squirming, and in plunged pure, childish joy in Miranda Hart's breathlessly hilarious, ridiculous and utterly cathartic live stand-up show. The forty-one year old, herself a bastion of middle-class, boarding-school England, burst on to the stage to 'Eye of the Tiger', as excitable as her fans, having pumped up her audience with contagiously happy, harmless pop (and the 'Strictly Come Dancing' theme music...).
Stand-up is a precarious venture for the doyenne of TV comedy, whose much-loved sitcom has been able to boast around ten million viewers. Of course, there will be critics: her jokes were arguably recycled, her laughs perhaps a tad reliant of flatulence-related anecdotes (incidentally, how does one end up, what I call, naked in public so many times?). The appearance in the script of Jaaasper the Labrador, with the Home Counties' long 'A's, and of acquaintances like Focaccia Pilkington were very familiar; the story of her lilo-in-the-swimming-pool sex-ed class was well worn; and firm fans knew what was coming when she emphatically enunciated the 'King of all words' ('Plinth', by the way).
Yet the repetition of old jokes was concurrently a reassuring nod to those in the know. Miranda knew her audience, and played to them. She was, as she would put it, with-fun. And as on television, she had the complete down-to-earth ability to make you feel like she is your friend - that you do know her, that you can finish her sentences. Her infectious laughter, her cheeky asides (woven very deliberately into her show with the help of a well-placed camera), and her confident self-parody as an 'overgrown' woman all enhanced the feeling that there were no barriers between performer and audience. We were all 'as one' in her 'cocoon of no anxiety' – a mischievous land of primary colours, innocent (ish) parties, and strictly no etiquette.
The first fifteen minutes were a little stilted, but any tentativeness was easily veiled by her larger-than-life verve, as she bounced around the stage in skinny jeans and pumps. By the interval, she was in her stride, and the audience was following her every step (and occasional dance routine). Amid the silliness, her perceptions were, as usual, spot-on: it really is embarrassing to do an about-turn on the pavement when you walk the wrong way; and fitted sheets are infuriating. Everyday life breeds so much protocol, awkwardness and embarrassment. Miranda is here to laugh in its face. Moreover, because this was stand-up, she could afford to stray from the sitcom straitjacket, and introduce another side of Miranda Hart – a marginally more adult, less slapstick character, with an expanded repertoire o'innuendo, and even the odd swear word. Naughty.
Nevertheless, this departure was only a very slight. She still delighted in language and faux-archaic salutations – her 'heretofores', her 'my old chums'. She still indulged her love for camp walks, musical theatre and pantomime frolics. There was nothing hazy or ambiguous in her delivery. There was nothing to be debated or challenged. It was a well-planned routine that was universally and irrefutably heartening. Think Michael McIntyre meets 'Mamma Mia'.
If you're looking for a good old laugh – then Miranda's show should be top of your list. At base, it is a tonic.
Having booked my ticket almost eighteen months ago, I am admittedly biased, but I know that I wasn't the only person to leave the arena high on life. As we bottle-necked towards the tube to the rousing tones of Heather Small's 'Proud', there was an enveloping feeling of warm satisfaction, of unspoken camaraderie. Some people even galloped.