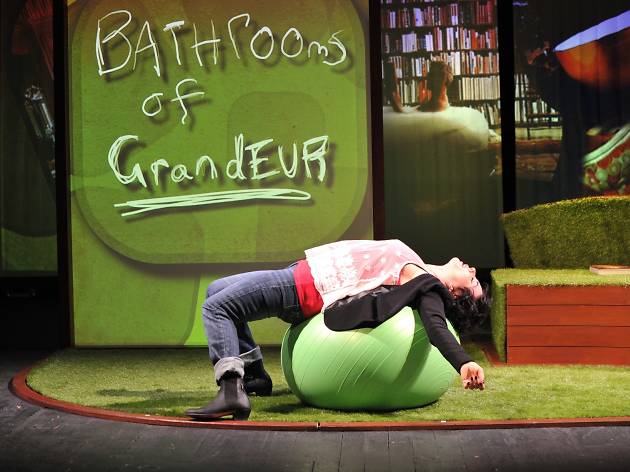 Ruby Wax brings last year's mindfulness-tastic show back for a new run.
This review is from 'Sane New World's 2015 run.
We get an explicit view of Ruby Wax's downward dog in her new show: arms outstretched, head tucked in, arse pointing to the heavens. 'I have to do my yoga and pilates now,' she explains. 'I don't have time in my real life.' With our phones and our appointments and our important jobs, we're all too busy, she says. But fear not, Wax is on a one-woman mission to de-stress the world.

Taking the form of a kind of lecture about how we need to chill the hell out, 'Sane New World' sits somewhere between stand-up comedy and theatre, and it's a whole lot of fun. Standing alone on a stage covered in green grass and cushions, she dishes out a barrel-load of sharp one-liners. 'I wanted to learn about the mind because I had lost mine,' she explains. Her next show, about her dandruff problem, will be called 'Flakes the Musical' she says flashing a toothy smile. Onstage she's a firecracker, constantly moving, one minute having a little lie down, the next twerking her butt off.

Wax is her very own case study – she remorselessly rips the piss out of all her own insecurities while demonstrating the science behind the cognitive therapy of mindfulness. Wax is riding on the back of the fact that she's just done an MA in the subject at Kellogg College, Oxford, and she genuinely believes that thinking a bit more about where we are and what we're doing will help us. And because of that, the piece is never preachy, it's a large-hearted, funny attempt to literally change your mind.

The second half is an informal chat with the audience, and her easy charm and off-the-cuff humour makes this almost as funny as the bit that's scripted. Truthfully, 'Sane New World' is a show that everyone should probably see. You'd be mad not to.
Rating Breakdown
5 star:

1

4 star:

0

3 star:

1

2 star:

0

1 star:

0
Surpassed expectations - fantastic evening and Ruby gets the balance just right! She also takes the time to meet her audience and never admits to be an expert on the subject - its all very real and hugely insightful.
I disagree with the Timeout review about the second half being as good as the first. The first half is witty, insightful and from humour i learnt something of the interaction of neurotransmitters and their effect on our mood and perception of the outside world. In simple terms it was good.
The second half need a health warning; something akin to what is written on cigarette packets; i sat for almost 40 minutes listenting to what was in effect an NHS self help group. But it went much further, criticism of a stretched nhs, women and men bleating about there condition. It was almost like attending the Jerry Springer show.
I wanted to learn about a process a pathway. Not listening to self a "pity party" for individuals.
My opinion; stay for the first half, leave for the bar and a gin and tonic in the second half. It will be far more therapeutic and amusing.