'Tales of the Turntable' review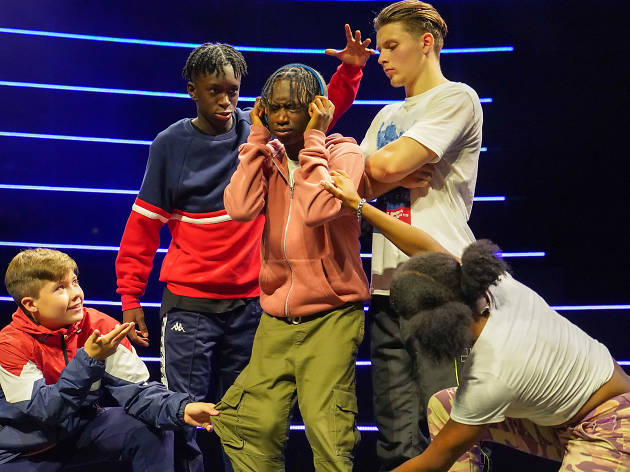 Time Out says
Friendly warning! We're working hard to be accurate. But these are unusual times, so please check that events are still happening.
A time-hopping new kids' dance show from ZooNation
If it were possible to bottle the sheer joy of ZooNation Youth Company's 'Tales of the Turntable' and sell it, every other part of the wellness industry would go out of business. It's strictly good vibes only at this hip hop fantasy ride, ZooNation's first return to the Queen Elizabeth Hall on the South Bank since 2014's 'Groove on Down the Road'.
'Tales of the Turntable' follows Eric (Basit Ayanwusi), a teenage boy, and his grandpa George (William Pascua). Eric's a bit of a loner at school, dodging bullies and keeping to himself. He wants to be a DJ but he doesn't quite have the knack for it – something's missing. His grandpa decides to teach him about the musical lineage behind the hip hop he loves, using a magic gramophone that transports them back to the 1920s, 1970s, 1980s and 1990s, to experience jazz, disco, funk, R'n'B and beyond.
In each new decade that Eric and his grandpa visit, there is a miniature story. A wanted gangster bursts into a jazz age bar; two be-flared hipsters have a meet-cute in a 70s record store; a couple of rival b-boy gangs start a dance-off. In the meantime, inspired by each new scene, Eric prepares a DJ set for the school talent show. Carrie-Anne Ingrouille's choreography playfully nods to era-appropriate Charleston feet or vogueing arms while foregrounding some classic, classy breaking and krumping.
If the whole 'magic gramophone' thing sounds a bit twee, it's because that, and the hammy voiceover, are the only weak elements. They pitch the show at the level of very young kids, whereas the inspired and sophisticated soundtrack, composed by DJ Walde, the comic character acting and the brilliantly executed dance feels much more mature.
There are some great performances from the cast, who seem to have boundless energy and charisma to spare. Ayanwusi is a particularly tight performer, and Xsia Blair showcases remarkable versatility and rhythm. But in truth, every single dancer stands out, and Ingrouille's talent is finding ways to make their performances individual and distinct. It's impossible not to have a good time at 'Tales of the Turntable', and it's impossible not to come out humming.
Details