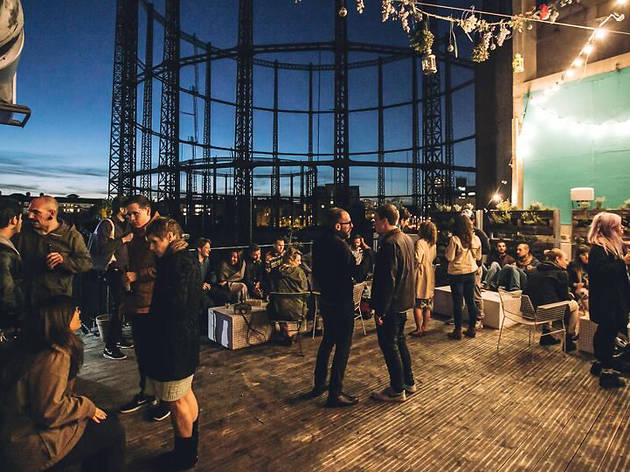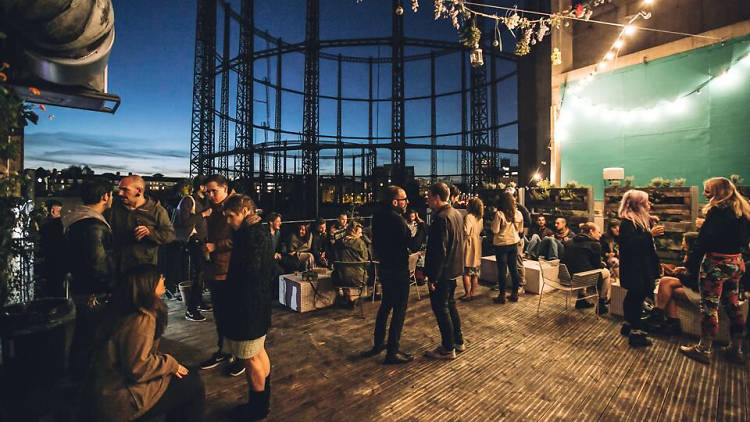 Time Out says
It's fitting that such an impressive venue should sit beside a giant landmark that marks it out dramatically in the skyline. Located at the base of a disused gasworks off Hackney Road, this enormous hangar-style space is 6,000 square feet of fun and was one of the most impressive and exciting additions to London nightlife when it opened. A mix of ace one-off parties and regular events (such as its bleeding-edge Oval Space Music series) quickly marked OS as one of the most innovative venues around in terms of the DJs it booked: spacey techno, twisted electronica, alt hip hop and glitchy house are regularly spun by the top-notch list of DJs to play at Oval Space, and on-point events like Secretsundaze (regularly hosted at OS) give the venue another notch on its party belt. It also boasts one of the finest terrace spaces in London, fully utilsed for parties during summer months.
Details
Address:
29-32 The Oval
London
E2 9DT

Transport:
Tube: Bethnal Green
Contact:
Do you own this business?
Average User Rating
2.8 / 5
Rating Breakdown
5 star:

6

4 star:

1

3 star:

0

2 star:

2

1 star:

7
One of the most consistent venues in London. Always pulling massive acts
Great venue, always booking killer lineups. Especially great for summer terrace parties
Great venue with great acts. My mates and I had no issue with the door staff and if you can't handle the heat stay out of the kitchen. I'm not sure why there are so many bad reviews on here but this place is the job
Excellent venue. Excellent artists - whoever is doing their booking KNOWS THEIR STUFF. And the view on the gas tanks from the terrace is breathtaking. Favourite place in London right now. The first time, I came here for a promotional event. The space is so versatile and inspiring, I've seen talks (It's Nice That), intimate gigs (Polica and Stargaze), art performances (The Circuit by Moi Tran) happening here in the same week, always so well put together and inspiring. Would use for events in future.
Halfwitted security staff wouldn't admit my 18-yr-old daughter as she didn't have any ID with her - even though I was with her at the time and vouched for her age. The female security guard who refused her entry said she'd get the manager to come down then never bothered. She even asked for ID from women in the queue who were obviously in their 20s.
Tried to get a refund but some moron with the job title of "music assistant" refused, writing that it was stated on their website that ID was required. I didn't buy the tickets from their website, I bought them from Ticketmaster and there weren't any such statements on the Ticketmaster site. There's nothing written on the actual tickets about ID being required either.
Cannot recommend this venue. Bunch of low-rent cowboys. Will never buy tickets for a gig there ever again.
Love Oval Space! Nothing is better than a good session of Morning Glory here. Great sound system and brilliant atmosphere. Love the location too.
I can't say I've ever had a bad night here. It's my go-to spot in London for a proper good boogie, though I may be a little biased as it's one of my local clubs! The sound is always perfect, drinks aren't too pricey and the smoking area is one of the biggest, which is great for chats and cooling down.
went last night, ridiculously hot, poor audience (probably not the club's fault) who stand at the front not dancing listening to substandard speakers under awful lights. Nice view from the smoking area and there were plenty of security though :)
Been here twice for different events. The most recent was 'Gin and Juice' on May 1st.
Queues are horrendous and the bar areas are unutilized to a nonsensical extent. Door staff are rude when reminding anyone of the no re-entry policy.
Queues for bathrooms are 15-20 mins. Although in the case of the male bathroom this was mostly for the cubicles rather than the urinals. Probably because I was thexpecting only person there not doing heaps of kocaine.
Heat was dangerously high and drinks extremely overpriced.
The music was alright I guess.
Came here to see The Little Orchestra play Mozart and Beethoven which was amazing, not a usual fan of classical music but could have listened to them all evening. The whole feel was relaxed and fun.
The venue was lit by fairy lights and felt very atmospheric and cosy. Food and drink was good and reasonably priced. Only downside was having to queue to get in and then for food and drink, but this did not spoil a lovely evening! Thanks Time Out.
I've been to this venue countless times and every time the sound lets it down. EVERY TIME. The outdoor bar is cool, but the heat and lack of sub bass at this venue has ruined countless DJ sets for me.
We saw Bicep on 30 December 2017, my second visit to Oval Space. The management have a serious problem with their bouncers/doormen. In 15 years of clubbing in London I have never seen people treated so badly in the queue - it went well beyond being rude. Given the other similar reviews here it is disappointing they obviously have not taken the feedback on board.
£25 entrance definitely not worth it. Also the securities on the door are very rude
Dangerously hot club. Not adequate space for club events. Also no ice, beer or lemon or limes at 10pm or fridges. So warm booze or nothing! Went sat 23rd July.