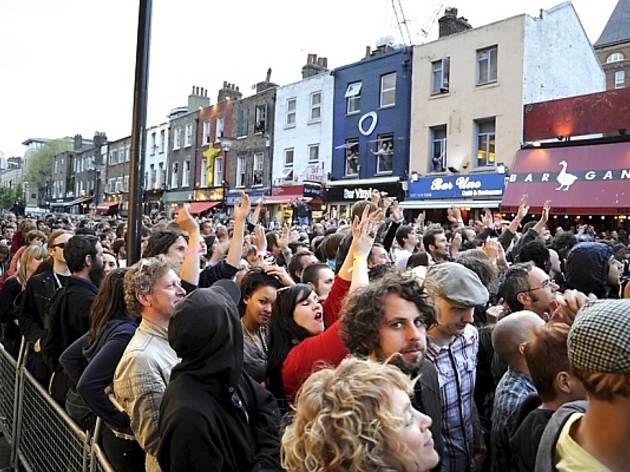 Of Montreal, ABC, The Field, Yuck, Atari Teenage Riot, Mouse On Mars, Steve Mason, Alexis Taylor, Au Revoir Simone, Dirty Beaches, Ghetts, Girls Names, The KVB, Crushed Beaks, The Fauns, Gaps, Gnarwolves, Novella, Rachel Dadd, Thought Forms + more.

After relocating to Dublin last summer, the Camden Crawl is back in north London for 2014 – but the times, they are a-changin': goodbye 'Camden Crawl', hello CC14.
Apart from the name sounding a bit like a motivational seminar, CC14 actually looks pretty damn slick. The multi-venue format remains (you buy a wristband and then crawl around Camden's venues) and there are over 25 stages, curated by some excellent London and national talent, including quirky alt-pop label Moshi Moshi, Dalston club faves the Nest Collective, leftfield London radio station Resonance FM, hip hop night Supa Dupa Fly, and online music publications The 405, Drowned in Sound, The Line of Best Fit and Crack Magazine.
Which means that as you'd expect, the line-up is a much broader affair than the usual Camden diet of rock, pop and indie. As far as the big names go you'll find US indie royalty Of Montreal rubbing shoulders with Martin Fry's new romantic survivors ABC, and digital hardcore terrorists Atari Teenage Riot jostling with Swedish techno master The Field. But dive into the bill and you'll discover more leftfield delights from Dirty Beaches' all-engulfing atmospherics to rad punk band Gnarwolves. There are also DJs, club nights and fringe events: more than enough to keep you crawling all weekend.