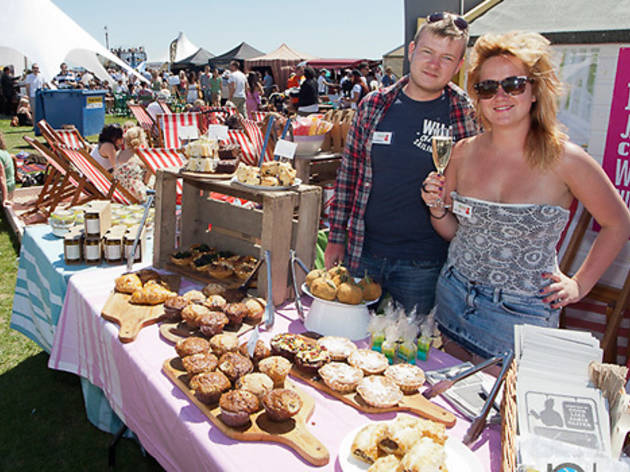 This festival for food lovers features demonstrations, tastings and master classes with well-known chefs, as well as restaurant tents and a speciality producers market. There will be a Chocolate, Cake, Bake and Preserves Theatre as well as Children's Cookery Theatre. There will also be a Vintage Tea Tent, which will host daily tea dances, a BBQ and a Real Ale and Cider area. In a mildly bemusing marketing stunt, Bompas and Parr will be handing out tasters of a free ice cream created to promote a Colgate toothpaste for sensitive teeth.
Rating Breakdown
5 star:

0

4 star:

0

3 star:

0

2 star:

0

1 star:

3
This is an absolute rip-off and hasn't improved any in the two years since the previous two reviews were written.
As Alex B says it's like being charged £16 (as it is now) to shop in a sub standard version of your high street.
In fact with the street food options available in London now you are much better off going to those areas and eating there rather than pay £16 per person in order to then pay more to buy some overpriced, barely adequate street food.
It wasn't even half full when we went and those who were there were complaining about it. They are charlatans and I wish I'd read the reviews before we went.
I couldn't quite understand what this was supposed to be, charging £15 per head in order to access rather ordinary stalls selling food & wine seems extortionate. There appeared to be no additional value and it seems a bit like being charged £15?to shop on your local high street. Way below normal farmers market standard, go to borough market it's free and you get a. Fantastic foodie experience that this rubbish.
Paid for VIP tickets for Foodies Festival at Twickenham. Complete waste of money. Although there were several sites that gave cooking or wine demonstrations the whole place was just a gigantic market. The VIP package which entitles you to a glass of Prosecco plus free coffee, tea and soft drinks throughout the day. You also receive a goody bag which contained a small non alcoholic beer and a few free samples which I valued at about 50 pence. The full VIP price of over £90 for two people was vastly overpriced compared with the admission price of £18 each. I would put the fair price for this event at about £10 per person. Don't bother with the VIP option it is more like and RIP off.