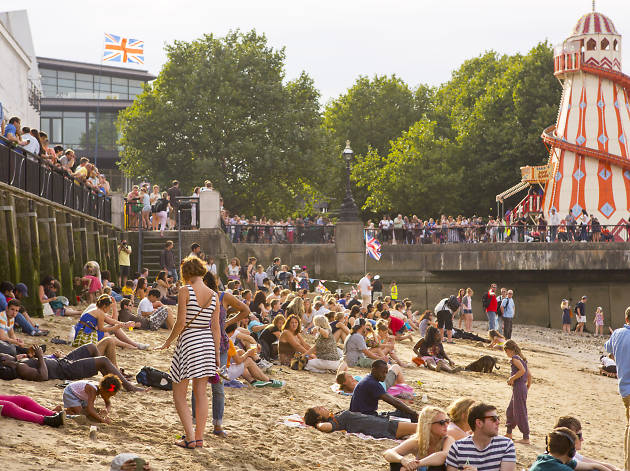 1/8
© Barry Lewis
2/8
© Barry Lewis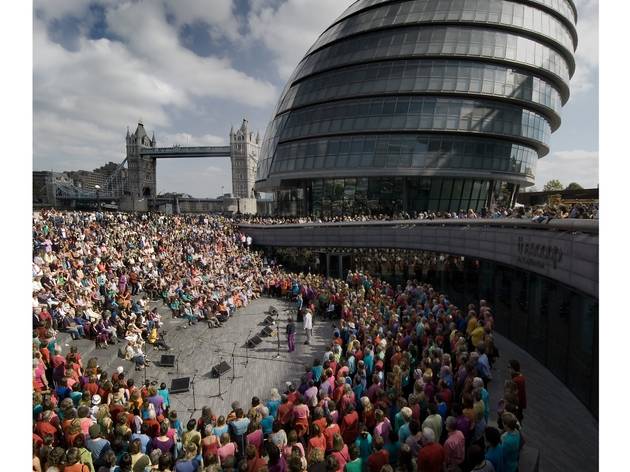 3/8
An afternoon of singing at The Scoop
4/8
© Nathalie Crouch
Water carried past Big Ben
5/8
© Zatorski + Zatorski
1513: A Ships' Opera – The Dutch Klipper, De Walvisch, is one of the historic vessels taking part in 1513: A Ships' Opera by Richard Wilson
6/8
The Deluxe River Cruise – Doug Fishbone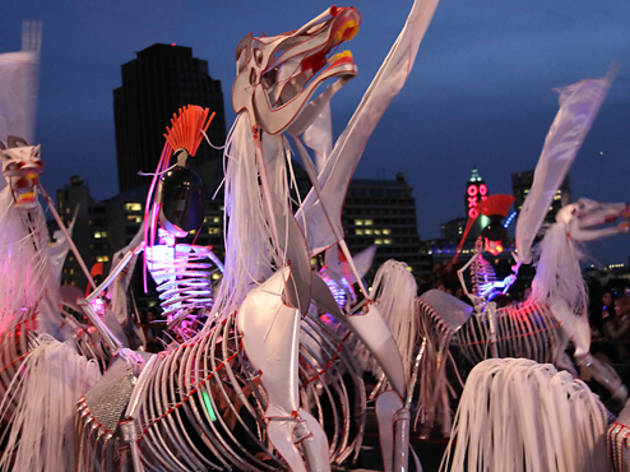 7/8
The Great British Carnival
8/8
London's celebration of its epic, watery backbone is undergoing a sea change. Perhaps that should be a river change – although, as the Thames is tidal as far up as Teddington, there must be substantially more than a pinch of salt in it. Anyway, the Thames Festival is longer this year, covering ten days instead of a single weekend, with activities from the river's source to its mouth (though most of the action takes place between Lambeth Bridge and St Katharine Docks).
But, in place of previous years' party-beside-the-river format, in 2013 the festival consists of an extended programme of arts events and other watery wonders themed around the river.
The changes reflect reduced sponsorship; this year there will be no fireworks and no night carnival. Reassuringly, though, while the festival's focus has changed, director Adrian Evans remains at the helm. He's the madman who accepted the challenge of organising last year's Diamond Jubilee pageant. Despite the torrential rain on the day, that was a resounding success, so we have high hopes for the new-look festival.
The most exciting prospect, on September 14, is '1513: A Ships' Opera' by Richard Wilson and Zatorski+Zatorski. It's an ambitious project commissioned for the festival that will see historic vessels from the age of sail, steam and diesel become a floating orchestra to perform a haunting live concerto expressed through hoots, whistles and foghorns.
On September 14 and 15, on 'The Deluxe River Cruise' from Westminster Pier to Tower Pier, American conceptual artist Doug Fishbone will trawl the Thames for humour. This is the man who once dumped a load of bananas in Trafalgar Square in the name of art so you can expect, well, the unexpected. It will involve surreal live commentary and a slide-show – that much we can tell you.
Competitive action is part of the mix, too. On September 7, The Great River Race, which takes place over a 21-mile course from London's Docklands to Ham in Surrey, attracts more than 300 crews from all over the world. Encompassing skiffs, Chinese dragon boats, Hawaiian war canoes, Viking longboats, Irish curraghs, shallops, wherries and whalers, the vessels range from spectacular to super sporty. Then, on September 15, the Steve Faldo Memorial Barge- driving Race is hotly – if rather slowly – contested, as hulking steel barges are manoeuvred along the stretch of the Thames between Tower Bridge and Westminster Bridge, with many of the contestants in fancy dress
Sing For Water, a long-standing festival tradition, sees a massed adult choir drawn from all over the UK lift up their voices to raise funds for UK charity, WaterAid. And in ' Voyages of Discovery' 600 children stage a riverside performance of songs inspired by Henry VIII's connections with the Thames.
Many more events will be announced shortly. The Thames Festival is still very much a family affair and most of what's on offer is free, although some events are ticketed and there's a small charge for some of the walks and talks.
For more Thames Festival highlights see our feature.
Average User Rating
1.8 / 5
Rating Breakdown
5 star:

0

4 star:

1

3 star:

1

2 star:

0

1 star:

4