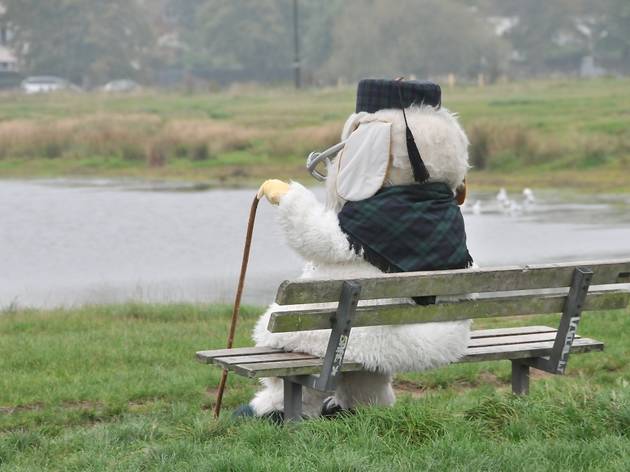 Centred around a big tent on Wimbledon Common, the Bookfest features an array of literary figures and personalities including Sebastian Faulks, Michael Rosen, Tom Watson, John Major, Jack Straw, Will Young and Brian Moore. There's also a children's programme featuring, among others, the common's most famous residents, the Wombles.
Wimbledon Bookfest provides a great opportunity to put the biggest (and furriest) names in literature on the spot. David Clack provides the questions he'd like to ask
Sebastian Faulks
In conversation with BBC Radio 4's James Naughtie
When: Sat Oct 6 5pm. Collyer Hall, King's College School. £10.
Known for: Breathtakingly graphic WWI novel 'Birdsong', which was made into an okay-ish BBC drama earlier this year. Faulks has penned everything from historical dramas to Bond novels (2008's 'Devil May Care'), and his latest book, 'A Possible Life' is a chronologically disjointed romp through time and space.
What we'd ask: So then, Seb, what's with all the genre-hopping?
Rose Tremain
In conversation with The Independent's Boyd Tonkin
When: Thu Oct 11 7.30pm. Big Tent, Wimbledon Common. £10.
Known for: Making the Booker shortlist with her 1989 historical drama 'Restoration'. Latest book 'Merivel' is the long-awaited follow-up to 'Restoration', reprising many of the original's characters and themes.
What we'd ask: Are authors subjected to the same 'sequel syndrome' as film directors?
Kate Mosse
Talking about 'The Languedoc Trilogy'
When: Wed Oct 10 7.30pm. Wimbledon High School. £10.
Known for: Her era-hopping 2005 thriller 'Labyrinth' and follow-up 'Sepulchre' (which did
for archaeology what 'Fifty Shades of Grey' did for sales of nylon rope), as well as being the founder and director of the girls-only Orange Prize for Fiction.
What we'd ask: As an authority on emerging female talent, she'll doubtless have some views on the EL James 'Fifty Shades' phenomenon. Has it helped or hindered the face of female fiction?
The Wombles
Womble Storytelling and Singalong
When: Sun Oct 14 3pm. Big Tent, Wimbledon Common. £7.50.
Known for: Keeping Wimbledon Common spick and span since 1968. And, of course, a string of top ten singles in the '70s.
What we'd ask: Not strictly a Q&A session, this one, but don't let that stop you pinning Uncle Bulgaria to the ground and quizzing him on the recycling practices of Merton Borough Council.
For full event details, visit www.wimbledonbookfest.org