Peter Jackson is back for more Tolkein, Martin McDonagh is back with Colin Farrell and Ang Lee puts 3D through its paces. In a sentence:
Martin McDonagh's follow up to 'In Bruges' is a Tarantino-esque tale about a drunken Irish screenwriter, played by Colin Farrell, who gets tangled up with the mob in LA.

Why we're excited:
Mainly for the cast. Farrell is backed up by a who's who of off-the-wall American character actors, including Christopher Walken, Woody Harrelson, Sam Rockwell, Tom Waits and Harry Dean Stanton, plus a fluffy shih tzu called Bonny.

Who'll love it?
Language lovers, you'll get a kick out of the sharp script. Film lovers, you'll enjoy the movie in-jokes. Everyone will appreciate watching some first-rate actors at their comic best.

When's it out?
December 7 In a sentence:
Diminutive recluse is contacted by elderly hobo and his 12 hirsute pals for a spot of light criminal activity… digitally generated havoc ensues.

Why we're excited:
It's Jackson, it's McKellen, it's Tolkein, it's New Zealand. Okay, so the story of 'The Hobbit' isn't in the same epic league as 'The Lord of the Rings', but the plot offers plenty of scope for PJ to spread his directorial wings.

Who'll love it?
The Tolkein heartlands: kids and fantasy nerds. Plus, anyone who enjoyed the 'Lord of the Rings' trilogy… and that's a lot of people.

When's it out?
December 13 In a sentence:
'Crouching Tiger' director Ang Lee takes on Yann Martel's novel about a teenage Indian boy stranded on a lifeboat with a Bengal tiger.

Why we're excited:
Everything Ang Lee does is worth watching, and we're intrigued to see what he's done with the novel that everyone said was unfilmable (just remember those gravity-defying set-pieces in 'Crouching Tiger, Hidden Dragon'). And this time he's got 3D to play with – conjuring up tigers, shipwrecks, humpback whales and the Pacific ocean.

Who'll love it?
The novel's huge fanbase, bulked up, but those enticed in by the film's feast of visual splendour and inevitable awards buzz.

When's it out?
December 20 In a sentence:
An all-girl group of acappella singers goes into battle at the national championships.

Why we're excited:
Okay, on paper this comedy-musical looks like a tired 'Glee' rehash, but it's been a sleeper hit in the States. Why? Take a look at the talent involved. The script is by '30 Rock' writer Kay Cannon. Anna Kendrick (terrific in 'Up in the Air') stars as Beca, who's trying to spice up the group's repertoire of Mariah Carey covers. And it looks like Rebel Wilson (Kristen Wiig's weirdo flatmate in 'Bridesmaids') is up to her scene-stealing tricks again.

Who'll love it?
Anyone who's enjoying the new of generation of Hollywood lady comedy writers (cross ref: Diablo Cody, Lena Dunham, Greta Gerwig, Kristen Wiig, Elizabeth Meriwether, Tina Fey).

When's it out?
December 21 In a sentence:
This Sundance hit follows a young journalist intern (Aubrey Plaza) as she heads off with her boss to investigate a classified ad seeking a companion for a time-travel experiment.

Why we're excited:
Time-travel adventures are ten a penny, but reviews in the US have positively glowed. Here's veteran critic Roger Ebert's verdict: 'It's a more ambitious and touching movie than seems possible.' The presence of mumblecore darling Mark Duplass as the mysterious scientist at the heart of everything is another tick in the plus column.

Who'll love it?
Hipsters, indie fans and nerds, and who knows, maybe even a wider audience tempted in by those reviews.

When's it out?
December 26
Missing Time Out magazine?
You can still read our latest issue from the comfort of your couch
Read online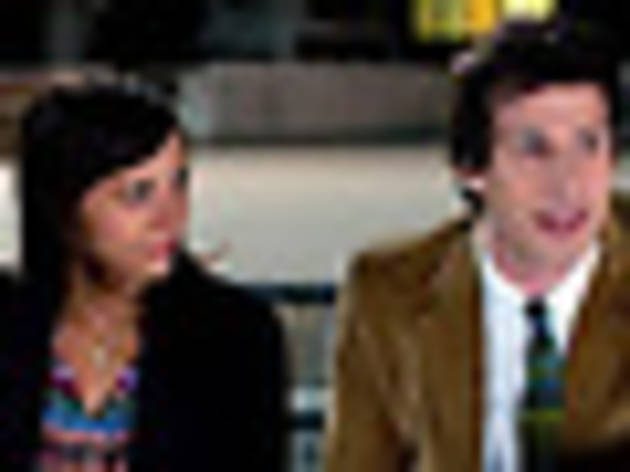 Aside from these highlights there's plenty to see at the cinema this December, including US TV comic Rashida Jones in 'Celeste and Jesse Forever' and Jeff Orlowski's 'Chasing Ice'. Take a look at our upcoming movies calendar for a comprehensive guide to all December film releases.