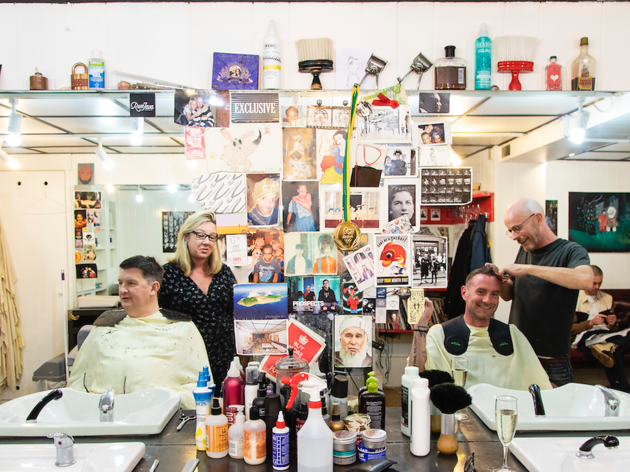 How a Soho hair salon became the heart of London's counter-culture
For nearly 40 years Cuts has established itself as a hedonistic home for the capital's club kids, now a new documentary is telling the hair salon's story
In the days before social media, finding your place in the world could be a struggle. Rather than using apps and algorithms to meet like-minded people, community-building required real legwork. It involved slipping in and out of different physical spaces, such as gigs, nightclubs or community centres, in an effort to find others who felt the same way you did.
Some of these were more unconventional than others. Communities were carved out in street markets like Camden and Portobello, or in boxy boutiques, such as Granny Takes a Trip and Vivienne Westwood's Sex – stalwarts that used fashion to unite fans of punk and psychedelia.
Cuts hair salon was one of these more unassuming spots. The Soho institution, still bubbling away in a Dean Street basement, has a legacy that belies its blink-and-miss-it location. For nearly 40 years the salon has established itself as a hub of London's counter-cultural community and a hedonistic home for the capital's club kids. (In one of its more dramatic moments, one of the stylists was arrested on drugs charges during a haircut.)
The client list has boasted some of the most trailblazing names in music, art and fashion – from Boy George and Jean-Paul Gaultier to Goldie and Neneh Cherry – as well as local vicars, McDonald's workers and homeless people. In 1998, David Bowie was spotted smoking on the salon chairs as he waited for a haircut.
Despite this impressive cultural heritage, Cuts is still relatively unknown among most Londoners. But a new documentary from filmmaker Sarah Lewis, premiering at this year's London Film Festival, hopes to change that.
We Are Cuts by Andy Parsons
'No Ifs or Buts' has been more than 20 years in the making, and is a definitive look at the salon's legacy. Using archive footage and interviews, it examines the history of Cuts; from its early days as a punk barbershop in Kensington, through to its evolution as one of the most trendsettingsubcultural spaces in London. It also traces the trauma faced by staff members over the years; including mental illness and the grisly toll of sustained drug use. At one point, owner Steve Brooks smashes the salon mirrors with a hammer after growing disillusioned with everyday management, while another colleague is mourned after taking his own life.
'Cuts had a big impact for a very small place – a big impact on street culture and a big impact on music,' says Lewis, who began visiting the salon in 1996. 'It was a very creative, egalitarian community that really brought people together.'
It was founded in 1979 by filmmaker and photographer James Lebon (who was working as a Vidal Sassoon-trained hairdresser). Subcultures were enjoying a golden age. Punk was in its heyday, with rockabillies and Blitz kids finding their feet. But there was no salon creating the hairstyles that would define them. Seizing the zeitgeist, Lebon decided that Cuts would be London's first 'alternative street hairdresser.' By offering customers everything from mohawks and quiffs to mullets, the salon swiftly became a space for the capital's outsiders, and quickly attracted the attention of cutting-edge fashion magazines like The Face and i-D.
Within five years, Cuts grew from a stall in Kensington Market to a bustling social spot in the middle of Soho's Frith Street. Unlike other salons in the capital, Cuts shunned over-stylised interiors and exclusive booking systems. Instead, it opted to recreate the feeling of a friend's living room: blasting out the club music of the day, scribbling down bookings and plastering the walls with Polaroids.
'It was quite chaotic, in the most delightful way,' says Lewis. 'It wasn't the same Soho we know today – it was a lot grungier, a lot more sex shops.'
Lebon left Cuts in 1984, leaving it in the care of business partner Steve Brooks, who continued to foster the ramshackle charm that it had become famous for, alongside co-partners Pete Dowland, Roydon Davies and A Daniel. Stylistically, Cuts kept pushing boundaries.
In the '90s, the salon was responsible for Travis frontman Fran Healy's 'fin' hairstyle (later copied by David Beckham), as well as Goldie's striped 'armadillo' crop. But its main appeal was the social side.
'I started going to Cuts when I was 17,' recalls Unkle's James Lavelle, who has been a regular since the early '90s. 'It was this amazing community spot. You could be a bit naughty, hang out, chat about records, spend the afternoon then go to the club. It was the start of the weekend. You'd just see all these great faces. A lot of drum 'n' bass DJs, a lot of hip hop DJs. So apart from getting a haircut, it was this amazing social experience.'
While its address has changed several times, Cuts is still thriving. Now known as We Are Cuts, it's underneath Gino's Salon on Dean Street. More importantly, it's still run by Daniel and Dowland (Brooks left in 2009, while Davies is currently serving time on drugs charges). The pair have been running Cuts for nearly three decades.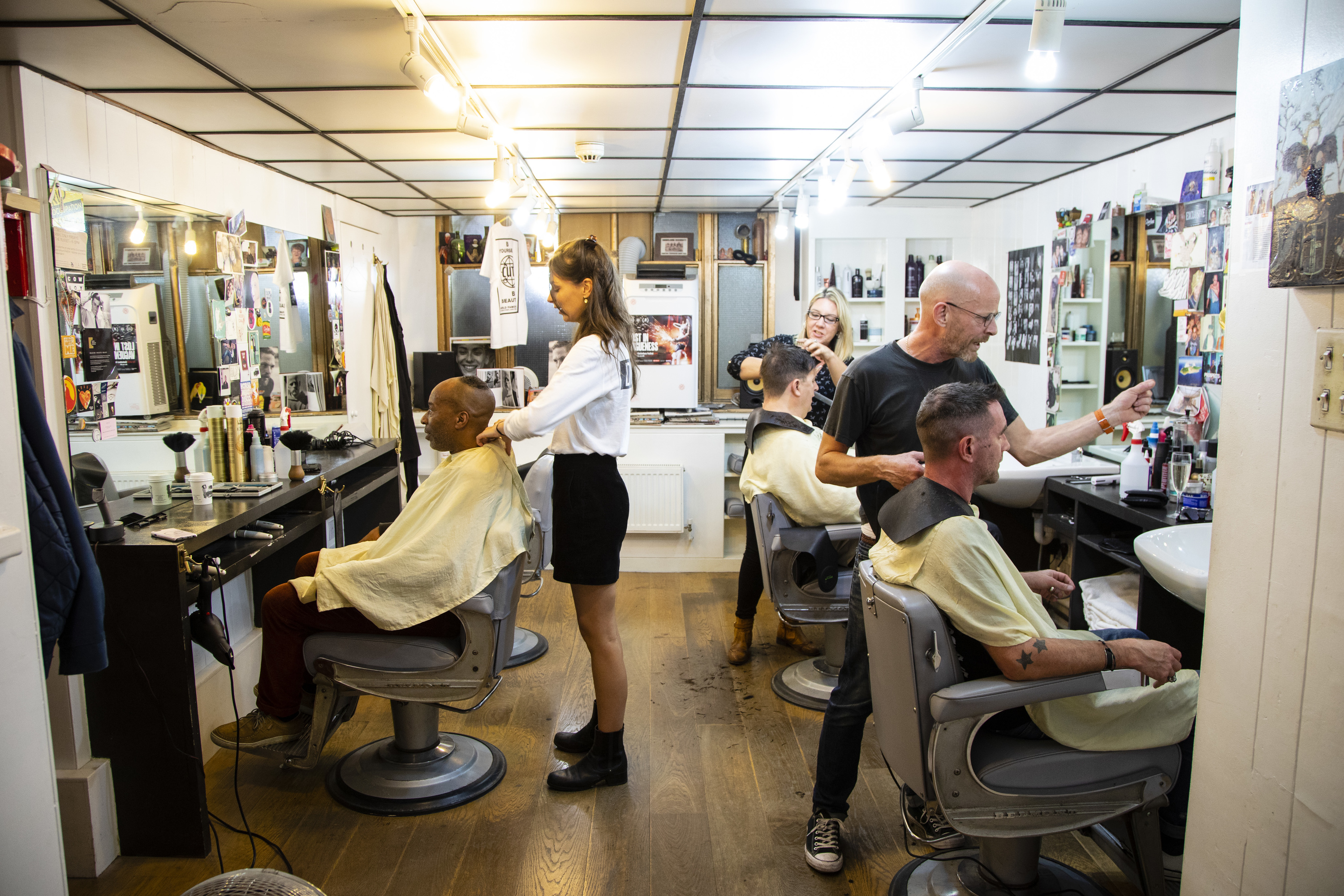 We Are Cuts by Andy Parsons
'We embrace the change,' says Daniel, of the shop's constantly changing location. 'We make Cuts as a group of people. Not the building. No individual is Cuts; it's bigger than any individual.'
In 'No Ifs or Buts', Lewis captures the salon's distinct energy and uses it to make subtle but effective comments on human connection. Cuts is much more than a hair salon. It is a home-away-from-home for people looking for family, friendship and community. Creating a feeling of acceptance has always been its priority, which is why it always feels authentic to customers.
'It's a place of peace for me,' adds Lavelle. 'I love [the staff] with all my heart. It's been part of my life for so long.'
The film is particularly poignant to watch, given, founder James Lebon died unexpectedly in 2008 from a heart attack. He serves as the perfect representative for Cuts' bold and inclusive legacy.
'What James offered,' his brother Mark says, 'and what Cuts offered, was a platform for a lot of various people and individuals to come together and produce things more powerful than the sum of their parts. We loved the variety, and seeing what came out of bringing people together.'
'No Ifs or Buts' screens at London Film Festival on Oct 20-21.
Support Time Out
We see you're using an ad-blocker. Ad revenue is Time Out's main source of income. The content you're reading is made by independent, expert local journalists.
Support Time Out directly today and help us champion the people and places which make the city tick. Cheers!
Donate now