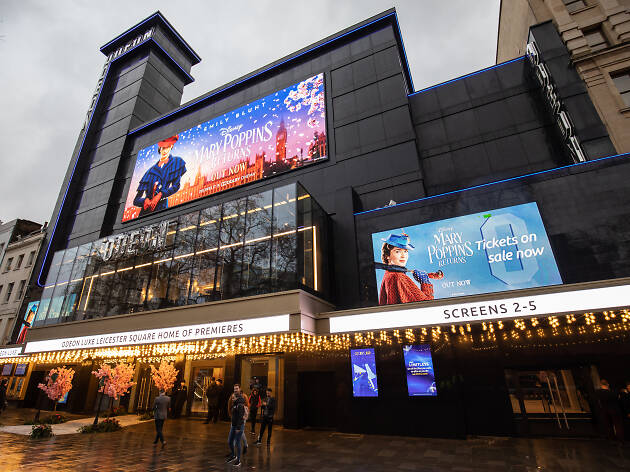 It's showtime! ODEON Luxe Leicester Square has relaunched
Pan this way, people, as the golden age of cinema returns.
Whenever we strolled through Leicester Square in 2018, we felt like something was missing. Why? Well, the iconic ODEON cinema – the West End home of the movie premiere, where star-studded red carpets meet screaming fans – was closed for regeneration. But here's the great news: it's now back, and with a pretty massive bang.
As one of the world's most famous cinemas (it did open in 1937 and is the brand's flagship),
ODEON Luxe Leicester Square has reopened following a multi-million-pound, very plush refurbishment. We're talking a return to form and a throwback to the golden age of
cinema, where the historic glamour and charm of the original venue meet state-of-the-art luxury and technology. Swish!
Here's the geeky bit
ODEON Luxe Leicester Square is now home to the UK's first Dolby cinema, which means that you can enjoy enhanced imaging via Dolby Vision laser projection and immersive audio thanks to a unique Dolby Atmos system. Yeah, sure, it all sounds a bit techy, but hold on to
your popcorn, people – we've talked to experts who know about these things and that's some seriously impressive kit.
Want to get extra-comfy?
All the screens at the new ODEON Luxe Leicester Square have expertly designed seating that'll help you relax with your chosen flick. But if you really want to kick back? Some of the
800 (count 'em!) seats in Screen 1 are super-swanky luxe recliners. These are basically the best seats in the house, with at least three times more legroom than usual. They're so
good, in fact, that ODEON is calling luxe-recliner-based movie-watching 'an exclusive, intimate experience' (and no, we aren't talking about any back-row stuff...).
Marvel at the design...
That's right, the cinema's new interior is now more sophisticated than your mum's designer
wallpaper. Inspired by the brand's art deco origins, the building's famous heritage features have been beautifully restored – which means you can marvel at the 'Flying Ladies' sculptures and the original Compton organ in the Premiere Screen. Plus, there's a very cool
mirrored wall and auditorium doors that pay homage to decades of royal and world film premieres.
...and don't forget to grab a drink
Whether you're partial to a glass of fizz or just fancy a beer, ODEON Luxe Leicester Square has a brand new drinking spot. The very snazzy glass-fronted Oscar's cocktail bar has vibes that hark all the way back to Hollywood's heyday. And with its creative concoctions served up
alongside some glittering views of Leicester Square, you've got all the excuses you need to have an atmospheric pre-flick tipple.
Fancy catching a movie for free?
Well, you've come to the right place. We've teamed up with ODEON to give away two tickets to a film of your choice. To enter, simply click the 'enter' link below and answer the
question. Yep, it really is that easy (don't say we're not good to you).
Plus, with a packed schedule of blockbusters waiting in the wings, and tickets already available to book online, seeing the relaunch for yourself is just a click away. Ready to get in on the action?
Sorry, this competition is now closed

NB: This prize is redeemable between Friday January 18 2019 and Monday April 15 2019.