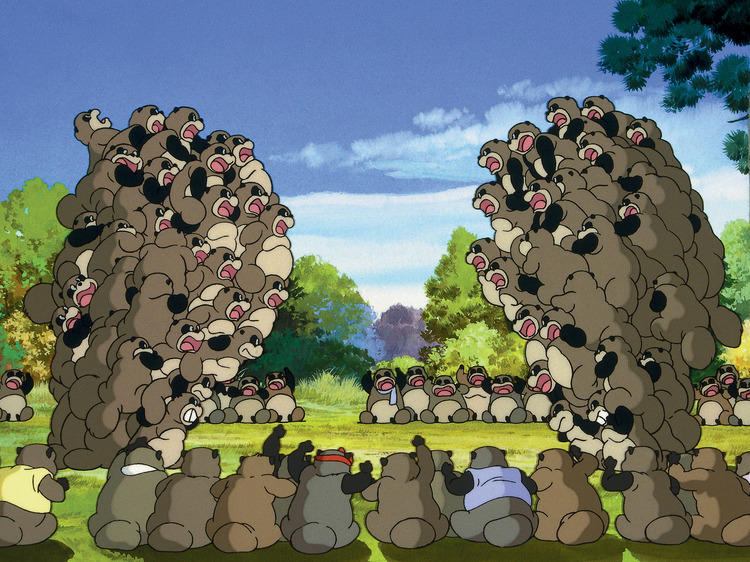 This thunderous Ghibli romp – part satire, part family adventure, part war 'documentary' – is one of the weirdest movies ever made.
Director: Isao Takahata
Best quote: 'I have no face!'
Defining moment: The scene in which a raccoon transforms his scrotum into a giant sailing ship bound for nirvana. (We know you're curious.)
If you've seen 'Spirited Away', with its ancient ghost demons, and 'Porco Rosso', with its farmyard flying ace, you'll know that those Ghibli guys can get a little weird sometimes. But nothing can prepare you for the sheer, mind-melting oddness of 'Grave of the Fireflies' director Isao Takahata's chronicle of the Great Raccoon War.
Structured in pseudodocumentary style, complete with constant voiceover and regular time leaps, it tells the tale of a group of shape-shifting raccoons who take up arms against the human beings destroying their woodland. But cozy critters this lot ain't: Not only do they kill several people over the course of their campaign – and throw a huge party to celebrate – they also use their testicular pouches as everything from hot-air balloons to welcome mats, employ their transformative powers to infiltrate human society and argue constantly (and often viciously) with each other. Sweet, satirical, savage, sad, silly and quite spectacularly strange, 'Pom Poko' stands utterly alone. Tom Huddleston
Read review