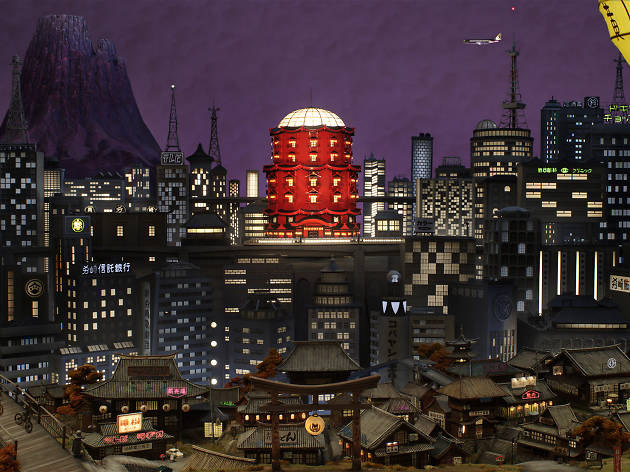 A new exhibition is coming to London to celebrate the release of Wes Anderson's 'Isle of Dogs'
Enjoy a first-hand welcome to the world of this unmissable new animation – right in the heart of London
Man's best friend and one of humanity's most imaginative filmmakers meet in 'Isle of Dogs', a dazzling, funny and lovingly crafted new animation from Wes Anderson, the writer-director behind 'Rushmore', 'The Royal Tenenbaums' and 'Grand Budapest Hotel'. If you loved Anderson's Roald Dahl animation, 'Fantastic Mr Fox' or if you fancy getting lost in another of his witty, eye-poppingly detailed worlds, this is a must-see. 'Isle of Dogs' is set in the Japanese city of Megasaki, but it was made partly in London at 3 Mills Studios, and a buzzy new West End exhibition about the making of it will be open to all until April 8.
Taking place at hip new arts space, The Store X, 180 The Strand, the exhibition offers a rare glimpse into the world of the film and Wes Anderson's filmmaking. On display are many of the film's original stop-motion puppets and sets from the production, and an 'Isle of Dogs'-inspired noodle bar will be turning out delicious bowls of steaming ramen. If, as Time Out's 'Isle of Dogs' review points out, 'Wes Anderson fans won't want to miss it', they definitely won't want to miss this show either. Better still? It's totally free to visit. You'd be barking to miss it.
What's the story of 'Isle of Dogs'?
Set in a dystopian future Japan in the fictional Megasaki City, 'Isle of Dogs' tells the story of a pack of dogs exiled onto the ramshackle Trash Island after a government decree banishes all canines as a biohazard. Alpha dog Rex (voiced by Edward Norton), gossip Duke (Jeff Goldblum), ex-sports mascot Boss (Bill Murray), dog actor King (Bob Balaban) and snarling outsider Chief (Bryan Cranston) soon find themselves joined by a crash-landed 12-year-old called Atari (Koyu Rankin), ward of the corrupt Mayor Kobayashi. Will they help Atari find his long-lost guard dog, Spots? Can cub reporter Tracy Walker (Greta Gerwig) uncover a deeper conspiracy in time? Will an outbreak of canine flu cause Megasaki to pull a mega-sickie?

In true Wes Anderson style, story, visuals and music (listen out for another note-perfect score from Alexandre Desplat and some deep-cut pop tunes) all effortlessly mesh into an adventure story that pops on the screen. The voice-cast (Bill Murray! Frances McDormand! Jeff Goldblum! Tilda Swinton!) isn't too shabby either. You'll want to see it, then see it again, just to see what you missed the first time. And you'll miss a lot, because it's that kind of movie: meticulously detailed, richly textured and full of blink-and-you'll-miss-'em visual gags. It's a grown-up animation for adults and bigger kids alike, with plenty to say and a fresh and fast-paced way of saying it.


What can I see at the exhibition?
You'll see a selection of the handmade puppets featured in the film, positioned within the original sets from the movie. It's a rare chance to see how what goes into making a Wes Anderson movie, up-close and personal.
And if you work up an appetite taking all this in, one of those sets – the Megasaki noodle bar that once played home to Boss, Bill Murray's mascot mutt, in the movie – has been recreated life-size and will be cooking up big bowls of nourishing ramen. They're the creation of Akira Shimizu, executive chef at Soho's Engawa restaurant.
Where is the exhibition?
The 'Isle of Dogs' exhibition is at The Store X, 180 The Strand, by the Aldwych. Trust us: it's a creative space worth visiting. The Store X has played host to London Fashion Week and some of the most cutting-edge exhibitions. It's been open since 2016 and has fast become a must-visit stop-off on London's vibrant arts scene.
How do I get there?
The Store X, 180 The Strand is just ten minutes walk from Covent Garden tube, and even closer to Temple Tube.
What does it cost to get in?
Not a penny – or yen. The exhibition is completely free to attend and you don't even need to book tickets in advance: just pitch up and head on in. You do need to pay for food and drink inside though, so bring along some ramen money.
'Isle of Dogs' is in cinemas now.

'The Isle of Dogs' exhibition is at The Store X, 180 The Strand from Friday March 23 to Sunday April 8. The exhibition is open 11am-7pm. Free entry.