Cookbooks for Christmas
We round up the year's best cookbooks for Christmas presents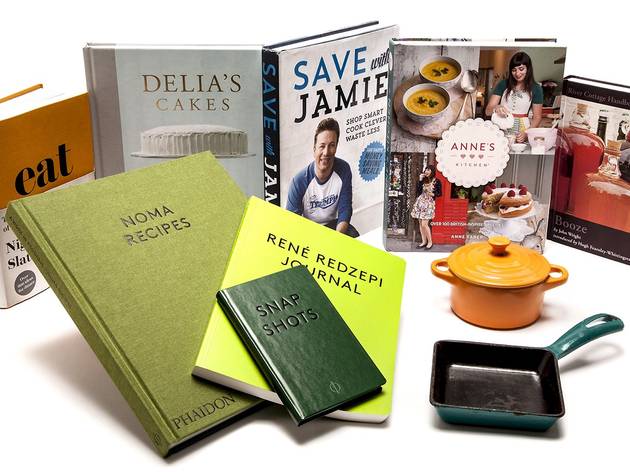 Looking for a Christmas present for a foodie? From the gastro geek's best buy to foolproof baking from Delia, Guy Dimond picks the best of the year's kitchen table tomes
In the year where home baking overtook twerking and sexting as the leisure pursuit of choice of much of the country, who better to have as your kitchen companion than Delia? 'Delia's Cakes
' (Hodder, £26) covers all the classic recipes and techniques the beginner baker needs to know, from sponges to four types of Christmas cake. And you always know with a Delia recipe that it'll work, so the fear factor is reduced: no bad thing at this time of year.
Almost as infallible are the cookery books of Nigel Slater (right). His 'Eat: The Little Book of Fast Food
' (4th Estate, £26) initially had me baffled with its innovative format, but now that I've been using it solidly for two months – more than 20 recipes so far – this has become one of my favourite books of the year for its clear, concise recipes using simple combinations of not-too-many ingredients. My other go-to book for everyday cooking at the moment is 'Save with Jamie
' (Michael Joseph, £26). Jamie Oliver's team took on board criticism of his previous bestselling books, and made the recipes cheaper and simpler. The resulting dishes are quite stunning.
A less mainstream effort is 'Anne's Kitchen
' (Editions Schortgen, £25), a very attractive recipe book by blogger and rising TV chef Anne Faber. Luxembourger Faber is doing for London what Rachel Khoo did for Paris, taking an outsider's view of her adopted home. She introduces a quirky spin on the capital with the traditional and contemporary dishes she's grown to love over the last decade, and the book – with all styling and food photography by Faber herself – accompanies a TV cookery series currently being screened in Luxembourg.

John Wright is a different sort of celebrity. True, he's been on telly, usually as a sidekick to Hugh Fearnley-Whittingstall. But his following is more cultish: he's a wild-food man, and educator in foraging. If you're picking mushrooms or plants from the hedgerow or countryside and don't want to end up poisoned in A&E, it's his books you'll need. But Wright's not averse to a little recreational intoxication, as his latest field guide, 'Booze
' (River Cottage Handbooks, £14.99) makes clear. It provides homebrewing (and home distilling and home fermenting) recipes for beers, sloe gin, elderflower wine and cider, and, more adventurously, green walnut grappa, blackberry whisky and crab apple wine. Wright, in his engaging and witty way, has an unusual tipple for every occasion.

If that all sounds too worthy, and some proper Christmas gastroporn is what you're after, then the dish aesthete in your life will surely love 'A Work in Progress
' by Noma proprietor René Redzepi (Phaidon, £39.95). This collection of three 'artistic' volumes is suitable for coffee tables, toilet reading and shelf display. The recipes are chosen for their photographic beauty, not their practicality for the home chef: sea snail remoulade with smoked eel, or shoots of bullrush and yoghurt, are typical of the many striking dishes. Delia it ain't, but you can't eat cake while sexting every day.
London's best...
When only the best will do, here's our pick of the best breakfast and brunches
Read more
With a barbecue revolution underway in the capital, we've tracked down the juiciest joints serving up ribs
Read more