Heads up! We're working hard to be accurate – but these are unusual times, so please always check before heading out.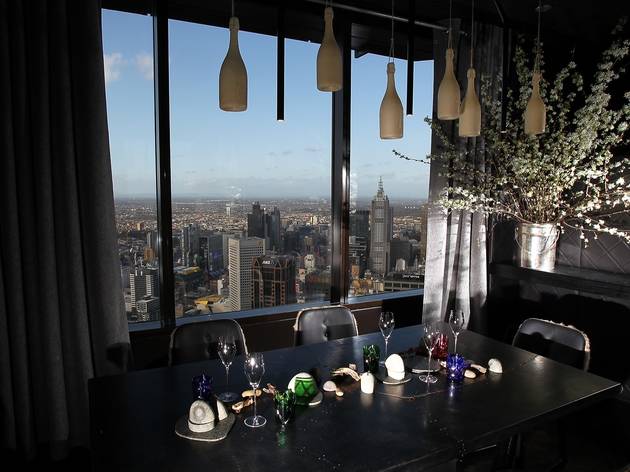 Melbourne • The best looking restaurant in town is...
Gemima Cody, Food & Drink editor at Time Out Melbourne, on Vue De Monde:Vue De Monde is the jewel of chef-restaurateur Shannon Bennett's impressive...
Gemima Cody, Food & Drink editor at Time Out Melbourne, on Vue De Monde:

Vue De Monde is the jewel of chef-restaurateur Shannon Bennett's impressive empire, and possibly the most glamorous canvas for sustainability in the world. In a sharp departure from the opulence many restaurateurs like to pour into their venues to justify extravagant price tags, you'll find the decor here dominated by decidedly earthy, environmentally conscious ideas. Tables, designed by local furniture builder Ross Didier, are coated not with starched linen, but with stretched black roo hides. A treelike neon light sculpture by artist Joseph Kosuth stretches across the wall and is a nod to Charles Darwin.
Tables feature centrepieces of twisted tree roots and smooth, grey river stones. Those rocks conceal salt, and serve as platters throughout a theatrical dining experience: two long strips of raw wallaby (Australia's most delicious marsupial) are wheeled out on a heated salt slab before being rolled up and transferred, cured, salty and warm on to the rocks. Rarely has an environmental agenda been so explicitly stated, in such a digestible way - it doesn't feel in the slightest like your fuzzy, ethically sourced roo-hide chair is giving you a lecture on utilising native resources, but it is.
Vue De Monde. L55, Rialto Tower, 525 Collins St, Melbourne, Australia. +61 3 9691 3888. www.vuedemonde.com.au.

More on Vue De Monde from Time Out Melbourne
New on the scene
The pick of this year's entries for the Restaurant & Bar Design Awards, as selected by Time Out Melbourne:

There's a stoush going on in Melbourne. In one corner you have the promoters of casual, canteen-style restaurants insisting that fine dining is dead, while over on Southbank you have Neil Perry, making his retort with Rosetta. Designed by Burley Katon Halliday, Rosetta is breathtakingly theatrical in a way that we'd forgotten was allowed. Floor-to-ceiling windows ripple down one side partly enveloped by soft scalloped curtains. Chandeliers sprout out of ornate domed ceilings, the light twinkling off an embarrassment of marble: chequered floors; polished bar; tables surrounded by plush red velvet banquettes trimmed with gold brocade.

It's a sophisticated scene, no question – the soundtrack is opera, waiters wear white linen jackets and there's a whole mess of diners sporting hair sprayed 'dos and chinos filling the lamp lit terazza. But as much as the surrounds give the impression that a waiter may appear to shave some solid gold over truffled foie gras, you'll still find incredibly approachable food here – perfect pastas and wood-fired rabbit cacciatore.

Melbourne will continue to wage war against starched cloths, but Rosetta serves as sound reminder that there's room in our life for a little outrageous beauty yet.
Gemima Cody, Food & Drink editor, Time Out Melbourne

Rosetta Ristorante. Crown Complex, Southbank, Melbourne, Australia. +61 3 8648 1999. www.rosettaristorante.com.
© Time Out/Graham Denholm
© Time Out/Graham Denholm
See more great entries for the Restaurant & Bar Design Awards 2013