Heads up! We're working hard to be accurate – but these are unusual times, so please always check before heading out.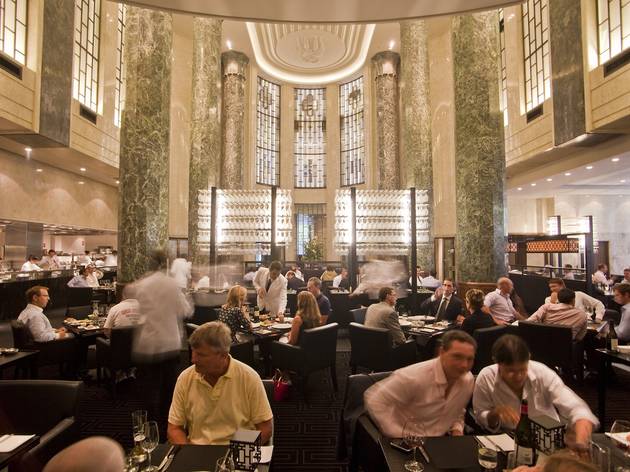 Sydney • The best looking restaurant in town is...
.
Myffy Rigby, Food & Drink editor at Time Out Sydney, on Rockpool:

The first thing that hits you when you enter the 1936 City Mutual Building - considered by many the finest art deco building in Australia - isn't the pristine stone and brass work. It's the smell. Push through the heavy brass doors and be greeted by a mingling of grilling meat, wood fire and leather. Breathe it in as you look up at the grandeur of the room. Rockpool Bar & Grill has to be the most stylish dining room in town with incredibly high ceilings, Manhattan-style art deco architecture, private dining rooms including a dress circle upstairs. It's like something out of 'Mad Men'. And it's a throwback to a time when money was no object.
People said chef and owner Neil Perry was taking a huge gamble opening two multi-million-dollar restaurants in the same building in the middle of a global financial crisis, but he can now give all those naysayers the two-fingered salute. What credit crunch? Head to the bar for a pre-prandial cocktail. Riedel glasses - 6,500 of them - are stacked in backlit metal brackets like working art.
Rockpool Bar and Grill.
66 Hunter Street, Sydney, Australia. +61 2 8078 1900. www.rockpool.com/sydney/bar-and-grill.

More on Rockpool Bar and Grill from Time Out Sydney
New on the scene
The flash fit-out at this two-storey Canto palace comes care of Michael McCann. He's transformed Merivale's old Tank nightclub, under the Establishment hotel, into a sort of Hong Kong speakeasy downstairs (complete with adjoining door to neighbouring hooch lounge Palmer and Co) while upstairs features a big, beautiful bar run by Doron Whaite.

Design elements throughout evoke 1930s Shanghai – period furniture, hanging calligraphy and paintings, clusters of blue-and-white-plates on a wall and an upstairs-to-downstairs-sized mural of a seductive Shanghai woman dusted in pastels across a soaring exposed-brick wall.

We're also loving the mammoth glass wine cellar that soars from the first floor to the ceiling of the second (there is a staircase around it so you can peek in). But our favourite element of Mr Wong is the 'great wall of ducks' – dozens of the skinless birds hang behind a glass wall that lines your walk to the bathrooms, dripping blood and fat and teasing passersby with thoughts of crisp Peking duck pancakes waiting back at their table.
Myffy Rigby, Food & Drink editor, Time Out Sydney

Mr Wong. 3 Bridge Lane, Sydney, Australia. + 61 2 9240 3000. www.merivale.com.au/mrwong.
© Time Out/Daniel Boud
© Time Out/Daniel Boud