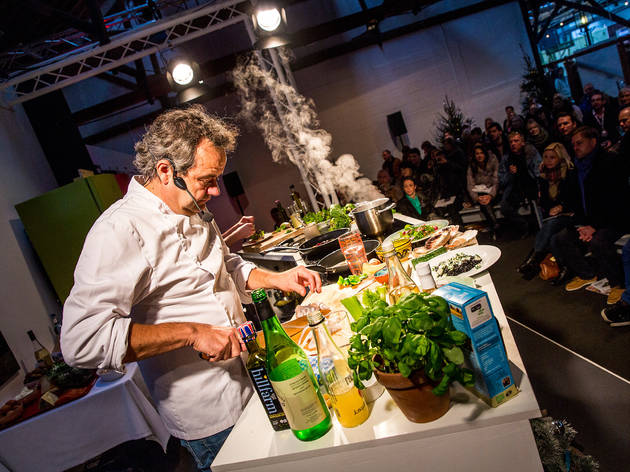 Who to see at Taste of London
In a series of exciting live shows, many of the world's best chefs are appearing at the festival, sharing their skills and insights
From some of the best talents making the London restaurant scene so vibrant to internationally renowned stars, the line-up of guest chefs is truly impressive for Taste of London: The Festive Edition, at Tobacco Dock this November.
Tom Aikens – an exciting young British talent, Aikens is one of the brightest stars working today, with five restaurants to his name already.
Pascal Aussignac – Toulouse-born Aussignac is classically trained and his skill really shows in his dishes at Club Gascon, where he's also never afraid to be adventurous.
Monica Galetti – a television star and a great talent in the kitchen at Michel Roux Jr's Le Gavroche, Galetti has also had publishing success with her book 'Monica's Kitchen'.
Scott Hallsworth – Hallsworth refined his talent for pan-Asian cooking in Australia and here in London before opening his excellent Japanese restaurant Kurobuta.
Anna Haugh – head chef at London House, she is a Michelin-starred talent who credits her childhood in Ireland as a major influence on her cooking.
Mark Hix (pictured) – with a series of highly individual restaurants across London, Mark Hix is a champion of well-sourced regional produce cooked to perfection.
Tom Kerridge – this much-loved chef has made a name for himself with his two-Michelin-star gastropub the Hand and Flowers in Marlow, and through his TV work and hugely popular books.
Sophie Michell – working at some of London's most celebrated and glamorous restaurants, Michell is praised for her eclectic and innovative work at Pont St.
Jeremy Pang – following in the footsteps two generations of Chinese chefs, Jeremy Pang is a skilful master of flavour whose School of Wok in Covent Garden is a real treasure.
José Pizarro – bringing his passion for Spanish cooking to the UK 15 years ago, Pizarro has forged a stellar solo career after a first-class background with Eyre Brothers, Brindisa and Gaudi.
Owen Sullivan – heading up the kitchen at both maze Grill locations, at Park Walk and Royal Hospital Road, Sullivan is an exciting young talent in the Gordon Ramsay Group.
Cyrus Todiwala – this celebrated 'chef of genius' has a reputation that reaches far beyond the devotion of diners to his restaurant Café Spice Namaste.
Marcus Wareing – having earned his first Michelin star at 25, this celebrated British chef is one of the most respected names in contemporary cooking.