Kensington Palace: London's original fashion catwalk
'The Glorious Georges' is a celebration of the 300th anniversary of the start of the Hanoverian era. Discover more about the trendsetters, the fashions and daily life at Kensington Palace in the court of George II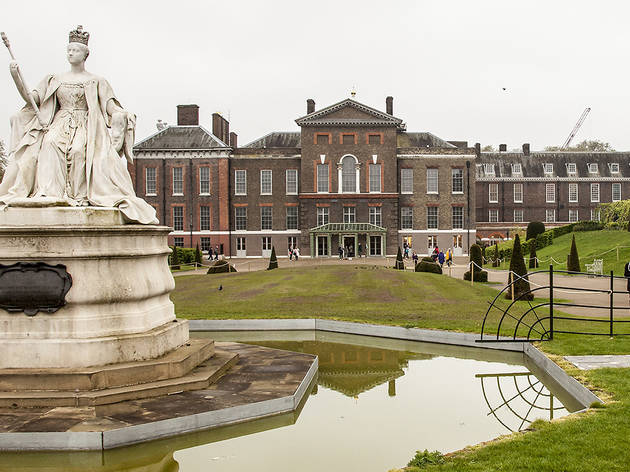 1/8
Georgian London was a huge hotbed of social change, and right at the heart of it sat King George II and Queen Caroline's fashionable court at Kensington Palace.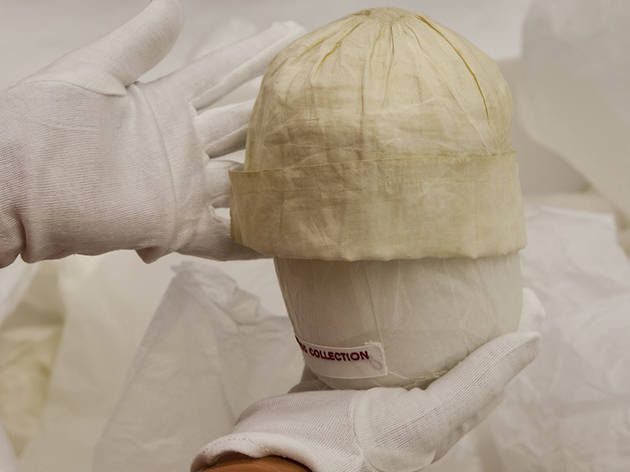 2/8
Through painstaking preparation, with research into every detail from interior decoration to music and even underwear in the 18th century, Historic Royal Palaces has brought the incredible stories of 'The Glorious Georges' to life.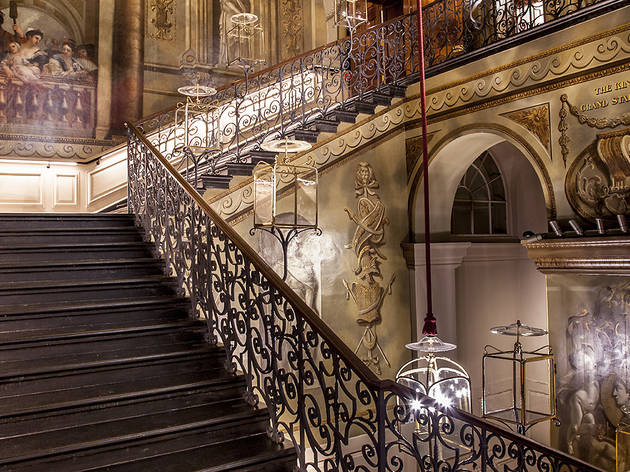 3/8
Your tour of the 'Glorious Georges' exhibition starts on the King's Staircase. Decorated with paintings by William Kent, it shows the key characters of the first Georgian court, many with their own strange stories to tell, including 'Peter the wild boy' – a child who had been found living in the woods in Germany.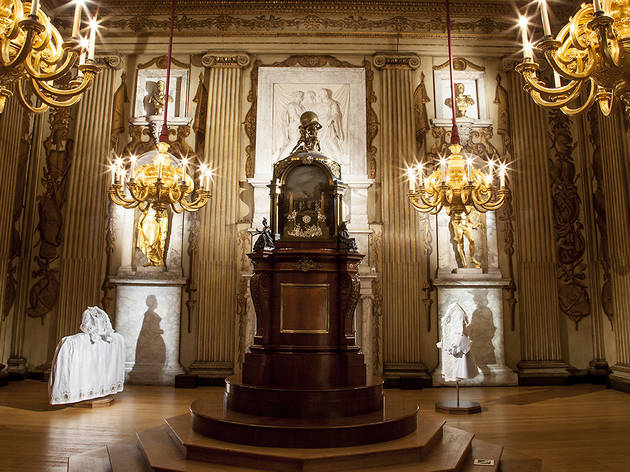 4/8
One of the many spaces that have been restored to their Georgian grandeur is the stunning Cupola Room, where live chamber music filled the air, played by musicians on an ornate clockwork centrepiece, while lords and ladies danced the night away.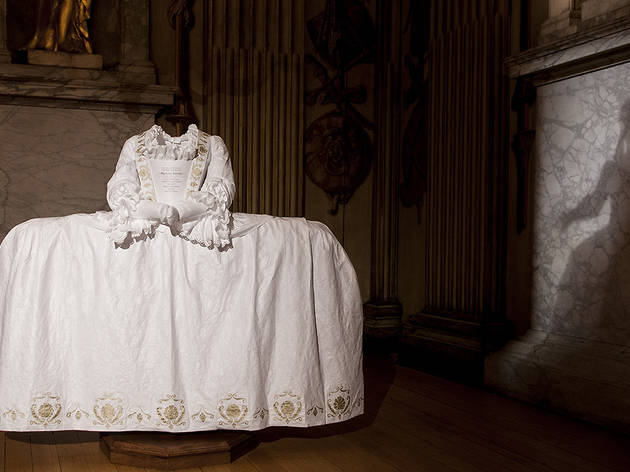 5/8
The highly cultivated and intelligent Queen Caroline brought together great thinkers, artists, poets and society gossips at the palace, where she hosted glittering balls and entertainments with her husband. For the ladies of the court it was an opportunity to show off and to outshine each other in elaborate gold and silver dresses.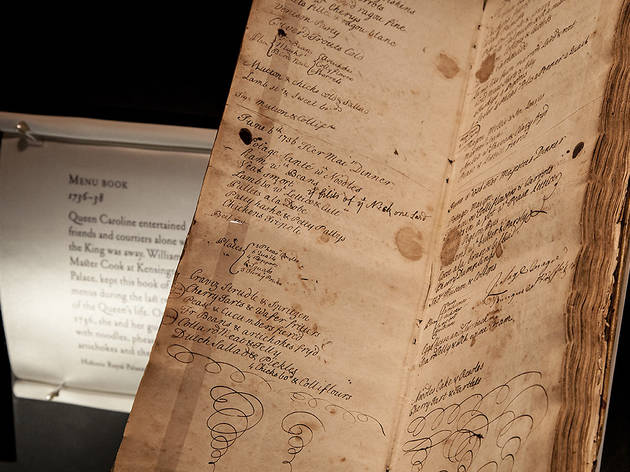 6/8
King George II was often away in Germany and Caroline was regarded as a capable regent in his absence. At Kensington Palace you can see an array of items that reflect life in her palace, including this handwritten menu book.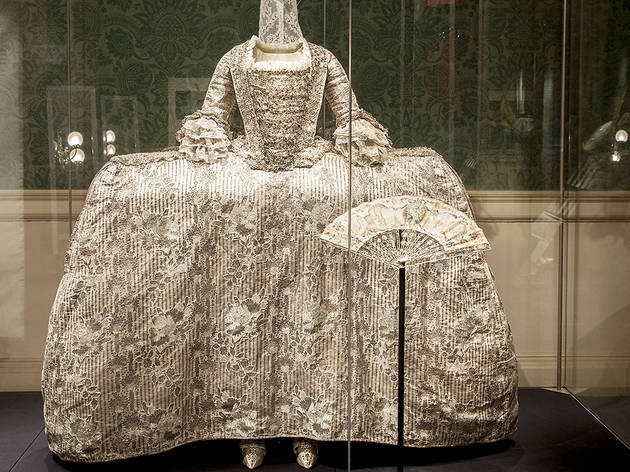 7/8
The court was the place to see and be seen in the latest expensive designs. Take a good look at the extravagant court dresses close up, like the magnificent Rockingham Mantua. This white silk dress covered with sparkling silver thread and silver lace is thought to have been worn by the prime minister's wife, Mary, Marchioness of Rockingham, at court occasions.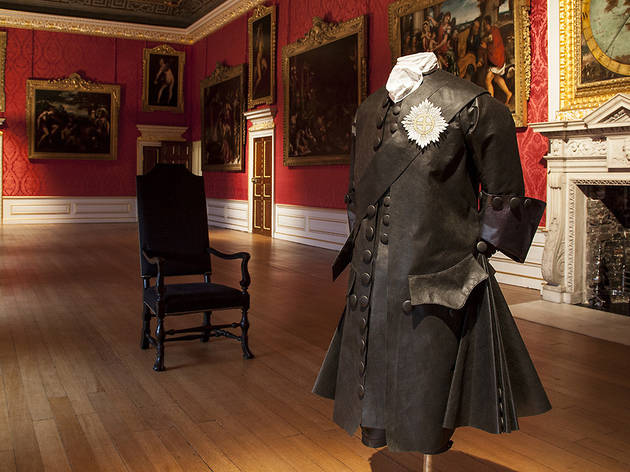 8/8
In the King's Gallery the exhibition ends on a sad note. When his beloved Queen Caroline died in 1737, King George II went into mourning and shut up Kensington Palace, marking the end of a golden era in Georgian London's highest society.
A glittering royal court
The glamorous lifestyle and passions of King George II and his wife Queen Caroline reflect 18th-century London at its most vibrant. Establishing lavish new trends in design and architecture at Kensington Palace and entertaining the greatest artists, thinkers and socialites at court, the couple presided over a golden era until Caroline's death in 1737.
From grand balls to artistic salons, Kensington Palace welcomed the great and the good, the wealthy and the fashionable. All the ladies wore a mantua, an elaborate dress over whalebone hoops – some so wide that the courtiers had to walk sideways through doors to make their grand entrances. They were, however, the perfect display of wealth. One of the highlights on display for 'The Glorious Georges' is the stunning Rockingham Mantua. Made of French silk and beautifully decorated in stripes and flower garlands of silver threads and silver lace, it's thought to have been owned by Lady Rockingham, the prime minister's wife, for her court appearances.
Sponsored listing
Museum of Brands, Packaging & Advertising
Roll up, roll up! The Museum of Brands has found itself a glam new home; still in Notting Hill but now with extra added space for its seemingly endless collection of wrappers, posters, toys, boxes and general collectibles. The main part of the display is the 'time tunnel', a maze of dark cabinets that are stuffed with colourful curios arranged in date order. With the arrival of each new decade an information panel helps to put the changing designs and new fashions into context. A highlight – literally light thanks to a sunny, south-facing gallery room – is a sort of shrine to a few particularly recognisable brands. One cabinet holds every iteration of can and bottle produced by Guinness, another is packed with cereal boxes from Kellogg's, even Brasso gets its moment to , *ahem*, shine. This is a museum that will appeal to any lover of stuff, a nostalgia-stuffed tribute to the many, many things we buy.