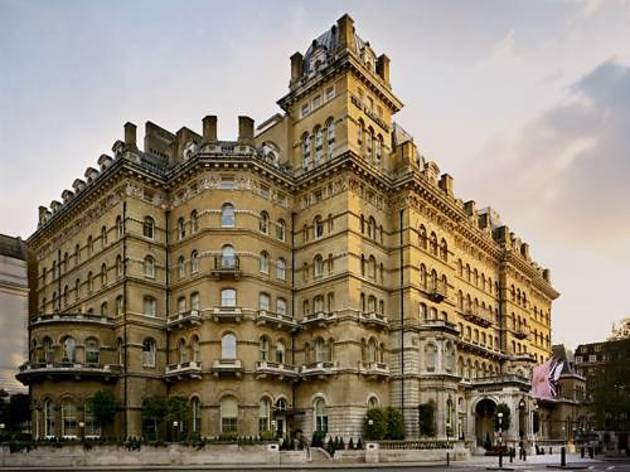 Time Out says
Europe's first Grand Hotel wowed European royalty with electric lights, hydraulic lifts and air conditioning when it opened in 1865, and it still pulls fans in from around the world – including more than its fair share of celebrities. This may be something to do with its location opposite BBC TV Centre, but it's just as likely to be down to the sheer comfort, class and relaxed atmosphere the hotel exudes, from the gorgeous spa and Palm Court dining room to the super-luxe classic rooms and suites.
Details
Average User Rating
3.7 / 5
Rating Breakdown
5 star:

2

4 star:

0

3 star:

0

2 star:

0

1 star:

1
I was a guest at one of the private corporate events at the Langham Hotel recently.
I had a wonderful first impression from the minute I crossed the main door, finding a smiley and attentive staff and beautiful venue decoration, together with the perfect background music that gave the guest a luxurious but also a cosy and welcoming feel.
I instantly loved the atmosphere in the entrance and lobby, because although you can find classic decorative elements like wide columns and marble floors, it is balanced with a unique modern twist in items such as the giant teardrop lamp made of smoked glass in grey and white tones, and my favourite one, a copper colour metal gate with embedded glass spheres (like giant marbles), that allowed you to have a peak at the delicious afternoon tea being served at the Palm Court.
Throughout the day I had the chance to appreciate the rooms set up for our meetings, and how well the venue structure and room locations worked for the event, as well as the catering quality and the quickness and efficiency from the staff in general. Literally everything from registration, access to the meetings (even when half of them were on a different floor), lunch location and guest arrival was flowing harmoniously.
During a break I was appreciating the excellent customer service, when I suddenly noticed that the entire group of dedicated female staff I had interacted with or I had seen on arrival (I arrived at 7AM and it was already evening), were all wearing a very cute uniform with very high heels (the shoes looked average really and didn't necessary match with the rest of the uniform). This got me curious so I asked one of them about it.
Suddenly my wonderful first impression from the venue turned quite bitter, when I heard that it was mandatory for all the female staff at the hotel (that obviously worked on their feet their entire shift having to constantly walk and smile) to wear high heels, and not low or comfy ones I would say.
I then asked another lady about her feedback, and another one and another one until it became clear that their needs were obviously being overlooked by the Executive team at the hotel, through these types of shallow and heartless policies. By what I saw that day, I figure that at least 50 percent of their employees, or even more are women, so unfortunately it was heartbreaking to find out that an apparent perfect venue had an equally perfect example of gender inequality at the work place.
I don't know how the rest of the working conditions are for the staff, but this one on its own is outrageous enough, and based on the conversations I had that day, even their male employees who had to stand all day and could afford the luxury to wear flat or healthy shoes, were at some point giving hints about a hurting back or feet, so I can only imagine how their female colleagues felt, performing the same jobs on those cheap looking high heels.
That pleasant feel I had throughout the whole day unfortunately turned into anger, as it might sound silly but somehow I felt cheated; I guess it is the same way you feel when you buy clothes or delicious chocolates from renowned companies, and suddenly you hear on the news that they used and treated their Chinese workforce like slaves while creating those same products.
Since these times call for more empathy within the work environment, especially from big companies towards their employees: I personally dare the entire Langham Hotel Executive male team, that implemented and support this heartless mandatory high heel policy, to perform the same job their hard working female employees are doing every day, wearing the same high heels they use (and of course performing with a permanent smile on their faces and being as fast and efficient they are) to do this for one day only; after that, I want them to try to imagine what it would feel like doing that every day for ten, nine or twelve hours (since we're talking about Hospitality in here) , even when they feel poorly, tired, pregnant, ill or had something upsetting happening at home.
On top of this, I want them to care enough and find out all of the health issues derived from wearing heels in the long term, as it seems to me that instead of rewarding their female employees for their daily amazing performance, they're adding a burden and literally crippling them through this heartless staff policy (so much for a five star hotel).
Believe it or not, customers are becoming more and more conscious these days, and we do care who we buy from. More and more people want to know that they are investing their money in companies that have integrity.
I personally can't stand hospitality companies (especially five stars hotels) that are renowned to provide with the best customer service, food, decor and accommodation, and doesn't show the same love for their hard working employees (who are basically one of the main reasons why us customers come back), so I would suggest you to have a good review about your outdated and unfair staff policies.
I would be very interested to receive a follow up messages regarding this particular subject.
Thanks
Booked a night for a friends birthday! Absolute luxury in the heart of London and so far the top 5 star I've stayed in, in London. Admittedly the room was small, but unbelievably comfortable, with Egyptian cotton sheets to snuggle into. We were welcomed with a fruit dessert plate wishing my friend happy birthday! Highly recommend for spoiling yourself... but be prepared to dig deep into the purse :)