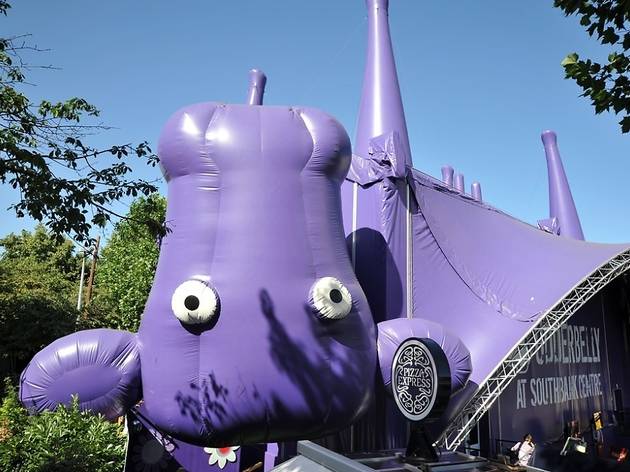 This review is a review of the show from a previous run. 'Pocket Dream' returns in November 2014.
It's no slight to say that the best bit of Propeller's 'Pocket Dream' – a child-friendly whizz through Shakespeare's 'Midsummer Night's Dream' – happens after the end. The six men of the troupe shed their feathers and donkeys' ears and show the kids in the audience how to stage fight – with hilarious consequences in the case of the pugilistic small boy who hasn't yet grasped the difference between those very Shakespearean categories, illusion and reality.
Ed Hall's all male company makes jape-tastic comedy but also preserves choice bits of blank verse. The six men play four quibbling lovers, three rampant fairies and a gang of amateur actors with breathless élan.
Udderbelly, the inflatable Southbank venue, is noisily inhospitable to delicate magical effects like the stroking of brandy glasses. And Propeller's authentic gender-bending style does not have the pathos, knowing comedy and fluidity which is can for an adult audience.
'Pocket Dream' is a fun intro to Shakespeare for older children: grown-ups had better wait for the company's residence at Hampstead.