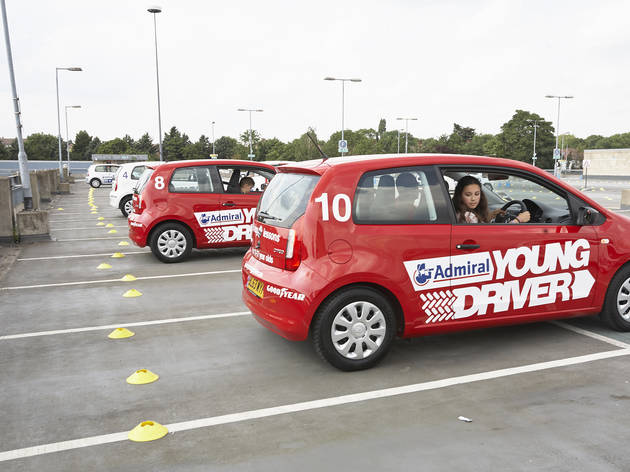 Time Out says
Friendly warning! We're working hard to be accurate. But these are unusual times, so please check that venues remain open.
There are some great go-kart circuits in London, but by the age of 11 most kids are desperate to give a real car a go. Happily for our insurance premiums, that would not be legal on normal roads, but with Young Driver, your teenager can get behind the wheel of a Skoda Citigo just like an adult learner taking their first driving lesson.
There are three venues: one at Westfield Stratford; one in Shepherd's Bush; and one on top of Brent Cross Shopping Centre's multistorey car park, where we sent 14-year-old Leila Kikuchi-House to give it a go. It really is like a driving lesson: you get in the driver's seat and the instructor takes you through mirror checks, what the gears do and so on, before setting off along the marked road system, with traffic signs, junctions and parking zones.
'I worked out where the pedals, indicator and mirrors were, then we just set off,' Leila explains. 'I wasn't too nervous because the instructor had pedals too, so he could control the car if he had to, but it was kind of surreal sitting in an actual car and being responsible for where it goes!'
Young Driver isn't about thrills and spills. It's genuinely a chance for under-17s to experience how much fun it is to drive a car, rather than a lesson in being sensible. After a few stops and starts ('It was a bit embarrassing when I put my foot on the brake when I meant to speed up; it's quite confusing having three pedals, isn't it?'), Leila had to put her new steering smarts into practice, weaving in and out of cones – hopefully not a skill she'll ever need when she's in the outside lane of the M1. 'We did some figure-of-eight laps and then I had to really turn the car around the cones.'
Lessons last 30 minutes or an hour and, to the relief of nervous parents, are postponed in bad weather conditions. Would Leila recommend it to her friends? 'Yes, definitely, it was really fun. And it'll be handy when it comes to my driving test. Although that's a few years away. In fact, I'll have probably forgotten it all by then!'
Details