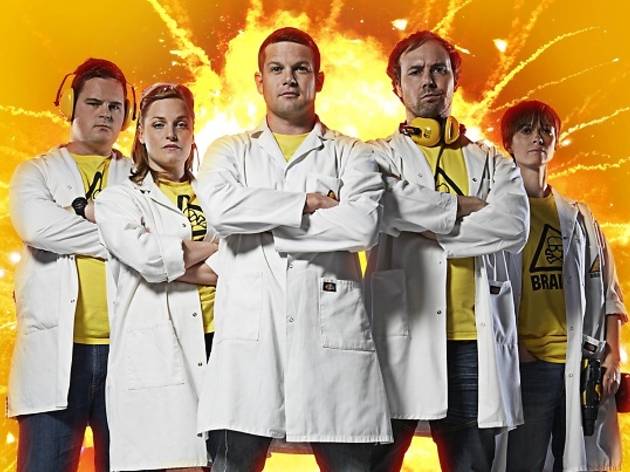 Time Out says
Friendly warning! We're working hard to be accurate. But these are unusual times, so please check that events are still happening.
Brainiac Live! is on at Garrick Theatre in Summer 2019. This review is from the 2013 run.
Unless you're hoping your kids grow up to have a career in blowing stuff up and electrocuting people, it's probably worth stating from the off that 'Brainiac Live!' isn't really an educational show – you'll probably learn more about science from a Harry Potter novel.
Still, even the most sensitive of children tend to derive a certain amount of pleasure from watching things explode. And in that respect this live spin off of the defunct Sky children's show 'Brainiac: Science Abuse' delivers. It starts with a caravan being detonated and ends with the destruction of a microwave: in between various gas-filled balloons are exploded, one of the enthusiastic young presenters gets strapped to a rocket propelled office chair, and several of them learn the hard way how an electrified fence works.
There's a sort of boffins-gone-rogue aesthetic to the whole thing, with much donning of lab coats and brandishing of goggles. Yet only the most apologetic of explanations interrupts the bangs and pops – call me Herr Gove, but 'Brainiac's palpable terror at being seen as improving felt like a slightly missed opportunity to me. Still, I suppose children have schools to learn stuff in.
What 'Brainiac Live' indubitably lacks is a big personality host a la the TV show, which employed the likes of Vic Reeves and Richard 'The Hamster' Hammond. Backed by three mute assistants, presenters Rik Warren and Andy Joyce are likeable enough, but they don't make a tremendous impression. Still, they're efficient at their jobs, maintaining a spell of schoolboyish pseudo-naughtiness in the occasional gaps between bangs. Ages 5+.
By Andrzej Lukowski
Details