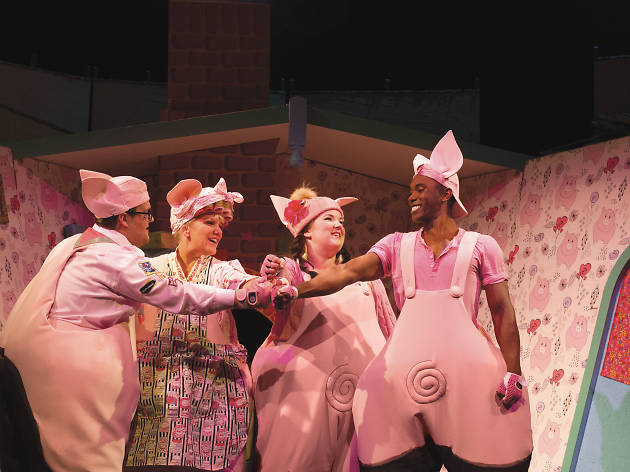 Huff and puff! A new musical based on the fairy tale arrives in the West End.
If your sprogs are freaking out over the fact we've still got five months left until panto season then 'The Three Little Pigs' might just tide you over. This pocket-sized musical is a pantomime in all but name: a cheery, cheesy modernised adaptation of a fairy story, plus songs and a minor celebrity – in this case Blue's Simon Webbe – gamely playing the villain.

The ditties are by George Stiles and Anthony Drewe: oddly enough their last West End musical, 'Betty Blue Eyes', was also about a pig. In all other respects, though, we're in much more cheap 'n' cheerful territory here: the cast of five do everything, and there are moments when you can sense everyone involved longing for some dancers, or a live orchestra, or a set-change.

But the young (ages three-plus) target audience aren't going to know that, and they seem to respond well to a lively, upbeat show packed with jolly – if slight – songs across a spread of genres. And though Drewe's book shamelessly pads out a story that could be told in about five minutes, his production should keep the adults entertained. The show's tongue remains firmly in its piggy cheek, with heaps of wantonly awful puns, jokey contemporary references and knowing glances across the fourth wall. Webbe's Big Bad Wolf is more smoothie than scary, but he and the rest of the cast work hard to win us over, and win us over they do.