Heads up! We're working hard to be accurate – but these are unusual times, so please always check before heading out.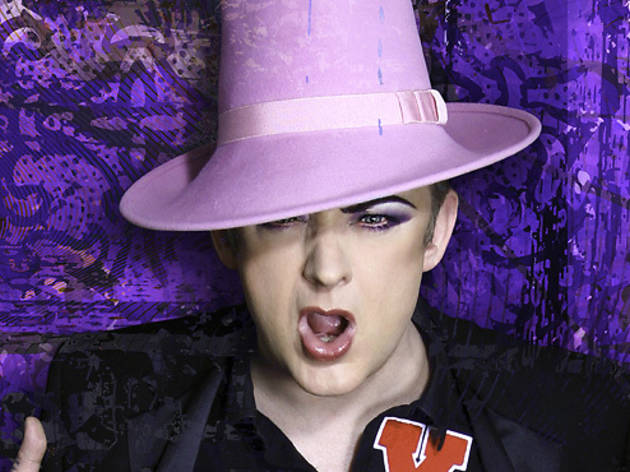 Boy George comes clean
The last time Boy George's musical 'Taboo' was on stage, he was far from drug-free. Now a revival sees him clean and in-demand again
He's been here before. The story of the gender-bending '80s pop star's rise to fame then fall from grace through drug addiction is currently being played out six nights a week in '
Taboo
', the musical first staged in 2002 and now enjoying a revival at the
Brixton Clubhouse
. Part autobiography, part tribute to fellow '80s icons like Leigh Bowery and Marilyn, the show features songs by George and shows him in the grip of heroin addiction. This isn't the first time he's come clean. But he's the first to admit to his past failings. Laughing, he describes an old television interview first shown in the early '90s. 'I was talking about how I'd put all my demons to bed. Watching it again, I thought: Oh my God! But I really did think that at the time. I thought I'd got my shit together. I thought I was happy. But I guess I was just dialling it in!'
I first interviewed George in 1993. He was far pricklier and more guarded than he is today, as he drinks mineral water at his local Starbucks in Hampstead. He looks healthy and happy. He's not wearing any make-up. There's no mask to hide behind, and hardly any attempts to dodge questions with pithy one-liners. He's done a lot of soul-searching these past five years and it shows.
He's proud of '
Taboo
', and justifiably so. His songs stand up well, and the audience that enjoyed it the first time around has grown to include a new generation of club kids. 'The passage of time helps,' he says. 'But none of us had great expectations about this production. We thought it would be a cute little show. And we've been blown away by the response.' There's talk of taking 'Taboo' on tour – to Australia, perhaps, or America where it famously bombed the first time around, running for just 100 performances on Broadway. 'I don't think New York at the time was ready for it,' George says. 'And I wasn't ready for New York… Living there was a big mistake!' He's referring to his arrest in 2005 on suspicion of cocaine possession. He wasn't charged but was sentenced to five days' community service for a more minor offence.
That wasn't his only legal transgression. In 2009, he served four months of a 15-month UK prison sentence for assault and false imprisonment of a male escort. A big Obama supporter, he watched the president's inauguration from his cell in HMP Pentonville. Doing time is the one topic he isn't keen to discuss, and he deflects that line of questioning adeptly. But those days are behind him. He's just been granted a visa allowing him back into the United States – one of many countries where he's now in demand as a DJ.
He's been DJing, off and on, since 1979, but it wasn't until the arrival of acid house in 1988 that he saw it as a second career. 'I wasn't getting played on the radio,' he says. 'It was the era of the boy bands. The pop landscape had changed. So naturally I gravitated towards something that was more fun. And I've carried on doing it ever since. But being in that world brought me a lot of problems: it was there that I started taking drugs again.' Is it hard for him as a recovering addict, working in an environment where drugs are widely available? 'Not really. You get used to it. But the main problem for me is that people tend to target me in clubs. Other DJs get left alone. I don't.' What kind of attention does he get? 'People expect more from me. I don't know what they expect. A performance? Well it ain't gonna happen! And I can't have a conversation with you, I'm DJing! I tell the fans, "Please don't come to club gigs if you're not into dance music!" Most of them are okay. But you do get the odd one who stands next to the DJ booth with their '80s annuals and their Boy George dolls, staring at you for two hours.' Fans can be creepy and non-fans can be hostile. 'I try to be nice to people. But sometimes that's not enough. You can walk into a room with your hat cocked a certain way and some people will hate you. I'm trying to write a song about that at the moment.'
Despite the troubled years, the stint in prison and the international DJing, Boy George never stopped songwriting – though his last mainstream success was with 'The Crying Game' in 1992. He recently wrote a few numbers for rising drag trio The Supreme Fabulettes, and is currently working on a new Boy George album, provisionally titled 'Blood Sugar'. He describes it as 'proper old-school reggae'. Tracks include new recordings of four old favourites, including 'Karma Chameleon'.
A Number One hit in 1983, 'Karma Chameleon' is the song that haunts him the most. He hated his 'nasally tone' on the original, and says the band regarded the song as a joke. His voice has changed now – partly through age, partly because he quit smoking two-and-a-half years ago and partly because, as he says, 'I don't sing through my nose any more!' He's also working on dance music as A Boy Called George and is mixing a new single, 'Coming Home', co-written with Mikey Craig from Culture Club. Home for George means London. He's one of the city's most mmediately recognisable figures. His fame has taken him all over the world, and his style's influenced everyone from Shoreditch club kids to Jean Paul Gaultier, who recently sent models down the catwalk dressed in George's '80s trademark Hasidic hat and dreads tied with coloured rags, but 30 years after he first appeared on 'Top of the Pops', London is where he's happiest. 'I love America,' he says. 'But London is home. I can't think of anywhere I'd rather be. As difficult as this place can be sometimes, it's also a very liberated place. When you travel, you really appreciate how great London is. We take so much for granted here.'
If there's one thing he's learned these past few years, it's gratitude. 'You hear a lot of that in meetings,' he says. 'People talk about how grateful they are for their recovery. Before I got clean, I didn't really know what gratitude was. But I've learned to appreciate what I have now. I'm grateful, and not just for my recovery. I'm very lucky to do what I do. It's taken me a long time to realise that. But now I have, my life is more balanced. It's not all work.'
In fact, he enjoys nothing more than cooking for himself. 'I love it!' he enthuses. 'I've already organised my lunch for today. I prepared my broccoli earlier.' He's not joking about the veg. For the past few months he's been on a strict metabolic diet, designed to maintain blood-sugar levels and incorporating lots of raw foods. I tell him he looks well on it. 'It's been life-changing,' he says happily. 'I've lost over two stone.' Then he laughs. 'And, dare I say it, it's made me a bit nicer.'
For more details about this and other projects, visit www.boygeorge.com.
Top gay and lesbian bars and clubs