Heads up! We're working hard to be accurate – but these are unusual times, so please always check before heading out.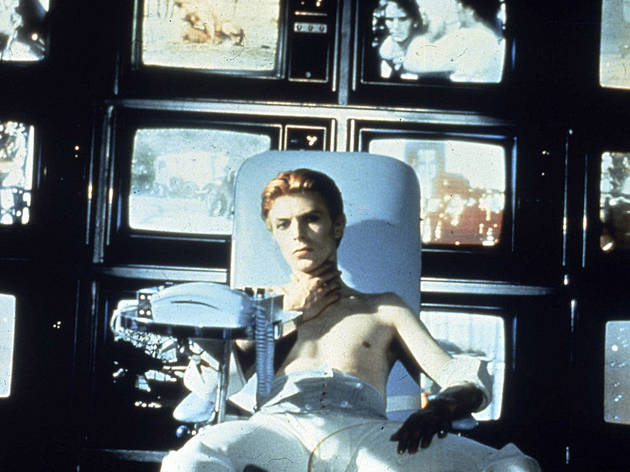 Boys keep swinging
I'm gay, and always have been,' said David Bowie in 1972. But is he still a gay icon?
First came Rebel Rebel, then TheMenWhoFell2Earth, both London club nights – and David Bowie's music is still played at Duckie and other alternative queer clubs. His impact can still be felt on this city's gay scene. With a new album on the way, and a major Bowie exhibition at the V&A opening in March, we asked two top DJs to explain his lasting appeal.
Tony Fletcher – Rebel Rebel and TheMenWhoFell2Earth
You've named two clubs after Bowie. Why?
'It's an homage born of adoration. Rebel Rebel was a gay indie night which ran from July 2005 until December 2007 in a basement off Cavendish Square. Breaking bands, Saturday night classics and a heavy dose of David Bowie tracks were very much the order of the night. We had some great guest DJs, including Bowie's longtime photographer Mick Rock. TheMenWhoFell2Earth launched in November 2010 and is more dance-oriented. The inspiration comes more from Bowie's iconic style, especially the film "The Man Who Fell To Earth".'
Is he still a gay icon?
'Possibly not for some people. But being one of the first musicians to speak publicly about an alternative sexuality makes him a gay icon forever in my eyes. He's one of very few pop stars who on a visual level alone can be an inspiration to new generations.'
Favourite Bowie song?
'Very difficult to say, but today's answer is "Let's Dance".'

Mark Wood – DJ at Duckie
You play a lot Bowie at Duckie. Why?
'Duckie has always been about quality pop music. We've always been interested in things that are genuinely popular but also artistically interesting – those rare moments when the weirdos take over and everyone asks, "Where the hell did that come from?" So we play Pulp, Goldfrapp, Jay-Z, Kate Bush, The Supremes and Soft Cell. But the king of them all is Bowie.'
Is he still a gay icon?
'He feels more "queer" to me than "gay". "Gay" these days feels very safe, in our society at least. Queer is more about blurred lines, freakishness, daring, experimentation. And he's definitely still all of that. People who say he's no longer relevant are either ignorant of his incredible, shapeshifting, pioneering past, or simply ageist.'
Can you see his influence on younger pop stars?
'Yes, although a lot of people have just taken the dressing-up thing and run with that, rather than take the lesson that he was adventurous musically, too. I love Gaga and I'm pleased she's there, but until she comes up with something as musically shocking as "Low" she'll never be a Bowie.'
Favourite Bowie song?
'"Sound and Vision".'
Duckie is at the Royal Vauxhall Tavern, and TheMenWhoFell2Earth is at East Bloc, both Sat Feb 2.