XXXora – The Newer Gender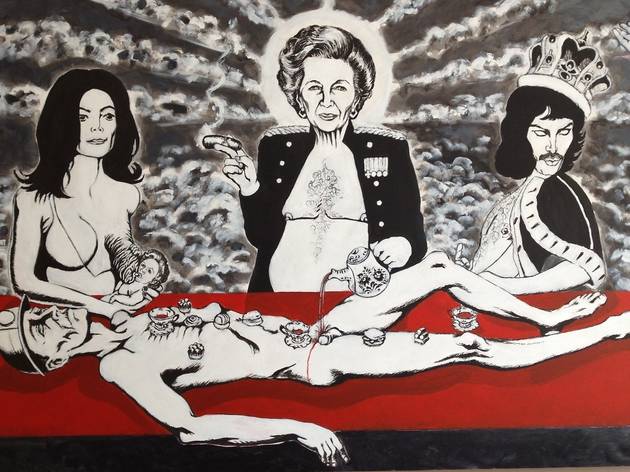 The Newer Gender is the debut exhibition by a fascinating new artist named XXXora. Identifying as third gender, XXXora uses video and figurative painting to explore the connections between masculinity, femininity and late capitalism, depicting icons such as Margaret Thatcher, Michael Jackson, Lady Gaga and Freddie Mercury to ask who has become prominent in our neo-liberal age, and how they played with gender to advance themselves within politics and pop culture.
XXXora also delves into the Eighties' dark side. With the winners appear the losers: Marx (and Marxism) and the miners defeated in 1984-85, frequently ignored in nostalgic celebrations of the New Pop and the nouveau riche. Deeply charismatic and utterly distinctive, XXXora never shies from confrontational imagery: Margaret Thatcher's Tea Party (pictured) typifies her powerful use of monochrome figures against greyscale backdrops, the masculinised Prime Minister flanked by the feminised Mercury and Jackson as they revel in the death of the worker, and his class.
For all the fashionable androgyny of Thatcher's era, it was a time when queer communities were destroyed by the government's wilful ignorance of AIDS, and LGBT youth was silenced by Section 28, which banned the 'promotion' of homosexuality (and by implication, any sexual or gender variance) in schools. XXXora draws a line from this suppression and appropriation to the increasing visibility of transgender identities – not least her own – as the cultural figures of the past inspire the politics of the present.
Juliet Jacques