He's scored a Bafta nomination, worked with Angelina Jolie and Ralph Fiennes, and now has a Palme d'Or-winning film on his CV. And that movie is about to get a big London Film Festival gala. But Harris Dickinson is not here to make a fuss.
'The King's Man' and 'Triangle of Sadness' star has parked his perfectly normal, non-movie-starry car outside Dalston's The King's Head, a stuffed-wildlife-adorned members' club that doubles up as a taxidermist's cheese dream, and unloaded a suitcase full of his clobber for our photoshoot. He's even brought his own lunch and is soon offering to pay for coffees.

To call Harris Dickinson low-maintenance would be an understatement.
Skater boy
The 26-year-old actor was born in Leytonstone and grew up in neighbouring Highams Park. His dad was a social worker; mum a hairdresser who still calls him out for any dodgy cuts he comes back home with (the mullet he grew for 'Where the Crawdads Sing' got a big thumbs down from Mrs D).
Dickinson attended the famously sporty Highams Park School (fellow alumni: footballers David Bentley and Joe Willock), where he was neither sporty nor, he admits, 'an intellectual' in the classroom. 'I didn't have the best time in education and I couldn't wait to leave school,' he says.
It's hard to picture in the wake of 'Triangle of Sadness' and 'Beach Rats', but he also had a tough time with his body image as a kid. 'No one wants to be a little fat kid, do they?' he says. 'It wasn't great, but you kind of accept it when you're younger.'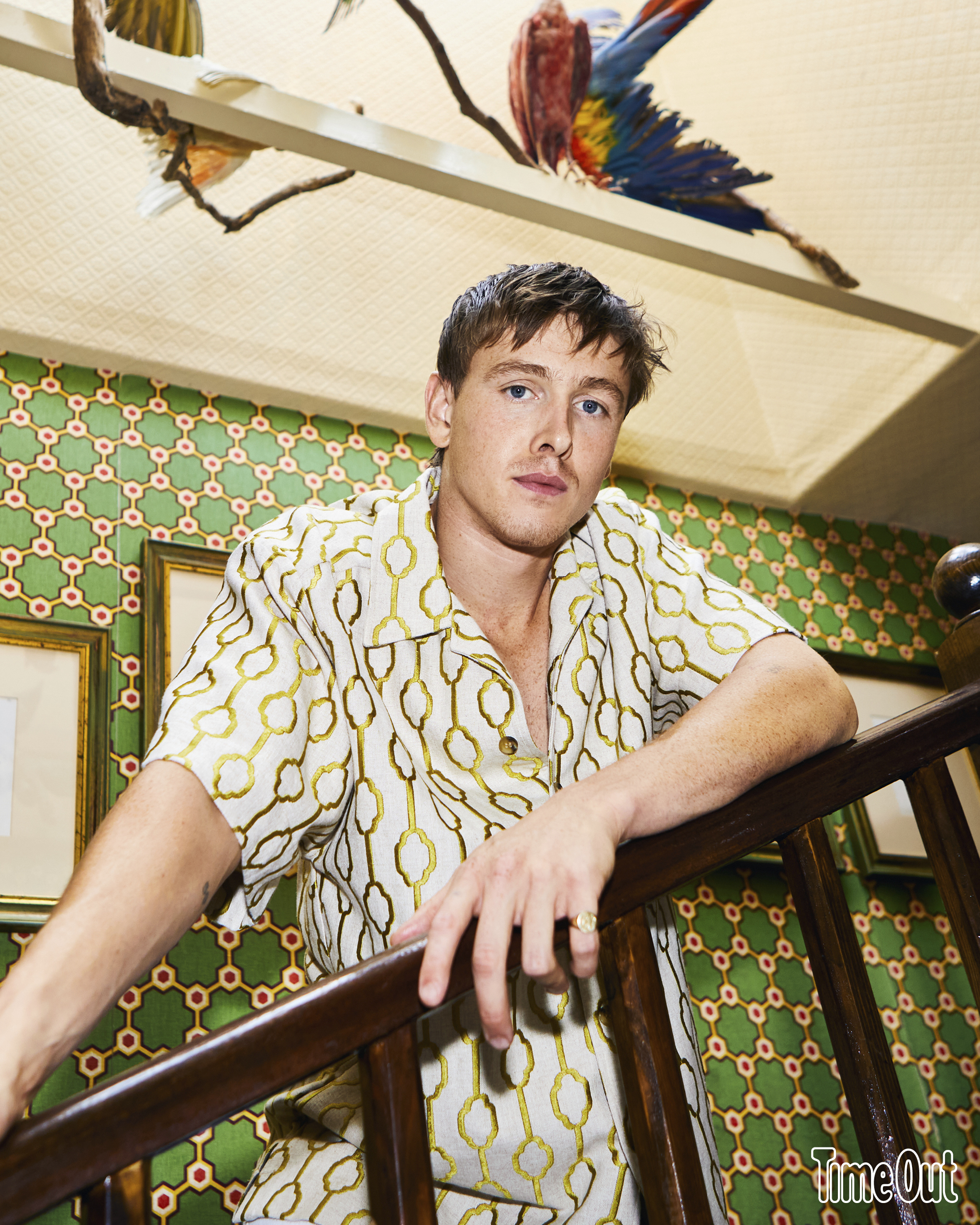 It was at this time, however, that his love of movies – and storytelling – took shape. He started clocking the work of Christian Bale (he remembers sneaking into 'Batman Begins' at his local Odeon), as well as Gary Oldman and Tim Roth, steered in part by his parents' love of cinema. 'My mum put me on to Mike Leigh, Ken Loach and Shane Meadows. I'd wake up early and try to get a film in before school.'
Find out what your triggers are and what makes you anxious and don't do those things. I know it's easier said than done…
Using a Sony flipcam, Dickinson would knock about making videos for a weekly web show, enlisting mates and family members for spoofs of Bear Grylls and Harry Potter. 'It was a bit rude,' he recalls of his Hogwarts riffs. 'What 12-years-olds do in the woods.' He even made an early foray into film financing. 'I wrote to the council and asked for money once, and they actually gave me some. I'd make skate videos as well. I wasn't that good, so filming my friends was my way into the crew.'
His old mates are still about to help keep his feet on the ground. 'I'm lucky, they're supportive but they don't really care,' he says. 'Sometimes I'm like: "Hey, look at this thing I've done!" and they're like: "All right, whatever. Don't care." "But it's pretty cool, I got nominated for a Bafta!" "Whatever. You're not really doing much, are you?"'
Branching out
In person, Dickinson is engaging, funny and slightly cautious, giving thoughtful answers but occasionally slamming the handbrake on when he catches himself straying into areas he doesn't feel well-enough informed to speak about. He doesn't feel qualified to talk about the gentrification of his home turf – 'I'm basically middle-class now,' he says – and while he loves his corner of the city, he isn't keen to become a poster boy for E17. 'I'm not tied to my area,' he says, 'I dunno…'
Still, if pushed, he'd recommend a visit to Walthamstow Market – 'obviously, they've got fruit and veg, but it's the bits and bobs that do it for me. God, I sound boring!' – or the sensory overload of a trip to the dogs.
The first time you branch out of your bit of London is intimidating.

We were these chubby kids who were probably easy targets
But Dickinson's love of London runs deeper – and wider – than just this own neighbourhood. Our chat turns to the South Bank, which has been a strange portal of sorts for him. He used to do ollies with his mates in the legendary Undercroft, graduating there from his early skateboarding days in Woodford, and encountering a whole new side to the city. 'The first time you branch out of your bit of London is intimidating: getting robbed and stuff. We were these small chubby kids who were probably easy targets,' he says.
The odd mugging didn't keep the young Dickinson away, though. A few years on, aged 16, he made his acting debut at The National Theatre. 'The South Bank has been such an important part of my journey. I was a kid from the suburbs coming into this vibrant microcosm of theatre and film and art and skating and graffiti. It's all available, and it's acceptable to do all of those things.'
Nowadays, his downtime in London might take him to a gallery. 'There was a really nice Nan Goldin exhibition at the Marian Goodman a while back,' he says. 'There's always something on in London.'
Playing the fame game
When it comes to the celebrity side of acting, Dickinson is in an 'in-between' place of sorts. The movie world is firmly alive to his talents – he earned a BAFTA Rising Star nomination this year, alongside 'No Time to Die' star Lashana Lynch – and the roles are coming thick and fast, including 'Triangle of Sadness', Time Out's gala at this year's London Film Festival. But he's not yet the getting-recognised-in-the-supermarket kind of famous. 'The conversations in Tesco are normally more: "Can you pass me that jar, because you're tall?"'
You create this weird, separate safe space you can go to at a premiere

If the levels of fame do ramp up – 'and they might,' he acknowledges – he's braced for it. 'It's bizarre, I call them "heightened" moments, because when I'm at a premiere, I feel different to when I'm just rolling around on my own. You create this weird, separate safe space you can go to.'
The actor has been refreshingly open in the past about being willing to prioritise his mental health and wellbeing over his career. So what are his tips for staying in a good headspace? 'Having a hobby that's nothing to do with your life, or a book that you love that's nothing to do with your career,' he says (he's currently midway through Hanya Yanagihara's novel 'A Little Life' and finding it 'intense, heavy-duty'). 'Not spending too much time on social media. Proper sleep and looking after yourself in a way that's beyond just appearance. Find out what your triggers are and what makes you anxious and don't do those things. I know it's easier said than done…'
On the ropes
Dickinson is currently getting in shape for his next role, which is why he's swerving Time Out's snack table in favour of the microwave meal he's brought with him, and probably explains why his flat white is oat, not dairy. 'At the moment, I'm eating everything in sight,' he grimaces. 'I'll be excited to not do that any more.'
Titled 'The Iron Claw' and produced by hip US studio A24, the film teams Dickinson with Zac Efron and 'The Bear's Jeremy Allen White as three brothers from tragic real-life wrestling dynasty the Von Erichs. Dickinson grew up worshipping Rey Mysterio and the Big Show, so it's right in his sweet spot. 'I was a big WWE fan, so when I got this through I was like: Yeah man, this is going to be cool,' he says. 'It's handled so well by the script: it's about the wrestling, yes, but it's mainly about the family and the tragedy. It's a drama.'

In a couple of weeks, he'll be jetting off to Louisiana for the shoot. Later today he's got a Zoom with his dialect coach to help nail the Von Erich's Texan accent. From the sample of Dallas drawl he treats the room to, he's in a pretty good place with it.
Staying in the moment
The journey from E17 to WWE first kicked into gear when Dickinson was cast in Eliza Hittman's 'Beach Rats' in 2017. Despite never having set foot in New York before the shoot, he was a total natural as a can-kicking Brooklynite struggling with his sexuality – and it's been a calling card ever since.
'If someone's seen any of my work, most of the time it's that one,' he says, 'which is cool because I'm proud of it. It's such a massive part of my journey.'
Later, I email Hittman for her memories of the Londoner. 'I knew the moment I watched Harris's taped audition that he was extraordinary,' she replies. 'He plunged himself into every dimension of the character – the anger, the aggression, the vulnerability – in a way that was totally unforced. He fought to preserve the more provocative aspects of the script, like the nudity. I look back and am still astounded that he was only 19 at the time.'
Since then, Dickinson has dipped his toe in Hollywood's waters with the 'Maleficent' sequel and 'The King's Man'. More recently, he's played a cut-glass Dickie Attenborough in murder-mystery 'See How They Run' and a needy thesp equally deep into 'the craft' in Joanna Hogg's 'The Souvenir Part II'.
I care deeply about my work, but I'm not a fucking idiot about it
Can we take it that he's not that guy on set? 'I don't think I am,' he says. 'I care deeply about it, but I'm not a fucking idiot about it. It's my passion, I'm so grateful to do it, but let's not get caught up in the notion that it's of the utmost importance in the world right now.'
That down-to-earthness is a rare quality in the industry. It might explain why indie directors of the calibre of Hittman, Joanna Hogg, Ruben Östlund and Sean Durkin are eager to work with Dickinson. He's got serious chops, too. See him in action as an insecure male model in Östlund's super-rich satire 'Triangle of Sadness' or a menacing dealer in hard-hitting Brit drugs drama 'County Lines' and you're watching an actor with real range. His stillness and economy are often commented on, but you get the feeling he could excel in the showiest roles too.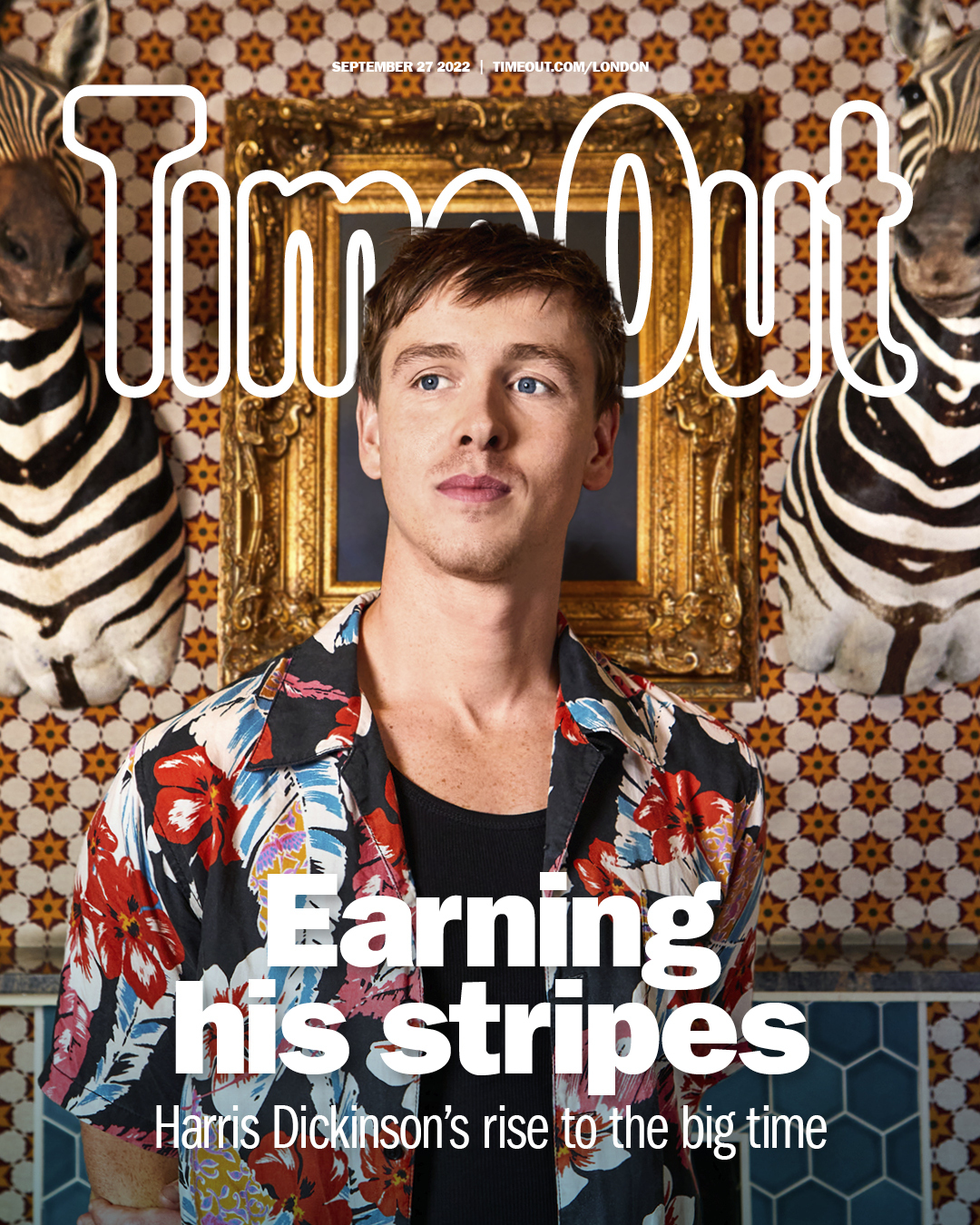 He's not sure about 007, mind you, despite seeming to fall neatly into the casting demographic for the new James Bond. 'I always imagine myself in the Bond film as someone he encounters who's a bit dodgy,' he says. 'A villain would be nice, or Bond's dodgy cousin. I can't imagine what it is to take that role on – and what it means. I was watching Daniel Craig's first press conference [as 007] recently and thinking it must be immensely intense. The pressure would be insane.'
Triangle of Sadness
This year has brought Dickinson both glory and tragedy. There was a two-day blur of Cannes publicity, where 'Triangle of Sadness' was greeted with a nine-minute standing ovation – 'It was full-on, I didn't know what to do with my face,' he remembers – and that ensuing Palme d'Or win.
Then, in late August and out of the blue, came the tragic news of the death of his on-screen partner, 32-year-old South African actress Charlbi Dean, and the complexion of those triumphs changed radically.
It breaks me to have to talk about this film without Charlbi
'It breaks me to have to talk about this film without Charlbi,' says Dickinson, 'because we were so closely linked and most of our relationship [on screen] was together. So it's tough, man. But her performance is so wonderful, it's nice to be able to celebrate her and share it, as awful as it is that she's not with us.'
London calling
Dean is great in 'Triangle of Sadness' – as is Dickinson – as a fraying young model/influencer couple invited on to a superyacht full of holidaying one-percenters. Then a storm closes in midway through an opulent dinner and one of cinema's great barf-athons kicks off.
'Luckily, Ruben spared me and I wasn't too involved in that scene,' says Dickinson, 'but I watched it being filmed. It was kinda disgusting, wasn't it? Grotesque in the best way. The reactions to it in screenings are very entertaining. Everyone is gagging.'

His one regret is that, with Louisiana calling, he won't be at next week's London Film Festival gala to share it. It would have been a chance to pay tribute to a much-missed co-star and a return to the old stomping ground that helped make him. 'It's the one I would have loved to be there for,' he says with feeling.
And with that, he's got to run. Parking's up.
'Triangle of Sadness' is Time Out's gala at the BFI London Film Festival on Tue Oct 11 and is part of the festival's UK-wide screening programme. It's in UK cinemas Oct 28.

Photography: Jess Hand
Art Director: Bryan Mayes
Photo Editor: Laura Gallant
Video: Kerry Hanmore
Grooming: Dani Guinsberg from Carol Hayes Management using Daimon Barber hair care and Bioeffect skincare
Location: The King's Head